Pieces of Flair, Obam Goes To The Mayor
Ric finds a new grocery store in Charlotte, the president steals our mayor, plus the rest of the week in inanity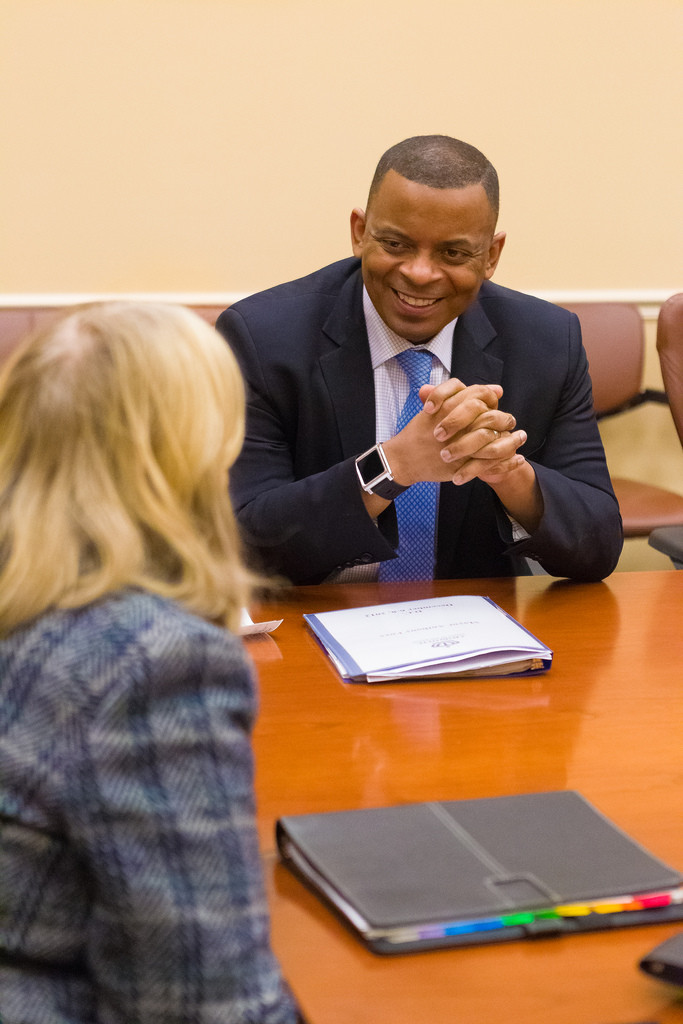 Our mayor is gone. I blame Obama.
There's been a lot of hoopla about this. But there was a point, I think it was when the Silver Foxes were performing, where I was kind of over it. The cheerleaders, who I believe are all over 60, did a little routine for the soon-to-be-resigning mayor, and then each member of council got up and said a little something about Anthony Foxx, who then gave his Shining City on a Hill address and then got up and left. He's now in Washington serving as the U.S. Secretary of Transportation, which is seen as a position where you can go out and be a hype man for the president, even if you don't know a lot about transportation. Foxx does, insomuch as he tried really hard to get a streetcar built and then saw the political consensus for it crumble like a cheap biscuit. His city hosted the Democratic National Convention. President Obama started referring to Charlotte (without the North Carolina) and compared it to Benghazi, at least as far as population is concerned.
Patsy Kinsey is the mayor now, at least until the next election, and that's fine. But I'm over it. With Foxx and Pat McCrory before him, we've seen that the job itself, still technically part-time, is really to be a cheerleader for Charlotte, which has a lot of volunteer cheerleaders already. Everybody is a cheerleader. Things are mostly alright, and if there is some sort of widespread Chicago-like corruption machine churning away out of sight, well shucks, then people are just too polite to talk about it. Everything is great. It's always great. If there are people really suffering in Charlotte, and I know some people are, then we never really see those people, because we're too busy looking at the new stuff being built in South End and Uptown. I had an aunt call the other day and ask me about the new building she saw as she drove through on her way from Ohio to Hilton Head, and I had to ask her to be more specific. There are always new buildings. There are always a lot of trees. It's hard to tell if they're obscuring anything.
Yeah, there's a reckoning coming. Charlotte can't annex its way to a wallet full of cash anymore, and whoever is the mayor after November will have to make tough choices on taxes and development, especially in the face of a General Assembly that seems bent on taking away local control over everything from airports to building codes to Big Gulps. But for now, it's nice to see Anthony Foxx off to a bigger and better job, and the hope is that he won't forget us and our needs down here in little ole' Charlotte. It'd sure be nice to have a cheerleader in Washington.
As for his legacy here, well, he left us with a lot of nice GIFs.
—
During last Sunday night's Celebrity Wife Swap, Ric Flair and Rowdy Roddy Piper's wife Kitty went to the grocery store. No, Ric said, I can't. I'll be recognized.
So Kitty gave him a hat and a felt mustache. Here, she said. This should do it.
And then they went to the grocery store. The Common Market.
Now look. I love the Common Market. But I go there for a beer or a sandwich, or maybe a candy bar. It is not a grocery store. I do not go there when I run out of napkins.
As for the rest of the episode, this about sums it up:
THINGS THAT MAKE RIC FLAIR CRY: Retirement Becoming a Grown-Up Sandwiches #CelebrityWifeSwap

— Wrestlefolks (@Wrestlefolks) July 1, 2013
—
I would like the rain to stop.
In June, we got 7.31 inches of rain in Charlotte. Last June, we got barely more than one.
So it's been wet.
The BBC asked if talking about the weather can be not… boring. So let's just go ahead and ban the following phrases:
I am SO SICK of this rain.
I feel like I haven't seen the sun in days.
How am I supposed to mow my lawn?
I totally saw my neighbor's sprinklers going in that downpour.
You know, I've never seen the Sakkros family outside when it's raining.
I have to pee.
I wonder if they'll be talking about all of this rain on the news.
People cannot drive in the rain.
People from [place where you're not from] REALLY cannot drive in the rain.
Remember last year when it was 104 degrees at this time? That was so much better/worse than this.
My rain barrels are overflowing (Dilworth only).
I guess I'll just stay inside and watch a Kardashian marathon.
—
Sometimes, a story about a golf club shutting down over non-payment of back taxes leads to a heady debate over hashtag use:
Just to be clear.. are we all using #richpeoplesuffering or #firstworldproblems for our Birkdale stories today?

— Nikki Wolfe (@Nikki704) July 2, 2013
The first rule of Tarte Club: Do not talk about Tarte Club.
North Carolina: 35th for beer consumption. 9th for beer shipments.
Somebody tell me what about being agitated and pacing up and down the aisle of a plane qualifies as odd enough for a diversion to Albuquerque.
"Not that there's anything wrong with duvet covers or Michael Bolton." Oh, but there is.
I never saw Rufus Lynx do any of this stuff.
Ever wonder what happened to Tara Servatius? She's in Charleston. And according to her editor, she's recycling parts of her Creative Loafing columns from Charlotte.
You guys, some members of the North Carolina General Assembly have beards, and some guy on Tumblr is ON IT. BONUS: Thom Tillis is The Most Interesting Man In The World.
Bikes on Providence Road. Bears on Providence Road. What's the difference?