Pig Out with Charlotte BBQ
The five-minute guide to Charlotte barbecue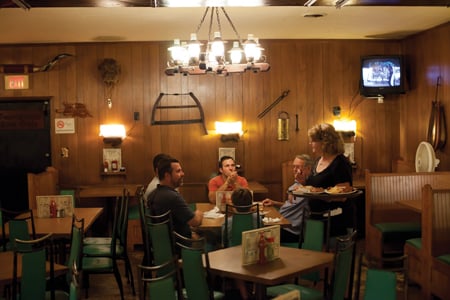 In charlotte, barbecue usually means eastern-style: slow cooked, tossed with a bit of vinegar-based sauce, and, if it's served as a sandwich, topped with coleslaw. But to those who tend the large, smoky barbecue pits, every subtle variation—such as whether the pork is chopped into large chunks or pulled into delicate strands, what kind of sauce goes on top (or on the side), how long it's smoked, and with what kind of wood—makes a difference. Here's a quick look at the city's barbecue evolution, from old-school, traditional 'cue to the new-school variety, with a twist.
1957- Old Hickory House (6538 N. Tryon St., 704-596-8014)
This family-run barbecue joint has been in its current spot on North Tryon since the 1970s. The dining room might feel like a time warp to the "Me" Decade, but the hickory smoked barbecue is classic. Cooked in a pit that's open to the dining room, the tender, smoky 'cue is finely chopped and comes with the restaurant's special, tomato-based sauce served warm alongside. The restaurant's other specialty, a just-spicy-enough Brunswick stew, should not be missed.
1963- Bill Spoon's Barbecue (5524 South Blvd., 704-525-8865)
The sign in front of the restaurant reads, "We've cooked the whole pig since 1963"—and that's truly the mantra at Spoon's. Nearly fifty years later, the restaurant still serves up the barbecue that made it famous (at least locally), topped with the same special house-made hot sauce, and served by the same family—founder Bill Spoon's grandson, Steve, runs the restaurant today.
1988- Bubba's Barbecue (4400 Sunset Rd., 704-393-2000)
After starting on South Boulevard, Bubba's picked up and moved north to its current location, just off Exit 16 on I-77, in 1994. (You'll know you've arrived when you spot the big pig out front.) Here, the barbecue arrives unsauced, lightly seasoned with salt, crushed red pepper, and vinegar, and accompanied by bullet-shaped hush puppies, mustard-based coleslaw, and your choice of barbecue beans, green beans, fries, or potato salad. Top it with the spicy, vinegar-based sauce—and don't forget the napkins.
2005- Mac's Speed Shop (2511 South Blvd., 704-522-6227; 19601 Liverpool Pkwy., 704-892-3554; 2414 Sandy Porter Rd., 704-504-8500)
Part biker bar, part barbecue joint, this South Boulevard favorite in what used to be a transmission shop is almost always packed. (It's even spawned two additional locations nearby in Lake Norman and Steele Creek.) The pork here is smoked, pulled, and tossed with the restaurant's own slightly sweet Carolina BBQ Sauce. But unlike its more traditional cousins, this spot also offers lots of non-barbecue options such as wings, nachos, and salads.
2010- Sauceman's (228 West Blvd., 704-333-7070)
Slow-smoked for more than twelve hours over a mix of local hickory and white oak, the Lexington-style barbecue at Sauceman's is coarsely chopped into thick chunks and comes sandwiched between slices of Texas toast. Order yours plain or choose a specialty sandwich like the Dixie Cuban, which tops the barbecue with pimento cheese and fried pickles.
2011- Midwood Smokehouse (1401 Central Ave., 704-295-4227)
FS Food Group founder Frank Scibelli studied with pitmasters across North and South Carolina, Texas, Kansas City, Missouri, Memphis, Tennessee, and Florida before opening Midwood Smokehouse last year. The restaurant's custom-built wood-burning smoker burns twenty-four hours a day and produces a smoky pork that comes finely chopped and dressed in a vinegar sauce—served with hushpuppies, pickled onions, and a choice of side. (Tip: order the bacon wrapped jalapeños.)
2012- City Smoke (100 N. Tryon St., 704-376-2295)
Open since May, City Smoke is the latest venture from restaurateur Pierre Bader's Sonoma Restaurant Group and serves up five kinds of barbecue: Kansas, Memphis, Texas, and eastern and western North Carolina. The jury's still out on what this newbie will bring to the local 'cue scene.
2012- Queen City Q (225 E. Sixth St., 704-334-8437) The result of a partnership between veteran restaurateur J. D. Duncan and husband-andwife team Bryan Meredith and Sue Johnston, Queen City Q opened in February. Pitmaster Dan "Boone" Gibson hand pulls his pork, mixing fatty and lean cuts, and serves it with two sides, including peppery green bean casserole and three kinds of slaw.
Four Questions with Pitmaster Dan "Boone" Gibson
We sit down with the pitmaster of the Queen City
The pitmaster at Queen City Q (225 E. Sixth St., 704-334-8437), Gibson, forty-five, grew up in Charlotte and draws from his heritage—and his family's hand-me-down recipes—to craft his barbecue. He calls it "Piedmont style," a mélange of styles from eastern and western North Carolina and South Carolina.
What makes good barbecue? First off, good quality pork. My secret is my homemade dry rub … it's probably got more spices than are listed in the spice book. Also, the right smoke.
Sauced, unsauced, sauce on the side? How do you eat your 'cue? I just want to enhance it with a little bit of sauce. I have to admit, I like the eastern sauce on it. There's a lot of love in there. It just takes a couple of bumps to enhance the sandwich.
What's your earliest barbecue memory? The first time I can remember my dad and my neighbors lighting up the pit … the first times those flames went up, I must've been five. They made it look easy.
How did you become a pitmaster? I went to culinary school, but my father was a barbecue guy. I learned at family reunions, Clemson tailgates. We just really enjoyed it. But I owe a lot to J. D. [Duncan, one of the restaurant's partners]. I begged him for three years to buy me a barbecue restaurant.
Do you ever get tired of eating barbecue? No. Pork fat rules (laughs). No, I never get tired of it. Every day I'm stoked about coming to work. I finally get to do what I was raised on. I enjoy doing what I do.
New South Barbecue
What's more Southern than barbecue? That question takes on a whole new flavor in the ethnic eateries blossoming in Charlotte's older suburbs. During the last two decades, the South has become even more of a magnet for newcomers—and they all seem to bring their own wonderful ways of cooking 'cue. How do we define barbecue? Anything that a restaurant calls barbecue counts, as does anything that reminds us of a Southern pork product. Don't sweat the definitions. Just dig in. —Tom Hanchett

Ben Thanh Vietnamese Restaurant (4900 Central Ave., 704-566-1088)
The Bun Thit Nuong (vermicelli and pork bowl) at Ben Thanh—named for Saigon's huge outdoor market—is hard to resist. Number forty-four on the menu, the dark-red glazed pork dish is described as "charbroiled" on the eat-in menu and "BBQ" on the take-out menu.

Cocina Latina (5135 Albemarle Rd., 704-531-5757)
Scholars say that the ancestor of U.S. barbecue is Mexican barbacoa, traditionally steamed with cactus leaves in a pit in the ground. Fausta Salvatierra and her sons make barbacoa in the style of their native Hidalgo, a state in central Mexico—tender, moist, falling-apart lamb. When you order the barbacoa taco, also ask for an al pastor taco for comparison. The roasted and marinated chunks of pork are closer to today's U.S. barbecue.
Le's Sandwiches & Café (4520 N. Tryon St. (inside Asian Corner Mall), 704-921-7498)
There are many reasons to brave the pot-holed parking lot at Asian Corner Mall, including two huge international supermarkets and Dai Sing Restaurant Supply, a cook's playground of giant woks and industrial kitchen utensils. Seek out Le's Sandwiches & Café. Family run and sparkling clean, Le's serves banh mi, characteristic sandwiches of French colonial Vietnam. Crisp toasted baguettes are stuffed with pickled vegetables, cilantro, special mayonnaise, spicy green peppers, and your choice of meat. Try the pork barbecue banh mi, which comes in two sizes.

Joy Luck Club Café (4400 Potters Rd., Stallings, 704-821-0899)
The Charlotte branch of a popular restaurant inside the Grand Asia Market in Cary, Joy Luck Club is located in a former Winn-Dixie in Stallings, a mile or so off I-485 Exit 52 in fast-growing Union County. Look for the roasted ducks hanging in a glass case, Hong Kong-style. The barbecue pork and duck plate will fill you right up, including red-glazed slices of pork and crunchy-skinned duck, plus bright-green bok choy over a mound of rice.