Pinehurst: It's Not Just for Golfers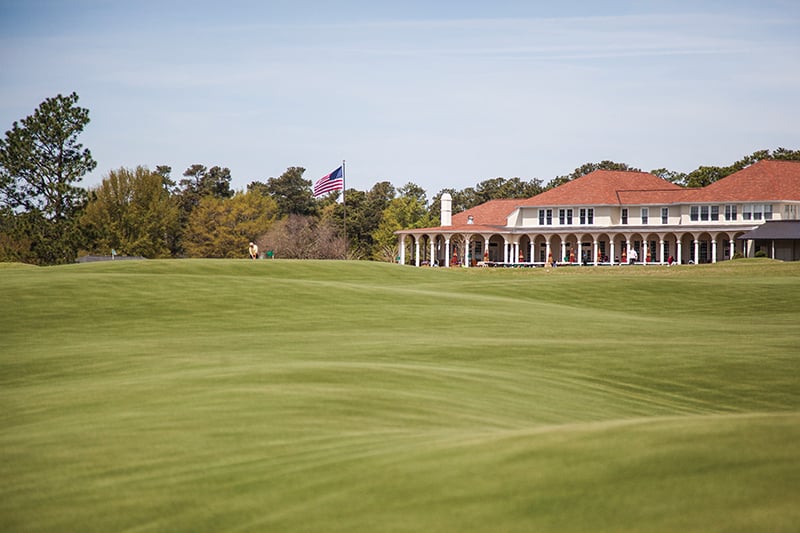 I'M LATE for a spa appointment, and I can't decide whether to be stressed or relaxed about that. Just a few minutes ago, I'd hit one of the best golf shots of my life, a 145-yard approach into the center of the green on the storied 18th hole at Pinehurst No. 2, only to three-putt the damn thing for bogey, and I can't decide whether to be thrilled or frustrated by the experience.
I tip the caddie, order a to-go sandwich from the grill, hustle back to the hotel, and shower. I rattle off these excuses to the people working the spa's front desk, who expected me at 2 p.m. but instead welcome me at 2:15 p.m., and I figure they'll tell me I am too late, that all the masseuses have gone home and all the cucumber water is gone and all the air in the sauna has gone dry. Instead, they say with a smile, "Welcome, Mr. Graff. It's fine."
I first visited Pinehurst, a resort and village about two hours east of Charlotte, a dozen or so years ago, and I knew about it years before that, back when my aunt and uncle would make regular trips and buy me a shirt or hat for Christmas. In 2005, I was a young reporter who stumbled into the locker room during the U.S. Open and wound up standing next to Tiger Woods as he watched television coverage of another golfer claiming the championship trophy. Tiger growled. Really. I've walked the village a hundred times and walked No. 2 at least a few dozen.
But this is my first spa appointment.
Pinehurst opened the spa in 2002. Before that, the resort had become a bit of a boys' club, a place for businessmen to smoke cigars and drink expensive whiskey. It's still a place for those things, to be sure, but the spa convinced golfers that they could bring their spouses, even if their spouses didn't care for golf. The resort strengthens its culinary program every year, too, now with seven restaurants, including the four-star 1895 Grille.
This is still a golfers' getaway, but it's no longer just a golfers' getaway.
"People make a mistake; they think it's not for everyone," says Dustin Donahue, lead massage therapist. Donahue moved here 13 years ago from Utah, not knowing what to expect. Now he and his wife have an eight-year-old son and no plans to move. "There's a large part of the population that misses out on a beautiful experience because they think it's just golf."
Just as a recent renovation of Pinehurst No. 2 brought the course back to its original landscape—more sand and scrubs than manicured grass—the spa revives one of the original intents of Pinehurst, a resort founded in 1895 for sick people to get well.
Soft, wordless music plays lightly over a sound system. Locker room attendants ask for your foot size for sandals and hand you a robe. Lounge chairs, snacks, and napping people surround the pool. The massages range from 25-minute foot massage to a 100-minute Swe-Thai massage that mixes techniques from Sweden and Thailand. The standard Swedish massage runs for 80 minutes and incorporates hot towels often.
Within a few minutes of the start of mine, I've forgotten the missed putts and just about everything else that came before or after them. As I start to doze off, I hear a sound from outside, off in the distance, a quick beep from a car horn, and I have the urge to tell the driver to just relax, it's fine.
Michael Graff is the editor of this magazine. He can be reached at michael.graff@charlottemagazine.com or on Twitter @michaelngraff.
---
Pinehurst Resort's signature hotel, the Carolina Hotel, invited its first guests to stay on December 31, 1900, so that they could wake up to a new year in what was then the state's largest hotel. Many years and renovations later, The Carolina is still impressive. Guests can spend hours in the rocking chairs on the front porch, and an acoustic guitar player performs soft music at night. 80 Carolina Vista Dr., 844-330-1673.
EAT
The resort has higher-end options such as the Carolina Dining Room and 1895 Grille, along with more relaxed places to grab a sandwich and a beer, such as the Ryder Cup Lounge or The Deuce. But if you want to go where locals and out-of-towners mix, head to the low-key Dugan's Pub, a traditional Irish pub in the village. 2 Market Sq., 910-295-3400.
DO
Well, golf, of course. In 2014, Pinehurst purchased nearby National Golf Club and renamed it Pinehurst No. 9. It's the only Jack Nicklaus-designed course in the Pinehurst region. History buffs should visit the Tufts Archives and get lost in this incredible small-town library collection. The nonprofit organization has photos, artifacts, and hundreds of letters written by Donald Ross, James Walker Tufts, and many others who helped create Pinehurst. Drive a few miles east through Southern Pines, and you'll find a vibrant, small-town shopping district and the Weymouth Woods-Sandhills Nature Preserve, which has some of the oldest pine trees in the state. And there's always Southern Pines Brewing Company. homeofgolf.com/for-visitors/attractions