Pink Night Out, Oktoberfest, Breakin' Convention and More, Sept. 29 to Oct. 2
After a difficult week, Charlotte could use this time to come together, celebrate one another and enjoy each other's company. These events should help.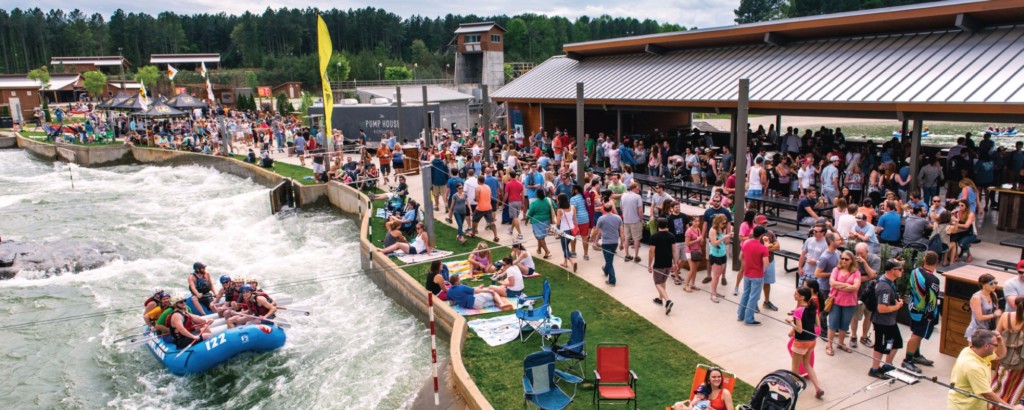 It's been a difficult week for all of us in Charlotte. Now is the time to come together, celebrate one another and share in this beautiful city together. See y'all out there.
Thursday, Sept. 29
Pink Night Out
To get a jump start on Breast Cancer Awareness month in October, Charlotte Radiology and NoDa Brewing host this annual event. The pink party features live music, a special pink beer and a silent auction. Portions of the proceeds go to benefit Project PINK, which funds mammograms for uninsured women. There is no admission fee to this event from 4 p.m. until 8:30 p.m. at NoDa Brewing, 2921 N. Tryon St.
River Jam
For the last time this season, the U.S. National Whitewater Center jams out on the river. To close out the year, the center is bringing in the band Roosterfoot. There's no admission fee to this event except a $5 per car fee. Bring a chair, a blanket and grab some beers and enjoy the cooler weather. The evening lasts from 7 until 10 at 5000 Whitewater Center Parkway.
InstabeerupCLT
The free monthly networking event is at Lenny Boy Brewing's new taproom this month. Come check out the new digs, and sip some kombucha while you're at it. There will be raffles and giveaways. Lenny Boy's new taproom is at 3000 S. Tryon St.
Friday, Sept. 30
Bacon Fest
Sycamore Brewing is throwing a party that celebrates bacon tonight, and you're invited. The party features live music and at least a dozen food trucks that will all feature bacon on the menu. There's no admission fee to this fest from 5 p.m. until 10 p.m. at 2162 Hawkins St.
Oktoberfest
Mortimer's Oktoberfest party, which starts at 11 a.m. and lasts all day, features a full day of drinking games, live music, German food and drinks and more. There's no admission fee to this event at 210 E. Trade St.
Rocktoberfest
Here's the most interesting spin we've found on Oktoberfest. Charlotte Curling hosts this learn-to-curl event with free German snacks afterward. Your last chance at this curling party is tonight from 5 until 7 at 6525 Old Statesville Road. A ticket costs about $36 and includes two hours of curling instructions (plus those German snacks). Buy yours here.
Breakin' Convention
Returning to Charlotte is this international festival of hip hop dance from London's Sadler's Wells theatre. The festival includes performances by hip hop stars from across the world and from Charlotte. This is a two-day party of hip hop culture, and, During the day Saturday, enjoy Street Jam, a free festival at Spirit Square. Times and locations vary, but tickets start at $20. Find more information here.
Saturday, Oct. 1
Can-i-val Beer Festival
With unlimited sampling of 75 types of canned beers, we hope the first "can-i-val" becomes an annual event. What's more,100 percent of the proceeds go to benefit Project Halo, an animal rescue organization. The pet-friendly party is from 1 p.m. until 5 p.m. in the parking lot between The Unknown Brewery and Craft Growler Shop and Tasting Room. Tickets cost $35 at the door.
Great Grapes! Wine & Food Festival
Are you ready for seven hours of wine tasting? With hundreds of wines available for unlimited sampling, you'll need about that long. The festival is at Symphony Park, 4400 Sharon Road, from noon until 7 p.m. Tickets start at $29. Buy yours here.
Carolina Renaissance Festival
The annual medieval festival returns today for the season (running until Nov. 20). Jousting, shopping, "renaissance" food, falconry and more will be yours for enjoying. The festival is open from 10 a.m. until 5:30 p.m. Saturdays and Sundays during the season at 16445 Poplar Tent Road in Huntersville. Tickets cost $23 for adults and $13 for children ages 5 to 12. Buy yours here.
Chocolate for a Cure
Now in its sixth year, this charity gala seeks to raise money to help uninsured women fight breast cancer. The evening features guest speakers, chocolatiers, live band, multiple vendors, complimentary cocktails and appetizers, gift bags, giveaways and, of course, chocolate and wine pairings. The sweet evening is at Le Meridien, 555 S. McDowell St., from 7 until 11. Tickets cost about $59. Buy yours here.
Sunday, Oct. 2
Panthers at Falcons
Our Panthers aren't starting out too hot, but maybe today's game will put a second win under their belts. If you're not driving to Atlanta for the game, here are two especially good bars at which to watch the game. Kickoff is at 1 p.m.
Solstice Tavern
This ray of sunshine in NoDa has both a beautiful patio with plenty of TVs and a large amount of seating indoors, again, with plenty of TVs. Sit down, relax and hope for a Panthers victory. Solstice is at 3221 N. Davidson St.
Angry Ale's
Like Solstice, Angry Ale's has both a beautiful patio and spacious indoor area for seating, and both areas have plenty of TVs. Sunday drink specials include $3 mimosas and $2.50 Miller Lites. Angry Ale's is at 1518 Montford Drive.
Verify dates, times, prices, and other info at the web addresses listed for each event.
Be sure to bookmark www.charlottemagazine.com/Blogs/Dusk-Till-Dawn to stay plugged into Charlotte's nightlife and social scene. Click here to sign up to receive the weekly Dusk Till Dawn e-newsletter.
Want your event featured in Dusk Till Dawn? Follow me on Twitter @Jared_misner and let me know about your event, or send me an email at dusktilldawnblog@gmail.com.