Pink Parties and Fashion Shows, Amazing Race Bar Crawl, Lite Up Cigar Festival, Chocolate For A Cure, and More – Oct. 2-5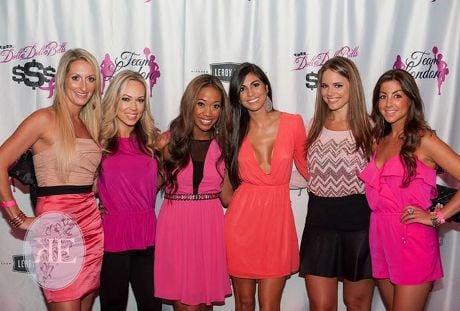 October is starting off with a bang, as there are plenty of great social events and parties going on over the next few days. And several of the events are fundraisers, so you can have a great afternoon, evening, or night out while supporting some important causes and charities.
Thursday, October 2
Re Salon and Med Spa's Fourth Annual Pink Party
Guests will enjoy complimentary wine, beer, hors d'oeuvres, mini services, the chance to win prizes, and 20 percent off retail products. All proceeds will go to Carolina Breast Friends. 6-8:30 p.m. Free admission; RSVP requested. Re Salon and Med Spa, 1212 South Blvd., 4thannualpinkparty.eventbrite.com.
NoDa F.A.M. Rally (new weekly event)
It's the kickoff of a new, weekly food truck event in NoDa, and in addition to the food there will also be music and art. Music this evening by DJ Ahuf, Amigo, and Sinners and Saints. 6-9 p.m. Free admission. The Chop Shop NoDa, 399 E. 35th St., chopshopnoda.com, facebook.com/clture.
Prohibition's Second Annual Oktoberfest
Eight fall beers are being featured on tap, to determine which is the best Oktoberfest brew. There'll also be free food, raffle prizes, and $3.50 drafts all night. 6-9 p.m. Free admission. Prohibition, 200 N. Tryon St., prohibitionclt.com.
Sunset At Metropolitan (weekly event)
This is the second-to-last week for the fall run of this outdoor live music series. The featured band this evening is The Broadcast. 6:30-9:30 p.m. Free admission. Metropolitan, 1111 Metropolitan Ave., metmidtown.com.
The Fall Refresh
Celebrate the beginning of fall with some of Charlotte's tastemakers and trendsetters, and enjoy samplings from local vendors, entertainment, raffle giveaways, a fashion show, and more. Presented by Queen City Social and RockHouse Events. 7-9 p.m. $20. SHU, 1426 S. Tryon St., shusalon.com, eventbrite.com/e/the-fall-refresh-tickets-12932608781.
The Network Mixer
Label House and J Network host this event, and guests are encouraged to bring business cards. 8-10 p.m. Free admission. The Ivory Lounge, at Label, 900 NC Music Factory Blvd., label-house.com, facebook.com/events/806334229397596.
Friday, October 3
First Friday Fort Mill
Taking place the first Friday of each month just south of the border, this family-friendly event features food trucks, live music, local beers, kids activities, and more. 4-11 p.m. Free admission. Walter Elisha Park, 345 N. White St., Fort Mill, firstfridayfortmill.com.
Mortimer's Fifth Annual Oktoberfest
It's a full day of drinking games, live music, German food, and drink specials. There'll be OMB tap on the patio and beer maidens in the bier garden, traditional German polka music (4-8 p.m.), live music by Below the Belt (9 p.m.-1 a.m.), a stein holding competition, and more. 4 p.m.-2 a.m. Free admission. Mortimer's Café and Pub, at EpiCentre, 210 E. Trade St., mortimerspub.com.
SouthEnd Dentistry Gallery Crawl
Gallery crawlers are invited to stop by this dentist office for a special event, featuring complimentary hors d'oeuvres by Crave Dessert Bar, art work by sisters Brenda and Crystal Pinkston, and a live painting by Matt Moore. 6-10 p.m. Free admission. SouthEnd Dentistry, 1520 South Blvd, Suite 110, facebook.com/southenddentistry.
Treehouse Whiskey & Fork Grand Opening
Poised to be SouthPark's newest hotspot, this restaurant focuses on modern American cuisine with a bar focused on whiskey. For the grand opening party, popular Charlotte band Simplified will perform. 6 p.m.-2 a.m. Free admission; RSVP at party@treehouse-restaurant.com. Treehouse Whiskey & Fork, 4423 Sharon Rd., treehouse-restaurant.com, Facebook.
Pretty In Pink Fashion Show
Vestique Boutique is showcasing its latest fall trends at this fashion show, with a portion of ticket sales benefiting the Pretty In Pink Foundation. The night will also include a complimentary first cocktail and appetizers, and prize giveaways. 8-11 p.m. $10. Bubble, at EpiCentre, 210 E. Trade St., bubblecharlotte.com, vestiquecltfashion.eventbrite.com.
Cocktails and Cool Jazz

This hip lounge gets even cooler on the first Friday of each month, featuring cocktails inspired by mixologist Justin Smith, Italian cuisine, and live music by David Hamilton and Classy Jazz. 8 p.m.-midnight. Free admission. Osso Restaurant and Lounge, 1000 NC Music Factory Blvd., ossocharlotte.com. [photo credit: facebook.com/ossocharlotte]
Silent Disco
DJs Drex, Kyle Biddy, and Boy Beats World will battle it out at this event, where the music is played in wireless headphones worn by each partier, rather than traditional club speakers. 8 p.m.-2 a.m. Free admission. Rooftop 210, at EpiCentre, 210 E. Trade St., facebook.com/rooftop210.
Tequila Flights and Live Music
Sample three different tequilas for $15 (drink special available all day/night), while enjoying live music by Caleb Davis. 9 p.m. Free admission. Texicali Taco & Tequila Bar, 900 NC Music Factory Blvd., texicalicharlotte.com.
The Kazba Resurrection Reunion Party
For one night only, Kazba will be resurrected from the grave, featuring music from its former resident DJs Rwonz, Frenzy, and Nurotik, with special guest DJ RJ Spinher from Los Angeles. Presented by dbraun Promotions. 10 p.m.-2 a.m. Admission varies; VIP tables available. Vault, at EpiCentre, 210 E. Trade St., facebook.com/events/289212024595791.
Saturday, October 4
Great Grapes Wine Festival
This 11th annual event will please the palates of wine lovers and novices alike, featuring 220 wines from 20 wineries. The day's festivities will also include food, live music, and crafts. 11 a.m.-7 p.m. General admission, $26 in advance, $32 on site; VIP, $39 in advance, $50 on site. Symphony Park, at SouthPark, 4400 Sharon Rd., uncorkthefun.com/charlotte-north-carolina/site-info.
Amazing Race Bar Crawl
Since 2005, this annual bar crawl fundraiser has been a great contributor to AIDS Walk Charlotte and Regional AIDS Interfaith Network (RAIN). You're encouraged to gather your team of five, and race to a series of bars in Uptown to complete the challenge, stopping for drinks along the way. Awards will be given for fastest times, best team costume/theme, and best team T-shirt. Noon-5 p.m. $150 per team. Brixx Pizza (race headquarters), 225 E. Sixth St., barsagainstaids.org.
Lite Up Charlotte 5.0
The Carolinas' largest cigar festival returns for another year, with more than 30 cigar manufacturers and brands represented. The afternoon will also include food and drinks. Proceeds will benefit Beds For Kids Charlotte. 1-5 p.m. $95. Rooftop 210, at EpiCentre, 210 E. Trade St., eventbrite.com/e/lite-up-charlotte-50-tickets-12829287745, outlandcigars.com.
Fourth Annual Chocolate For A Cure
This annual charity event brings awareness of breast cancer, raising funds specifically for the uninsured and underprivileged communities. Support a great cause while enjoying an evening of complimentary hors d'oeuvres, cocktails, chocolate and wine pairings, a jazz band, vendors, gift bags, giveaways, and more. Presented by TMB Marketing Firm. 7-10 p.m. $40. Sheraton Charlotte Hotel, 555 S. McDowell St., chocolateforacure2014.eventbrite.com.
SPC-NFBPA 2014 Marks of Excellence Gala
The Southern Piedmont Chapter of the National Forum for Black Public Administrators will honor several leaders in public administration during this awards gala. The organization will also honor past NFBPA National President and former Mecklenburg County Manager Harry Jones. The evening will include dinner and entertainment from vocalist Tenya Coleman. 7 p.m. $50. Embassy Suites, 5400 John Q. Hammons Dr. NW, Concord, nfbpa-charlotte.org.
Third Annual Fox Rocks for Pink
It's a foxy way to support breast cancer awareness, as this event will feature a pink carpet with paparazzi, silent auction with all proceeds going to Susan G. Komen, music by DJ SK, while Lindsay of the Ace & TJ radio show emcees. 8 p.m.-2 a.m. $15 at the door. Leroy Fox Kitchen & Cocktails, 705 S. Sharon Amity Rd., foxrocks.leroyfox.com.
Fox and Hound – Northlake's Eighth Birthday Party
Northlake's neighborhood sports bar celebrates another year, and the night will include cake, balloons, and food and drink specials. 9 p.m.-2 a.m. Free admission. Fox and Hound Northlake, 9325 Center Lake Dr., facebook.com/foxandhoundnorthlake.
Eighth Annual Pink Party
Considered to be Charlotte's original pink party, and having been held at some of the city's largest venues over the years, the fundraising fun continues. Come dressed in your hottest pink attire and experience this nightclub's transformation into a pink playground for one night, which is also serving as Label's two-year anniversary party. Proceeds benefiting Amped For A Cure. Presented by dbraun Promotions, Elevate Lifestyle, and Label Charlotte. 10 p.m.-2 a.m. General admission, $10 in advance; VIP tables available. Label, 900 NC Music Factory Blvd., labelcharlotte.com, ticketssoeasy.com/pink8.
NC Block Party II
It's one party across two nightclubs, hosted by hip hop reality TV stars Ashley T. Moore and Blac Chyna, and featuring a performance by rapper Shy Glizzy. 10 p.m.-2 a.m. Free admission before 11:30 p.m. with RSVP; VIP admission, $25; VIP tables also available. Phoenix and Re:Public nightclubs, 300 N. College St., thebgrayexperience.com.
Sunday, October 5
Da Tailgate – For Chicago Bears Fans
Before the Chicago Bears take on the Carolina Panthers this afternoon, Bears fans are invited to this tailgate party, featuring complimentary beers from Goose Island, food from Wild Wing Café, and a DJ. 8 a.m.-1 p.m. Free admission; $15 to park if you choose the adjoining lot. Cedar Yard #3, 600 McNinch St., facebook.com/dabears.qc.
Cans:Recycled – Panthers' Fans Home Game Party
Taking place at a new bar in the shadows of Bank of America Stadium, The Roaring Riot presents its popular home game event, featuring a pre- and post-party, and the 1 p.m. game being shown on plenty of TVs with sound. Noon. Free admission. Draught, 601 S. Cedar St., draughtcharlotte.com, facebook.com/thecansrecycled.
Charlotte Wedding Bridal Show
Charlotte Wedding magazine puts on this boutique bridal show, where many of the area's top wedding professionals will be on hand. Brides will receive a complimentary goody bag and the first 100 attendees will receive a complimentary glass of mimosa. The afternoon will also include a still fashion show, complimentary makeup trials by Laura Mercier Cosmetics, and a groom's lounge with a beer tasting. 1-4 p.m. $7. The Speedway Club, 5555 Concord Pkwy. South, Concord, www.charlottemagazine.com/Charlotte-Wedding-Bridal-Show.
Mega Wine Tasting
Held on the first Sunday of every month at this SouthPark wine bar, this event allows you to sample from 24 different wines, representing vineyards from all over the world. 4-6 p.m. $20. J.Sam's, 4625 Piedmont Row Dr., jsamsplace.com, Facebook.
The Teachers Lounge – Sunday Funday
This event is open to teachers and everyone else who wishes they had access to the teachers lounge while in school. But this is more fun, as cocktails are involved. 5-9 p.m. Free admission. Apostrophe Lounge, 1440 S. Tryon St., apostrophelounge.com, eventbrite.com/e/the-teachers-lounge-sunday-funday-tickets-13434180997.
Mark Your Calendar…
Wednesday, October 15
Dusk Till Dawn Social Series
After the successful kickoff of the #DTDsocial last week at Sullivan's Steakhouse (click here to see photos), the next event in this series takes you to a new hotspot at NC Music Factory, the recently opened Eight Sushi and Asian Kitchen. Guests will enjoy complimentary hors d'oeuvres, drink specials, and the chance to win a gift card from the event's sponsor, Diamonds Direct. 6-8 p.m. Free admission; RSVP required at www.charlottemagazine.com/DTDSocialSeries.
Verify dates, times, prices, and other info at the web addresses listed for each event.
Be sure to bookmark www.charlottemagazine.com/Blogs/Dusk-Till-Dawn to stay plugged into Charlotte's nightlife and social scene. Click here to sign up to receive the weekly Dusk Till Dawn e-newsletter. Follow me on Twitter @HollidayInk; email me at jarvish@grownpeopletalking.com.