Pink Pint Night, Pumpkin Fest, Great Grapes Wine and Food Festival, Oktoberfest and More, Oct. 1 to Oct. 4
Get out there this weekend for a pink party or two, a few more Oktoberfests and, of course, a pumpkin-themed party.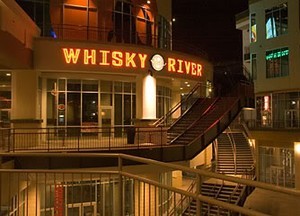 All right, Mother Nature. You're really killing our style. With fall in full force, the number of outdoor festivals and weekend events is huge. We think we can safely speak for most of Charlotte when we say enough is enough. We'd like our weekends back. Rain or shine, though, you have an amazing weekend ahead of you, Queen City. See y'all out there!
Thursday, Oct. 1
Pink Pint Night
October is overrun with the colors of fall: yellow, red and orange. But the most October color of all? Pink. Charlotte Radiology kicks off its month of breast cancer awareness at NoDa Brewing's new location with live music, food trucks, silent auctions and a signature pink pint. The free event is from 4 p.m. until 8:30 p.m. at 2921 N. Tryon St.
Friday, Oct. 2
Pumpkin Fest
Whisky River says hello to October tonight with an army of pumpkin beers, signature fall cocktails and other "fall goodies." Tickets to the pumpkin brew fest are $12. The event begins at 8 p.m. at 210 E. Trade St. Buy tickets here.
Real Men Wear Pink
We told you October was more about pink than any other color. The event, where attendees are encouraged to wear pink to support breast cancer awareness, supports Carolina Breast Friends and Pink 4 Purpose. This pink party starts at 8 p.m. at Bubble, 210 E. Trade St.
International Pink Party
Are you getting the idea about what you'll see in October yet? At the third pink party of the weekend, DJ Cali and Power 98's DJ Phalse ID welcome you to Oak Room to help raise awareness for breast cancer. The event at 200 E Bland St. is free before 11:30 p.m. with an RSVP. Don't forget to wear your pink.
Saturday, Oct. 3
Great Grapes Wine and Food Festival
With more than 200 wines available for sampling, it's probably best you take a sip and not a pour. Nearly two dozen North Carolina wineries will be on hand serving up their finest vino, and they'll pour it into your free souvenir glass. The festival also includes an arts and crafts area, kids zone and, of course, food. The festival is from 11 a.m. until 7 p.m. at Symphony Park, 5440 Carnegie Blvd. Tickets start at $28. Buy them here.
Oktoberfest
In its 17th year, Charlotte Oktoberfest is ready to help you welcome October in full force. Featuring both local and national breweries, the Oktoberfest also features a live music stage and the typical Oktoberfest foods: brats, pretzels and hot dogs. The beer flows from 2 p.m. until 6 p.m. at the NC Music Factory, 1000 NC Music Factory Blvd. Tickets are $45, and you can buy them here.
Carolina Renaissance Festival
Turn back the clock a bit for this annual festival. Starting today and running every Saturday and Sunday until Nov. 22, the Charlotte region welcomes its own jousters and renaissance royalty to town. The annual festival is at 16445 Poplar Tent Road in Huntersville from 10 a.m. until 5:30 p.m. For more information on ticket pricing and the slew of exciting things at this year's festival, visit here.
Hola Charlotte Festival
To help commemorate Hispanic Heritage month, Charlotte is pulling out the party hats to celebrate our Hispanic neighbors that help us make Charlotte such a diverse city. The event features food sampling, art, clothing and other cultural items from 15 Latin American countries. The event at the intersection of N. Tryon Street and E. Sixth Street is free, but it's expected to draw 60,000 people this year, so you might want to arrive early. For more information, visit here.
Kannapolis Arts and Music Festival
This family-friendly festival features arts and crafts, food trucks, music and vendors that, together, span all corners of the globe. The free event is from 10 a.m. until 6 p.m. at 29 West Ave. in Kannapolis.
Chocolate For a Cure
Just when you thought Charlotte was done with breast-cancer-awareness events. This event is an upscale cocktail reception, featuring chocolate confections of all kind paired with wines. The night also features heavy appetizers, vendors and speakers. The event is at 6 p.m. at 220 N. Tryon St. Tickets are $50. Buy them here.
Garden Party
This evening is all about local food and live music. Local chefs, including Heirloom's Clarke Barlowe, will be on hand offering samples of some of Charlotte's homegrown garden gems. Triple C Brewery is supplying the beer and the Mike Strauss Band has you covered with the live music. Plus, it's a party in the garden. What more could you want? The party, which starts at 7 p.m. at 2525 Distribution St., has a black and white theme. Tickets are $50. Buy them here.
Fox Rocks for Pink
If you hadn't gotten your pink fix, never fear. Leroy Fox hosts the official after party for the Susan G. Komen Foundation's Race For a Cure. The event, which requests all attendees wear pink to, features a silent auction, DJ, a pink carpet (not red carpet – get it?) and a signature pink lemonade cocktail. The event starts at 8 p.m. at 705 S. Sharon Amity Road. Tickets are $20. Buy them here.
Sunday, Oct. 4
Front Porch Sunday
Sunday Funday gets a Southern makeover. This event combines craft beer, food trucks, fashion trucks and, because it's October, painted pumpkins for purchase. The free event is from 3 p.m. until 7 p.m. at 2151 Hawkins St., which is next door to Sycamore Brewery.
Carolina Panthers vs. Tampa Bay Buccaneers
The Panthers take on the Bucs today at 1 p.m. The game's in Tampa, but here are some bars with great drink specials and plenty of space to watch the game.
Mortimer's Pub
With Bloody Marys and Miller Lights on special today, you can go right from brunch to drinking during the game. Mortimer's is at 210 E. Trade St., and it opens at 11 a.m.
Sports One Lounge
Bottomless mimosas start at 11 a.m., which is two hours before the game starts. Good luck making it to the start of the game. Sports One Lounge is at 521 N. College St.
Verify dates, times, prices, and other info at the web addresses listed for each event.
Be sure to bookmark www.charlottemagazine.com/Blogs/Dusk-Till-Dawn to stay plugged into Charlotte's nightlife and social scene. Click here to sign up to receive the weekly Dusk Till Dawn e-newsletter.
Want your event featured in Dusk Till Dawn? Follow me on Twitter @Jared_misner and let me know about your event, or send me an email at dusktilldawnblog@gmail.com.
Send Jared an email at DuskTillDawnblog@gmail.com, or send him a tweet @Jared_Misner.

Also by Jared Misner:

→This Weekend's Social Events
→Bowling For Books, First Friday Fort Mill, Electric Luau Party, Soulmatic Carolina Music Fest and More, Aug. 6 to Aug. 9
→The Moon Walk, Candy Fest, Silly String Party, Booze Cruise and More, July 30 to Aug. 2
→Christmas in July, More Christmas in July, National Dance Day, National Tequila Day and More, July 23 to July 26