Pint-sized Party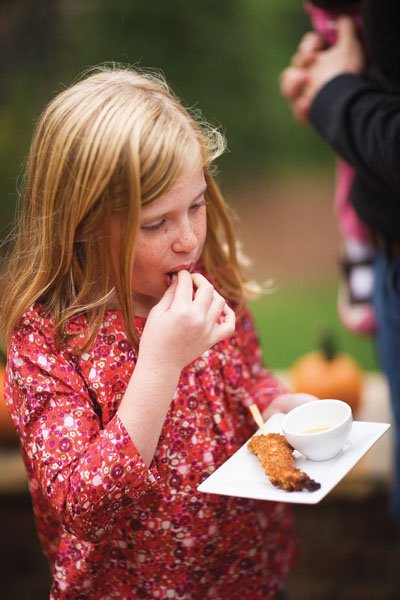 Because Charlotte is such a family-friendly town, having the kids in tow doesn't mean social suicide. Enter our writer's SouthPark-based family: Blair and Sydney Primis (along with their kids, Avery, 8; Flecher, 5; and Brady, 3) often open their home to friends with families such as David and Jodie Ayres (with daughters Burkley, 4, and Harper, 2) to make spending time together that much easier. But kid-approved doesn't have to mean childish: a menu filled with delish finger food and a classic fall drink, with or without booze, works well for all invitees. It is, after all, still a party — kids or not.
Text, recipes, and food styling by Ashley Primis
Sydney Primis and her best friend Jodie Ayres grew up together in Burlington, N.C. And while they never strayed too far from each other (Jodie went to Chapel Hill then on to Atlanta while Sydney resided in Durham), they never lived in the same place again. That is, until two years ago when a job change took Sydney and her family to Jodie's new hometown, Charlotte. And since then, weekly get-togethers between the two families are as regular as the girls' weekly ballet lessons.
Crispy Parmesan chicken dippers with honey-mustard sauce
Serves 8
2 1/2 pounds thinly cut chicken breasts,
cut into strips (about 1 inch wide)
6 eggs, beaten
3 cups flour
3 cups Panko bread crumbs (found in the
Asian food aisle)
1/2 cup shredded Parmesan cheese
Vegetable oil
Kosher salt and black pepper to taste
Wooden skewers
Chicken tenders
Heat oven to 300 degrees F. Set up three shallow dishes for breading the chicken as follows: fill the first dish with flour and season with salt and pepper; fill the next dish with beaten egg; fill the third dish with Panko mixed with Parmesan cheese. Set up another empty dish or plate for breaded chicken. Bread chicken strips by first dredging them in flour, dipping them in egg, and then coating them each with Panko. In a large pan or skillet (one without nonstick coating), coat the bottom with vegetable oil and heat over medium-high heat. Sauté chicken strips, a few at a time, making sure not to overcrowd the pan. If they're not crisping enough, turn up the heat. Flip strips until crispy, no more than 3 minutes per side, and transfer to a sheet pan. Repeat until all strips are cooked, adding more oil as needed. Insert a skewer in each strip and store in the oven until ready to serve (no more than 30 minutes). Serve with honey-mustard (see below) and bottled barbecue sauce (such as KC Masterpiece).
Honey-mustard dipping sauce
1/2 cup raw honey, like orange blossom
1/2 cup Dijon mustard
1 tablespoon light mayonnaise
Combine all ingredients until well blended. Fill mini bowls with each sauce and serve with skewers.
Arugula and pear salad in Parmesan cups
Serves 8
5 cups baby arugula
1 pear, cut into thin matchsticks
1 1/2 tablespoons olive oil
1 1/2 tablespoons lemon juice
Kosher salt and black pepper to taste
1 1/2 cups shredded Parmesan cheese
Toss together first four ingredients to make salad and then season with salt and pepper. Heat a nonstick pan over high heat and sprinkle 2 to 3 tablespoons of shredded Parmesan and let cook until bubbling and brown. Flip and cook the other side for a few seconds, and then transfer into a small juice glass or measuring cup to form into shape. Let it cool and then remove. This can be made the night before and stored at room temperature in an airtight container. Fill each cup with salad and serve.
Sweet potato wedges
Serves 8
4 sweet potatoes, cut into wedges
Kosher salt and pepper to taste
Olive oil
Place wedges in a large pot and fill with water until covered. Add a dash of salt. Bring to a gentle boil and cook until soft, but still firm, about 20 minutes. Drain and cool. Heat grill or grill pan over medium-high heat. Drizzle wedges with olive oil, salt, and pepper and grill until heated, about 5 minutes.
Doughnuts
Serves 8
2 cans refrigerated buttermilk biscuits
Vegetable oil
1/3 cup sugar
1/4 teaspoon ground cinnamon
Combine sugar and cinnamon in a flat dish. In a high-sided pan, add enough oil so that it is about 1/4 inch high. Heat over medium-high heat, until just smoking, and reduce heat to medium. Take each biscuit, flatten with palm, and cut out two small circles with round ring molds. Drop one circle in to test oil. Temperature is right when bubbles immediately form around dough. Adjust accordingly. When oil is ready, add no more than 10 biscuits to the pan and cook until brown, about 30 seconds per side, and transfer to a plate lined with a paper towel. Repeat. Toss the doughnuts in sugar mix and serve.
Chocolate sauce
1 cup semisweet chocolate chips
4 tablespoons heavy cream
1/8 teaspoon ground cinnamon
Heat chips, cream, and cinnamon in a pan over medium heat until melted, stirring often. This can be made ahead of time and reheated.
Tomato soup and grilled cheese
Tomato soup
Serves 8
2 28-ounce cans whole peeled tomatoes, drained with juices reserved
1 tablespoon sugar
5 sprigs thyme
1 1/2 tablespoons olive oil
3 garlic cloves, smashed
1 medium yellow onion, diced
1/4 cup basil, chopped
1/2 cup cream
3 tablespoons unsalted butter
Chicken broth
1 tablespoon lemon juice
Kosher salt and black pepper to taste
Heat broiler and place rack in the middle of the oven. Place tomatoes and thyme on sheet pan and sprinkle with sugar. Roast in oven, stirring often, until well roasted and caramelized, about 30 minutes. Meanwhile, over medium-high heat, add olive oil to a large pot and sauté garlic and onion until clear, about 3 minutes. Add reserved tomato juice and roasted tomatoes and simmer over low heat for about 20 minutes. Add basil and cream and cook for 5 minutes longer. Shut off heat and stir in butter until melted. Use an immersion blender or transfer to blender and blend until smooth, adding 1 tablespoon of chicken stock at a time if thinner consistency is desired. Add lemon juice, salt, and pepper. May be made ahead and reheated.
Grilled cheese sandwich
Serves 8
8 slices country white bread
16 slices white cheddar cheese
Unsalted butter, brought to
room temperature
Heat a few tablespoons of softened butter in a nonstick skillet or pan over medium heat. Place two slices of cheese in between two pieces of bread and then butter outsides of each sandwich. Cook bread until cheese is melted, about 1 minute per side. Cut in half (or into quarters for the kids) and serve.
Hard and soft orange-apple cider
1/2 gallon apple cider
2 1/4 cups orange juice
3 cinnamon sticks
2 tablespoons whole allspice cloves
1 1/2 cups brandy
For kids: combine first four ingredients in a saucepan over medium heat until warm and then serve. For adults: add brandy after other ingredients are hot and cook for 1 more minute until warmed through.
Ashley Primis is the food and lifestyle editor for Philadelphia magazine. Her work has appeared in Lucky, Women's Health, and Charlotte magazines.