Pint-Sized Problems
Little wedding guests come with their own special set of considerations. Here's how to maximize communication and planning to eliminate awkward situations, whether or not you'll be celebrating with children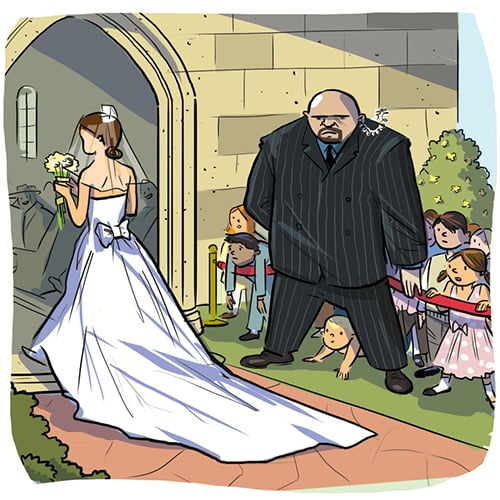 Lacey Valentine took careful steps during her planning to avoid wedding mishaps.
And yet, minutes before she was set to make her entrance, a guest parked a stroller in the aisle.
"If I had walked down, I would've had to maneuver my way around [the stroller]," Valentine says.
Instead, Valentine's uncle politely asked the guest to move her stroller, and Valentine didn't have to side-step the baby gear after all. Unfortunately, the guest was still upset—a situation that could've been avoided if she had taken advantage of the nursery and babysitter Valentine provided.
"I didn't feel like kids should be [at the ceremony]," Valentine says. "I didn't want a baby interrupting those 30 minutes."
Valentine isn't the only bride who made other arrangements for her pint-sized guests; plenty of couples consider the ceremony, if not the reception, a kid-free zone.
"I have a lot of clients lately who are adamant about kids not coming to the wedding," says event planner Ivy Robinson of Ivy Robinson Events. "They especially don't want kids in the church during the ceremony in fear that [the kids will] start screaming and yelling while they're trying to say their vows."
To avoid a scene and keep you and your guests happy, consider these suggestions.
Make your decision and stick to it
"No matter what you choose to do, do it across the board," says Lizzie Post, co-author of Emily Post's Wedding Etiquette, 6th Edition. "If you allow some nieces and nephews, you should allow all of them to come. If children 13 and older can come, then make sure it's only kids 13 and older. Put a boundary in place and stick to it."
Some exceptions include ring bearers, flower girls, and junior bridesmaids or children of immediate family members. But guests should be made aware why certain children were permitted to attend while others weren't.
Be clear in the invitation
"Address the invite to only the adult couple," says wedding planner Anne Markey of Favor Me Events. "For example: Mr. and Mrs. John Smith. This should clue the couple in that 'and family' is not invited."
If you aren't certain that a subtle hint will work, Markey also suggests adding a guest count line on the RSVP card.
"Or go a step further," she says, "and have 'X number of seats have been reserved for you' on the RSVP card."
Get on the same page
Creating a wedding website gives you a place to state that you have a "no-kids allowed" or "no kids younger than 10" policy in place, Post says.
Also make sure family members, especially your parents, know whether or not children are welcome at the ceremony and reception—and know how to address questions about the policy if they come up.
"Many times guests will contact parents of the bride and groom with questions," Markey says. "It's also important that parents know what to say. 'They don't want your children at the wedding,' is probably not the best thing to say."
If there is a particular reason why you don't want children to attend, such as alcohol being served at the reception, be sure to explain your preference and the reasoning behind it to your parents and guests.
Manage the kids
Although as the bride and groom, you should not feel responsible for guests' children, having a babysitter available on-site is a considerate gesture, Post says. Valentine asked the head of her church's nursery to watch guests' children during her ceremony, and then provided age-appropriate entertainment at the reception.
"We had a nice TV room and games and movies set up, so parents could have a good time and not worry about the safety of their children," Valentine says.
If you'd like to avoid having children at your reception, Robinson suggests booking a separate hotel room for children who are invited. Within that extra space, a babysitter can do arts and crafts with the children, help them decorate cupcakes, or even let the kids have their own mini-reception, complete with dancing and music.
"I'd even consider hiring a magician or balloon artist to entertain the kids," Robinson says.
Don't go to extremes
While offering babysitting services and activities for kids is a nice gesture, there's no need to accommodate everything.
"Offering a kid-friendly meal is not necessary at all," Post says. "If you want to provide a kids' meal of chicken tenders and French fries, that's nice, but it's not your responsibility as hostess."
Don't lose your cool
Inevitably there will be a guest who decides to bring his or her little one to the ceremony or reception in spite of the couple's wishes. At that point, instead of panicking, just relax.
"It's going to get real awkward real quick [if you confront the guest]," Post says. "I say go with the flow and run with it."