Pizza Perfect
Two new pizzerias open along the light-rail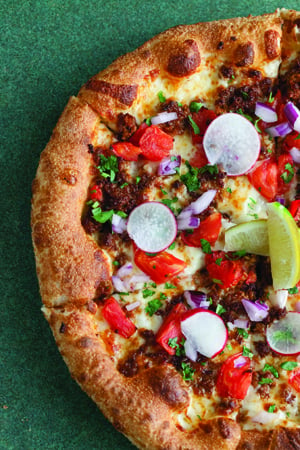 Great pizza and public transportation are marks of a seasoned metropolis, and two new light-rail-accessible eateries prove that Charlotte is a city worth its weight in dough. Zucca Pizza Tavern, located near the East/West Boulevard light-rail stop in Atherton Mill, serves New York's finest, while Pure Pizza, found in the 7th Street Public Market, not far from the Seventh Street stop, finds its niche in farm-to-fork ingredients.
Zucca Pizza Tavern (2000 South Blvd., 704-332-6076)
Zucca began as an idea among high school friends in Long Island. In 2001, armed with a secret family recipe and the motto, "New York City is so far away and life is too short to eat bad pizza," Tim Langell, Joe Romano, and John Gibney opened Zucca outside of Atlanta. This June, Charlotte became Zucca's first franchise location, starring the same original, made-from-scratch dough and sauce. Zucca also serves calzones, pasta, salads, and classic bar food, but the pizza is prize-worthy. Each slice is expansive and light, begging to be folded in half and inhaled in a New York minute.

Pure Pizza (255 E. Seventh St., 980-207-0037)
"Everyone loves pizza and beer," says Juli Ghazi. "But I didn't want to sell another greasy, generic slice of pie." With health in mind, Ghazi recruited Johnson & Wales baking instructor Peter Reinhart to create the menu for Pure Pizza. Options range from a personal cheese pizza on a thin, bubbly Neapolitan crust for $5.95 to gourmet options such as the mushroom pizza on a sprouted ancient grains crust, drizzled with truffle oil and topped with jalapeños. During lunch, lines stretch from the counter to the patio, but the pizza bakes in just minutes. Order yours with a local beer or Cheerwine and ask for a container of pepper-infused honey for your crust.