Playing in the Mud: The North Carolina Warrior Dash
Event lets adults be kids again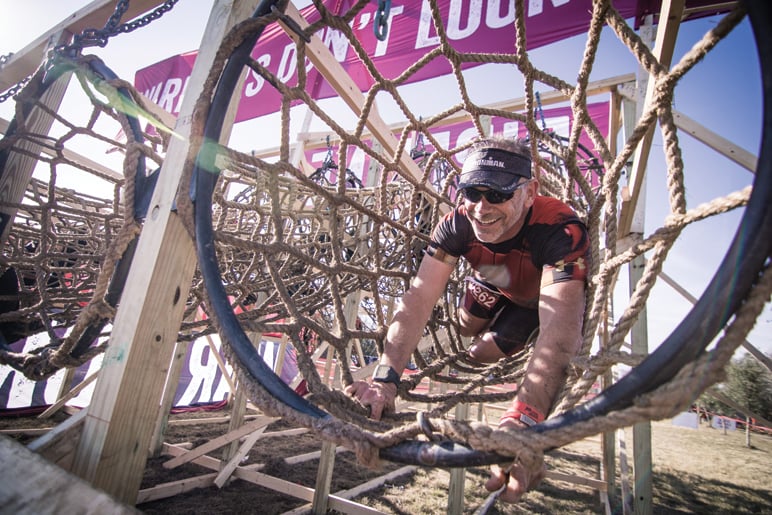 WHEN JESSICA "J.P." Piotrowski was a young girl, she was an outdoors kid. She played in the mud and climbed trees; she stayed outside until the streetlights turned on. Even now, as a 34-year-old regional sales director for Daly Seven hotels, Piotrowski has a bit of outdoors kid in her. And for one Saturday afternoon in June, she can act like it.
Piotrowski will be one of about 5,500 competitors in the North Carolina Warrior Dash in Huntersville on June 6. Some of the people running this 5K obstacle course will be elite athletes, competing to qualify for the Warrior Dash World Championship. But most of the runners—Piotrowski included—are there to have fun. Organizers say there's a broad age range for participants, although most are in their 20s and 30s. Many are outdoors kids who have grown into adults with indoor jobs, and they long for a break in their routine.
"I sit in front of a computer screen for eight to 12 hours a day," says Jamie Hall, 34, an attorney in Charlotte. "So it's definitely a nice release getting out and not having to sit under fluorescent lights and stare at numbers and emails all day long."
Twelve obstacles interrupt this run through the woods and fields of Rural Hill, including a wall to scale, a row of fire, and a mud pit covered in barbed wire. Participants know what they're in for: Several weeks before the race, an online course map previews the challenges to come. Online training tips provide targeted muscle exercises, runs, and other workouts customized for the race.
The Warrior Dash appeals to people who seek challenges beyond typical workouts. "There's kind of a childlike vibe and wonder to it," says Matthew Gigante, 22, from Huntersville. He's an experienced obstacle course runner who is looking forward to Goliath, the dash's largest obstacle, which requires runners to climb a two-story wall of cargo nets, balance across a beam over a water pit, and then—as a reward—slide into a mud pit. "There's something oddly satisfying, calming to the soul, when you come off the slide, land in the mud pit, and you're all dirty, and it's just like, Yeah!" he says.
Gigante wasn't always the athlete he is now. He admits to spending many hours playing video games in high school. But he started exercising more in college, and last year, decided to participate in his first Warrior Dash. Now, he regularly runs, lifts weights, and punches a heavy bag to train for this and other obstacle races.
The spirit of the race recalls a time when being active wasn't about exercising but about playing. For Piotrowski, the Warrior Dash shows that "living healthy doesn't suck" and that an active lifestyle can be inspired by fun and positivity. "At the end, you feel good about yourself, you feel good about what you've done for your body, and you've had a blast doing it," she says.
She doesn't remember how long it took her to complete the race two years ago. What she remembers is the fun. She smiles and laughs as she shows pictures and tells stories about her and her mud-covered friends running the race. "I even had mud on my teeth," she says. Her goal is to have that much fun again. For one afternoon, she won't be J.P., regional sales director. Once again, she'll be J.P., outdoors kid.
The North Carolina Warrior Dash
Historic Rural Hill
4431 Neck Rd. Huntersville
Prices vary depending on when you register.