Plaza Midwood Community Radio: The Music Makers
The online station shares good tunes with friends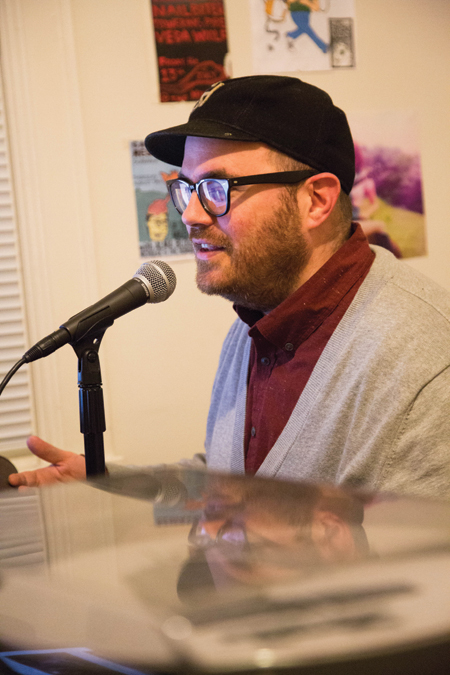 SWELL FRIENDS, Mineral Girls, Del Rio…
If you ask Michael Earle for the names of his favorite bands, get comfortable and grab a pen. It's a long list.
Stranger Day, Mikal kHill, Robert Childers and the Luciferian Agenda …
For Earle, general manager of Plaza Midwood Community Radio, music is personal. While apps such as Pandora and Spotify have turned playlists into a science of algorithms, he favors a human approach: He listens to the music his friends enjoy or create, the music he hears live at venues such as Snug Harbor. Preserving this feeling of a friend telling a friend "You have to hear this" is what drives his nonprofit, online radio station.
"We want to take the Plaza Midwood neighborhood—the idea of it, the community—and broadcast that identity to the world," he says.
PMCR is a small operation—it broadcasts from a spare room in a private home—and its shows can be as buttoned-up or as weird as they want to be. The most popular is Treklenburg, a talk show devoted to Star Trek. Hosts Earle and Molly Jay invite occasional neighborhood guests such as Karla Marsh from the comic-book store Heroes Aren't Hard to Find. She discussed Trek toys, while Julia Simon from Nourish vegan delivery service chatted about Trek foods—even though, as Earle says,
"There's nothing vegan about a Klingon."
Scott Greenberg hosts Debts No Honest Man Can Pay, a show that pairs big names like Drive-By Truckers and Bruce Springsteen (who inspired the show's title) with local bands like Amigo and Sinners and Saints.
"I like being able to [tune] to a quality station and go, 'Surprise me,' " Greenberg says. " 'I'm going to listen here all day; play me everything. I might not like all of it, but I'm going to trust you.'
"When radio is at its best, it's like sitting around, sharing music with your friends."
Like Earle, Greenberg enjoys the hell out of this. It isn't about the money—hosts volunteer—nor is it about a surplus of free time. Earle has a band and a day job in technical support; Greenberg is a full-time copywriter. A third host, Devo Strickland, has an entirely different challenge. He balances radio with being a student—in kindergarten.
At six years old, Devo is, pound for pound, the coolest host at PMCR. His music obsession began as a toddler with Material Issue. He progressed to Blur, The Who, and The Ramones. He was discovered as a future radio star at age five: When PMCR cofounder Jason Michel picked his daughter up from school, he spotted her classmate pretending to be Tyler Glenn of Neon Trees.
"Once he gets interested in a band, he dives in and learns everything about them," says Phil Strickland, Devo's father and Michel's friend.
The Devo Radio Show has been educational for its host; he practices penmanship by writing set lists, learns math by calculating musicians' ages, and improves his reading skills by researching bands.
But it's his enthusiasm that wins over fans.
"I hate Kiss. I hate Kiss," Earle says. "But when a six-year-old puts Kiss on his radio show and you hear him yell out, 'That's the hottest band in the world! Kiss!' you can't hate them. I mean, I still don't love them, but I'll tolerate them for that kid."
Lunchbox Records even sells stickers that read, "What Would Devo Do?"
Despite all this excitement, the station struggles to win a regular audience. On a recent broadcast, metrics showed Greenberg's listeners hovering in the single digits.
"There are days where I'm like, 'Am I spitting into the wind, or is someone hearing this?' " he says. "Maybe there's a bit of insanity there because I'm basically talking to, like, three people. But they're three really cool people," he adds, laughing.