Plus Or Minus One
Notes on opting out of a wedding band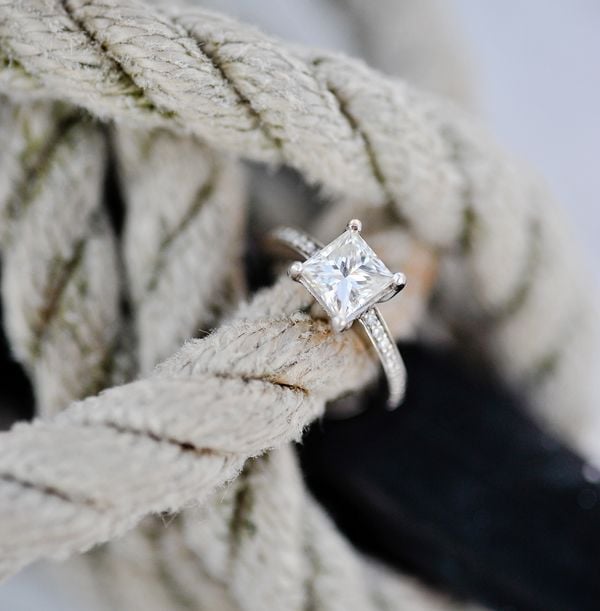 In an ideal world, every girl should be head over heels for her engagement ring. Aside from the obvious fact that it's a symbol of forever with your love, the design should be one that fits your personality and personal taste. That said, if you're lucky enough to be enamored with this piece of left-hand jewelry, you just may be pondering the idea of opting out of a wedding band. While we've already discussed the basics of finding a band which compliments (rather than competes with) the engagement ring, some brides to-be are simply uninterested in adding another element to the mix. So is it acceptable or too far a stray from tradition? After having a friend ask me this very question, I began doing some research and asking around to all the seasoned pros of the industry. And, if you're one of the few who wants to keep your main stone solo, you're in serious luck. Not only is it now entirely acceptable for brides to ditch the wedding band, it's also an inspired idea for more than a few reasons. Here's why…
Wallet Relief
Money conservation will always be on trend. And for those who need to do so, spending funds on only one ring makes perfect sense. On top of this, should your engagement ring be one which requires a custom band in order to have a flush fit of the two, this would require even more money. So opting out of it all together is more than acceptable.
Balancing Act
Whether it's comfort or a simple matter of aesthetic, opting out of pairing a band with your engagement ring doesn't necessarily mean you have to opt out of the band entirely. Feel free to purchase a band if you so choose, and simply don it on a different finger. This way you still have the tangible symbol it represents, just without the necessity of layering it with the engagement ring.
Charmed
Another option? Choose a thin band and string it onto a dainty chain. I wear a particular pendant necklace every day–it never comes off my neck, so this concept resonates well with me. It's classic and meaningful.