Pocket Park Going Up Fast In Uptown, and So Is the Google Building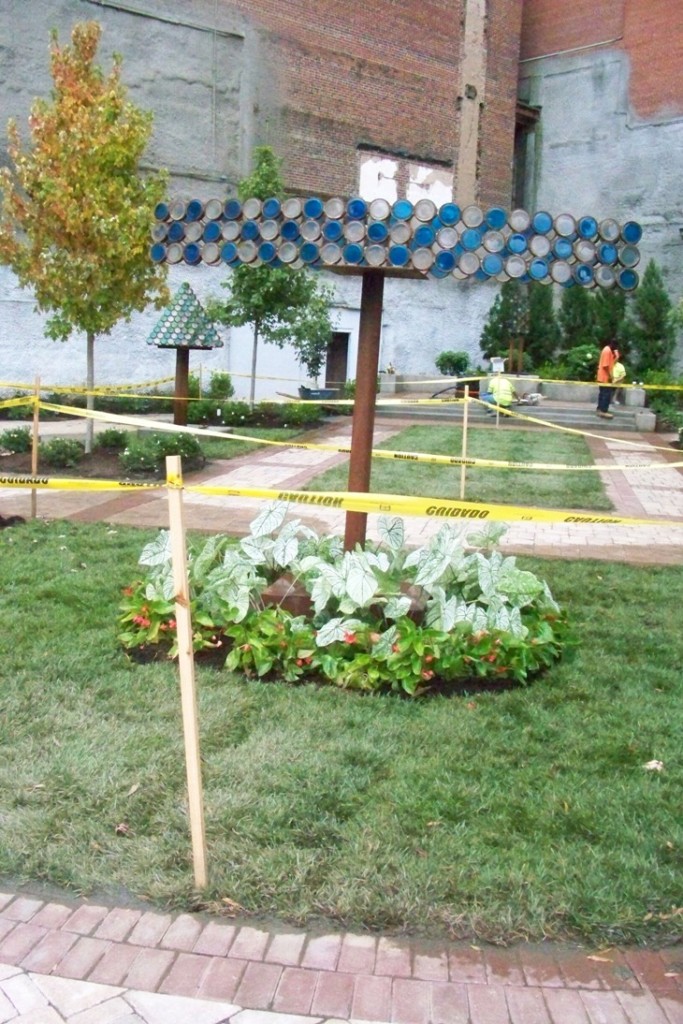 When I roamed through Uptown Charlotte exactly two weeks ago, snapping photos of the different things being put into place in time for the Democratic National Convention ("Signs of the Times: The Convention Is Near"), one of the locations looked questionable to me. I wondered whether the so-called "pocket park," which was under construction in the vacant lot at 230 N. Tryon St., in front of the old Carolina Theatre, would be completed in time. Because two weeks ago, construction workers were still grading the land.
Today, however, as you can see in the photo on the left, the pocket park is nearly finished, and will probably be open to the public by this weekend. There's grass, flowers, trees, cobblestone walkways, and more–a far cry from the eyesore the vacant lot was previously. I hope the DNC protesters don't "occupy" this area next week, though.
Know what else is sprouting quickly in Uptown? The temporary structure where Google will host its DNC Week events. Resembling the search engine giant's colorful and iconic logo, the Google building (pictured below) is nearing completion in a parking lot at the corner of South Tryon and West Third streets.
You'll be able to admire it from the sidewalks, but unfortunately the majority of Google's DNC events will be invitation-only or for credentialed guests, including panel discussions it's hosting on politics, race, and technology, among others, along with cocktail receptions with expected guests such as Newark Mayor Cory Booker and entertainment mogul Russell Simmons. If you want an idea of what the inside of the Google space will look like, check out what they're doing this week at the Republican National Convention in Tampa.
Stay up to date with Charlotte magazine's Democratic National Convention coverage at www.charlottemagazine.com/dnc.
Follow me on Twitter @HollidayInk; email me at jarvish@grownpeopletalking.com.