Polar Express, Panthers Pep Rally, Science on the Rocks, MLK Day Celebrations and More, Jan. 14 to Jan. 17
This Martin Luther King, Jr. Day weekend has many ways to celebrate the civil rights icon, but it also has a pep rally for our Panthers, a Polar Express all-white party and more.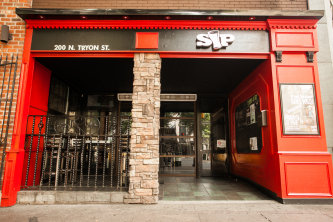 It's a long holiday weekend for many of us, and the Panthers play this weekend to try and keep our Super Bowl dreams alive. That spells a good few days by itself, but, of course, that's not all we found for you to do this weekend, Charlotte. See y'all out there!
Thursday, Jan. 14
Polar Express
The name definitely isn't what it sounds like. At this Polar Express party, white attire is requested. BAR Charlotte is welcoming winter with this white party, and if you register now, you'll get in free before midnight. Baby, it's cold outside. RSVP here.
Friday, Jan. 15
Panthers Pep Rally
After our Panthers won the division and earned a well-deserved first-round bye week, our team takes on the Seahawks from Seattle this Sunday. To get ready for the game, Miller Lite is throwing a pep rally tonight, and you're invited. The Topcats cheerleaders and Panthers Purrcussion Band will both be there, and attendees will get a 2015 Division Champions T-shirt, a chance to win playoff tickets and free entry to Whisky River, Blackfinn, Strike City, Vida, Vida Vida, Bubble, Suite and Rooftop 210. The party starts at Rooftop 210, 210 E. Trade St., at 7 p.m. Tickets are about $11, and you can buy them here.
Science on the Rocks
Discovery Place turns itself into a speakeasy tonight, so pull out your flapper dresses and Roaring '20s gear and get ready for a great time. Staff from Cheers Charlotte and House of Brews as well as a star from the TV show "Moonshiners" will be on hand to discuss homebrewing and Charlotte beer culture and the history of moonshine, respectively. Don't forget your dance shoes, either, because Gotta Swing Charlotte will be there with swing dancing lessons. Admission costs $8 in advance or $10 at the door. The evening begins at 5 p.m. at 301 N. Tryon St. Buy tickets here.
Posh Mixer House Party
On the third Friday of each month, SIP throws a "house" party you won't want to miss. There's a DJ, drink specials and hookah available. The party gets going at 9 p.m. at 200 N. Tryon St. Don't worry about admission if you RSVP and come before 10 p.m. After that, admission costs about $6.
Saturday, Jan. 16
Masquerade Night of Colors
Drag yourself out to Mooresville tonight and throw on your funkiest feathers, as Mona's Lounge throws this masked costume party for all. Non-masked attendees will still be allowed in, but why ruin the fun? DJ BOB starts spinning music at this free party at 9:30 p.m. at 138 Village View Drive in Mooresville.
Humane Society of Charlotte Gala
Celebrating a decade of protecting Charlotte's furry friends, the Humane Society is throwing this fancy party. At the gala, attendees can listen to speakers, sip cocktails, taste vegan appetizers and desserts and take part in a silent auction. The gala begins at 7 p.m. at 2525 Distribution St. Tickets are $50 for general admission or $25 for students in advance. Buy tickets here.
Martin Luther King, Jr. Day Parade
This annual free event is always a family favorite in Uptown Charlotte as the Queen City gathers to honor a legacy of a great man. The parade starts at 11th and North Tryon Street and ends at Stonewall and South Tryon Street. Festivities begin at 11 a.m., but you'll want to arrive earlier than that to get a good viewing spot along the parade route.
Dr. Martin Luther King, Jr. Legacy Celebration
The Levine Museum of the New South opens its doors for free both today and tomorrow to teach Charlotteans about King's influence on the South. The museum is at 200 E. Seventh St., and the special event will feature performances and crafts in addition to the exhibits. Hours vary.
Sunday, Jan. 17
Martin Luther King Jr. Weekend Celebration
Celebrate the man who changed so much by showing up at this celebration featuring a trio of performers. Algebra, Avery Sunshine and Anthony David will all be at Coyote Joe's, 4621 Wilkinson Blvd., tonight. Doors open at 8 p.m., and the show begins at 9 p.m. Tickets cost $25, and you can buy them here.
Dream IV Annual Holiday Weekend Celebration
The event's tagline is "No work on Monday, play hard on Sunday." That pretty much sums up how we feel about this weekend. Celebrate Dr. King (and all the Capricorns out there) at this party with DJ Ngenius at Suite, 210 E. Trade St., beginning at 10 p.m. The event is free with an RSVP before 11, and after that tickets cost about $11.
Panthers vs. Seahawks
The Panthers play at 1:05 p.m. today, and if you didn't score tickets, there shouldn't be any shortage of places you can watch the game (Read: everywhere in Charlotte will play the game). But one worth checking out today is Draught. At 601 S. Cedar St., it's so close to Bank of America Stadium that you can hear the game and with its make-your-own mimosa bar and drink specials, you might be even be happy you're not in the stands. OK, we wouldn't go that far. Draught opens at 11 a.m.
Verify dates, times, prices, and other info at the web addresses listed for each event.
Be sure to bookmark www.charlottemagazine.com/Blogs/Dusk-Till-Dawn to stay plugged into Charlotte's nightlife and social scene. Click here to sign up to receive the weekly Dusk Till Dawn e-newsletter.
Want your event featured in Dusk Till Dawn? Follow me on Twitter @Jared_misner and let me know about your event, or send me an email at dusktilldawnblog@gmail.com.
Send Jared an email at DuskTillDawnblog@gmail.com, or send him a tweet @Jared_Misner.

Also by Jared Misner:

→This Weekend's Social Events
→Bowling For Books, First Friday Fort Mill, Electric Luau Party, Soulmatic Carolina Music Fest and More, Aug. 6 to Aug. 9
→The Moon Walk, Candy Fest, Silly String Party, Booze Cruise and More, July 30 to Aug. 2
→Christmas in July, More Christmas in July, National Dance Day, National Tequila Day and More, July 23 to July 26