Popping The Question
Clever Ways To Beckon a Bridesmaid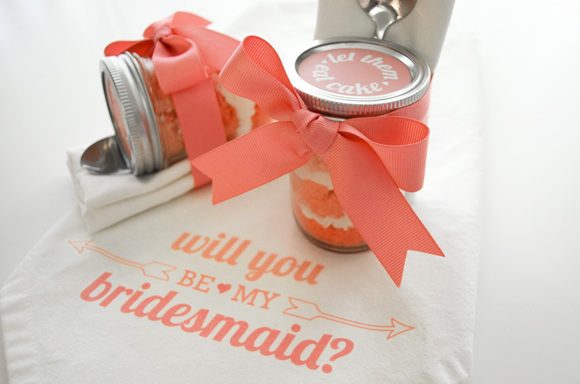 Who says question creativity has to cease once your man has put a ring on it? Adding a bit of novelty to your method of asking your chosen few to be bridesmaids is quite the novel idea. And I happen to have more than a few clever ways to do so that I will share with you. So before you send out the mass Facebook message, (seriously, don't) break out the big guns and get your girls on your excitement level with an original proposal.
1. Hanky Panky
Scout out a set of scalloped-edge handkerchiefs and have them embroidered with each girl's name and your request. Fold carefully, wrap them up and send them out in the mail. Or use them to wrap up individual sets of silverware, tie them with a satin ribbon, set the table and invite all the girls over for dinner.
2. Cookie Monster
Pop into a local bakery and have the question written in icing on a large cookie. Wedding bells, dresses, shoes and ring shapes work perfectly. Wrap them up in clear plastic bags and tie the tops with ribbon. Another option: pierce a stack of three French macarons with a toothpick flag bearing the question. Avoid using snail mail for these items–deliver them to each girl's house the same day (you can place it in a mailbox or set it by the front door) so they're fresh upon arrival.
3. Picture Perfect
Find photos of you with each of your bridesmaids. Have photo postcards printed (you can do this on Shutterfly, Snapfish or even at Walgreen's) and write the question on the back. Add a stamp and mail out!
4. Something New
Choose a matching jewelry item that's wedding related and buy one for each of the girls you'll be asking. Try a simple gold knot ring or wishbone pendant necklace. Place a card popping the question with the item, wrap it up and send it out. It can even double as a wedding day accessory for them.
5. Green Card
Rather than a simple note asking for their duty, slip a gift card to your bridesmaid boutique of choice into the card. $25, $50–whatever your budget allows, they will be super appreciative of your thoughtfulness in making a contribution toward their dresses.