Post & Gray Celebrates Five Years
This weekend the South End shop marks its anniversary with special events and deals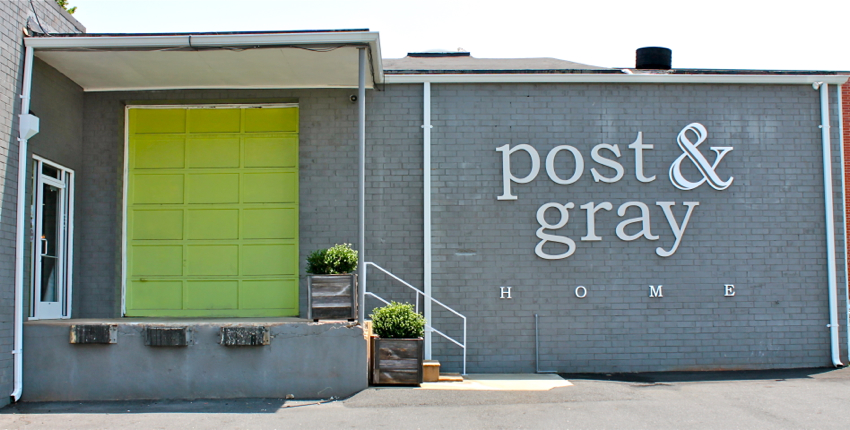 This weekend, Post & Gray celebrates its five-year anniversary. Located on Tryon Street in South End, the store is full of items for your home and garden. The store's tagline is, "Find your home's style," and it gives you the space to do it.
Inside the 7,000-square-foot warehouse, Post & Gray displays the collections of 35 different merchants. End tables and lamps, rugs and pillows—Post & Gray caters to the person looking for a single accent piece to freshen the living room as well as the family remodeling their entire home. They also do custom work, including rugs, draperies, and upholstery.
When John and Kelley Vieregg opened the store in 2009, they wanted to create a place where customers could connect with merchants' collections. Post & Gray's offerings are eclectic, but not overwhelming. The products are well organized and appropriately displayed, so customers can get an idea of what pieces would look like in their homes. Once a customer discovers Post & Gray, he is likely to return.
"I'm on a first-name basis with a good percentage of our customers," says Faith Penney, store manager. "It's a welcoming place. People come here and feel really comfortable."
This weekend, the store is thanking its customers for their five years of support. A five-day sale started this past Wednesday and continues through Sunday. The deals range from 10 percent off to 75 percent off. Several events will take place on Saturday. Judy Brown will be designing pillows. Customers are welcome to bring their own fabric or choose from the store's selection. A rug expert will offer consultations about the best sizes and designs for your home. Everyone who purchases a rug will receive a free rug pad. Any custom upholstery order placed on Saturday comes with a one-hour design consultation. And South Carolina artist Dale Barattini will be onsite to showcase her art and discuss commissioned work.
After this weekend's festivities celebrating the past five years, Post & Gray will look toward the future.
"There's always room for growth," Penney says. "We're always looking for new ways to expand, make it better for our customers, … and bring the best, unique products to the area."