Power & Influence in Charlotte
Who Runs Charlotte?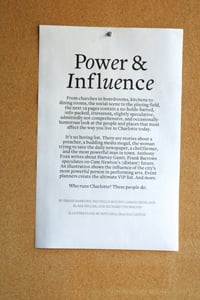 Illustrations by Mitchell MacNaughton
From churches to boardrooms, kitchens to dining rooms, the social scene to the playing field, the next 19 pages contain a no-holds-barred, info-packed, irreverent, slightly speculative, admittedly not comprehensive, and occasionally humorous look at the people and places that most affect the way you live in Charlotte today.
It's no boring list. There are stories about a preacher, a Latino media mogul, the woman trying to save the daily newspaper, a chef/farmer, and the most powerful man in town. Anthony Foxx writes about Harvey Gantt. Frank Barrows speculates on Cam Newton's (distant) future. An illustration shows the influence of the city's most powerful person in performing arts. Event planners create the ultimate VIP list. And more.
Who runs Charlotte? These people do.