Power Politics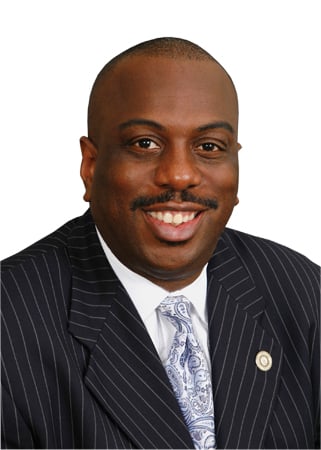 These are history-making times in the Tarheel state. For the first time since the late 1800s, Republicans rule the state legislature. A hometown politician boasts the highest rank in Raleigh. Charlotte landed the Democratic National Convention — the first time the South has hosted a convention in twenty years. And yet, all the while the governor says there's a massive $2.7 billion hole in the state budget, and legislators are preparing for the always-controversial redrawing of congressional districts. That makes it the perfect time to survey the movers and shakers who call the shots in Raleigh and affect us most in the QC. A look, if you will, at the state's power players — otherwise known as the Mecklenburg delegation.
House
Rodney Moore
District 99

A freshman legislator, Moore serves on the board for Charlotte's Housing Authority and defeated controversial incumbent and fellow Democrat Nick Mackey to win the seat.
WHY YOU SHOULD CARE: He's a legislature newbie and a Democrat (read: it'll be really tough for him to get much done).

Bill Brawley
District 103

A former commercial real estate broker, Brawley is considered one of the most fiscally conservative politicians in the group. But he's a freshman representative with more local experience under his belt than anything else, so his influence is weak. He previously served on the Matthews Town Council and the Mecklenburg Parks Commission. WHY YOU SHOULD CARE: His real estate background means he could be looking out for developers when it comes to the regulatory reform debate.

Thom Tillis
District 98

Before heading to Raleigh, Tillis was a Cornelius Town Council member from 2003 to 2005. Tillis was elected Speaker last year because he's someone most Republicans are indebted to. (He single-handedly recruited many Republican candidates in November and helped raise a ton of money for them.) Known for being good at rallying the troops, Tillis is clearly popular with his counterparts and now heads up a united Republican legislature. WHY YOU SHOULD CARE: Insiders call him a ringleader, which could come in handy for the people in his home district (a.k.a. Mecklenburg County) when a few favors need to be called in.

Ric Killian
District 105

When it comes to highway repairs, Charlotteans have long felt like the redheaded stepsister to Raleigh. But there's a chance of finally changing that, since Killian is from Charlotte, and is now the chairman of the appropriations committee on transportation. WHY YOU SHOULD CARE: Did we mention he wields power when it comes to road repairs? He could play a role in making sure we get cash for things like I-485 and Independence Boulevard.


Tricia Cotham
District 100

Cotham comes from a family of powerful Democrats (her husband was the head of the state Democratic Party, and her mother is the only person from Charlotte on the Democratic National Committee). An onleave assistant principal at East Meck High, Cotham is the youngest member in the NC House, was former Senator John Edwards' first intern, and holds the seat that used to belong to notorious former House Speaker Jim Black. WHY YOU SHOULD CARE: She could play a key role in getting CMS some much-needed cash. Plus, she's a gogetter: Last year she figured prominently in getting millions in gang-prevention cash for Meck County.

Ruth Samuelson
District 104

Samuelson is a rising power player in the GOP and the General Assembly. As the House Majority Whip, she'll play a big role in every vote. She'll rally the Republican troops before every vote and make sure they're voting the way the party wants them to. A native Charlottean, Samuelson is loyal to her hometown and hot on environmental and social issues but not a fan of spending money. Still, says one source, "she's one to keep an eye on." WHY YOU SHOULD CARE: She'll be key in major votes such as making sure there's money for CPCC, UNCC, and CMS. She'll also likely push for regulatory reforms to help small businesses.

Kelly Alexander
District 107

This former president of the North Carolina NAACP was born in Charlotte and graduated from UNC Chapel Hill. Alexander has focused much of his public service on civil rights and small-business issues. He was initially appointed to his seat; voters elected him into office in 2008. WHY YOU SHOULD CARE: In his short time in Raleigh, Alexander's been an advocate for job creation and energy issues and recently helped to calm tensions when the NAACP called on major organizations to boycott Charlotte because CMS allowed a snow makeup day on MLK Day.

Becky Carney
District 102

A five-term representative, Carney tends to focus on the bigger picture (read: recruiting international companies to set up shop in North Carolina and bring the jobs that go with that). She also wants to bring more arts education into schools. WHY YOU SHOULD CARE: A long-time elected official, Carney focuses on infrastructure and transportation, both things Charlotteans often feel Raleigh gets more say in.

Beverly Earle
District 101

Only six Democrats voted for Republican Thom Tillis to be the Speaker, including Earle, who said it was more a vote for Mecklenburg County than anything else. This longtime rep — she's in her ninth term in the House and serves as a vice chair of the Health and Human Services Committee—cares most about mental health and social services issues. WHY YOU SHOULD CARE: Mental health services have faced serious cuts in the last few years, contributing to crowded emergency rooms and jail cells. Earle made some headway on the issue in the past and will be key in making sure the cuts don't get any deeper for Mecklenburg County.

Martha Alexander
District 106

This is Alexander's tenth term in the House, making her the longest-serving member of the Mecklenburg delegation. She serves as a vice chairman of the education committee. Education is where she tends to focus her efforts. WHY YOU SHOULD CARE: She's long championed making sure the people who need social services have access to them. Plus, as CMS fights for budget money, someone like Alexander could benefit Mecklenburg County.
Senate
Tommy Tucker
District 35

Tucker had to campaign hard to win a tough primary that included donating a chunk of his own change to his campaign. He believes in giving counties more control over how to spend state education money, but he also supports a spending freeze to get the state's budget under control. WHY YOU SHOULD CARE: He has a long history of local service in Union County but is a newbie to the legislature.

Malcolm Graham
District 40

Graham was first elected in 2004 and was a city councilman in Charlotte before heading to Raleigh. Considered a civil rights policy expert, he tends to focus on education and small-business issues. He also serves as a special assistant to the president at his alma mater, Johnson C. Smith University. WHY YOU SHOULD CARE: Higher education has taken a hit during the last few budget-cutting sessions, so considering his special role at a local university, he could be key in pushing to at least maintain the status quo in funding. His own kids are also in CMS, so he's got a stake in that, too.

Bob Rucho
District 105

As chair of the NC Senate Redistricting Committee, Rucho is a key player -— some have called it the most important leadership assignment in the General Assembly this session. (New census data means that all districts will be redrawn this year, making it easier — or harder — for some candidates to get re-elected.) Rucho is sure to be popular with his colleagues as they try to protect their districts. WHY YOU SHOULD CARE: He'll be in charge of the committee reshaping the districts, affecting every NC voter. He's also co-chair of the Senate Finance Committee weighing in on proposed tax cuts or hikes.

Charlie Dannelly
District 38

This retired CMS principal spent twelve years on the Charlotte City Council before heading to the Senate in 1994. A senior member of the delegation, Dannelly was considered a mover and shaker when the Dems had control, though he tried unsuccessfully to get a bill passed banning drivers from using cell phones. He currently serves as the Minority Caucus chair. WHY YOU SHOULD CARE: The other Meck delegation members call him "The Dean" because he has so much Raleigh experience and wields so much power. Other politicians' deep respect for him means he can likely get things done if he needs to.

Daniel Clodfelter
District 37

Now in his seventh term, Clodfelter is the former chair of the Senate Finance Committee. The attorney keeps a low profile but still gets a lot of respect. Despite being a Democrat under Republican rule, according to our insiders, it's a good bet his friends across the aisle will ask his advice from time to time. WHY YOU SHOULD CARE: Any Democrat who can get anything done right now is worth watching. And he's a man who knows the budget well enough to make things happen when money is an issue.