Powered Up
Steve Kerrigan, CEO of the Democratic National Convention Committee is Charlotte's newest VIP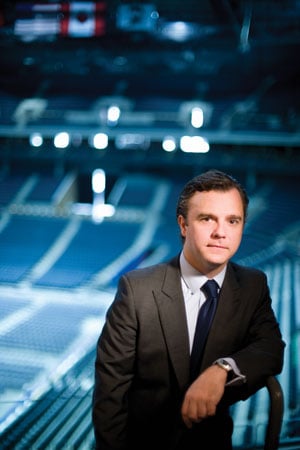 The city's newest power player isn't on the board at Carolinas Medical Center or a top exec at BofA. He isn't even from Charlotte. But as CEO of the September 2012 Democratic National Convention Committee, Massachusetts transplant Steve Kerrigan was catapulted to VIP status the minute he arrived in June. Kerrigan, thirty-nine, spent more than a decade working for the late Senator Ted Kennedy and has been collaborating with the local host committee, Mayor Anthony Foxx, President Obama's campaign office in Chicago, and the White House to make this the party's most accessible and people-friendly convention to date. "This isn't just about what happens on those days inside the arena," says Kerrigan. "This is really about making it accessible to folks all around the country."
MORE FROM STEVE KERRIGAN
A few days before he was scheduled to throw out the first pitch at a Charlotte Knights game, we talked to Democratic National Convention Committee CEO Steve Kerrigan about his work in the DNC and how he likes living in Charlotte so far. —J. H.
You're relatively young to be in this position.
I've been working in politics for almost twenty years. I spent the first fourteen years working for Senator Ted Kennedy, who was my home-state senator. When we bid for the 2004 convention in 2002, I ran the bid side for the senator as we prepared to solicit the DNC. Once we secured the convention in late 2002/early 2003, I left his office and went to the host committee for Boston 2004. I later worked for the Obama campaign in 2008. After that victory, I was asked to serve as the chief of staff for the president's inaugural committee, and we ran the largest public event in the history of the United States. From there I moved on to site selection for the convention in 2009. I was director of convention planning throughout that process. Then I assumed the role of CEO in April of this year. I've worked in some capacity in every [Democratic National] Convention since 1992.
How have political conventions changed during your career?
In a number of ways. First off, technology and infrastructure help us to make things move a little smoother. What you needed 10,000 square feet for, technology-wise, in 1992, you can probably do on your iPhone now. [Laughs.] So there are significant technological advances that have really helped us in convention planning. One of the bigger changes that's happened since 1992 in Chicago, then Los Angeles, is we've started moving to smaller cities like Boston, Denver, and Charlotte for our conventions. Because we feel it's a place where you can really be a part of the community as you're planning it, and then feel like you had a positive impact on the community when you're done with the convention planning. It's been a circumstance of the last three conventions that we've gone to smaller cities and have had some of the more successful conventions we've ever had by doing that.
Your team of twenty-three moved to Charlotte in June. Why so early?
We've been planning this convention for a while, starting the day we chose Charlotte, working hand-in-glove with the mayor and his team on making sure we plan the most open and inclusive and accessible convention in history here in Charlotte. We're here not only to make sure we continue communicating, coordinating, working on hotel rooms, and all those kinds of things, but we really want to become a part of this community in a real significant way. So that's why we moved here so early is to build up those partnerships, build up those relationships, and work together so that we can help realize what we know will be the short-term and long-term economic benefits of having a convention of this size and scope in Charlotte.
We're doing all kinds of business outreach to make sure that a lot of the dollars spent here in Charlotte stay here, so the short-term economic benefit, we think is around $200 million, maybe a little bit more. And then the long-term benefits of having hosted a convention of this size, really to showcase to the world and to the 10,000 members of the press that will be here that week that Charlotte is a world-class city—stuff we already know. And that Charlotte can handle something like this, which is a significant event for any city in America or any city in the world to handle. We're excited about it, and we're excited to make Charlotte our new hometown.
So are you all living in one big house like on The Real World?
[Laughs.] No. We'd like to still be talking to each other at the end of this effort. We're living all over the city. We've got folks in South End; I'm in uptown. We got folks in Elizabeth, Dilworth, some in NoDa. We're pretty well spread out, and we're starting to share with each other the fun parts we find in our different neighborhoods, so folks can enjoy the whole Charlotte experience. We did a couple of trips down in April and May so folks could sort of poke around and see where they wanted to live. We have to live here for fifteen or sixteen months, and we wanted everyone to be comfortable where they live.
What are you working on at this point?
Every day we're working with our partners in the host committee and Mayor Foxx and our city partners just to make sure that everything we're doing, that every aspect of convention planning, is geared toward making it the most open and accessible convention in history. For us, this isn't just about what happens on those days inside the arena; this is really about making it accessible to folks all around the country—not just in Charlotte and in North Carolina—to make folks feel a part of this process because it's a part of our democratic process, where we're nominating a president. A huge part of what we do each and every day is that coordination and communication. The biggest lesson I learned in Boston is that if all parties have those relationships and partnerships already formed and are willing to work with each other, that's when success comes, when really great things happen.
Even since the 2008 convention, mobile devices and social media have taken off. If I'm in uptown among tens of thousands of people during the convention and want to use Twitter, the wireless networks won't be too busy, will they?
We have to amp up the wireless systems and have wireless backups. With the tweeting and everybody using their iPads and their smart phones, we have a responsibility that folks are able to do that, that we're able to do what we need to do, and that public safety is able to communicate over the same bandwidth. We have to find significant ways to increase capacity. We're working with some of our partners right now across the city to make sure we don't run into problems where we have dead spots and virtual blackouts. In planning something like this, not only do we want to make sure that the work gets done on the floor of the convention. But through technology is how we make it the most open and accessible convention. If we don't build the infrastructure then we fail the opportunity for folks to be able to watch it streaming on their smartphone in Detroit, and they won't be able to tweet about what they're seeing on their computer in Indianapolis.
What will Charlotte be left with after the DNC has come and gone?
I think one of the best legacy pieces that is built here is the partnerships within the community. You guys are a great model for that and that's one of the reasons we came to Charlotte. Your civic leaders, business leaders, and community activists all already work together as one to do everything they can each and every day for the people who live, work, and raise a family here. We want to do everything we can as an organization to help firm that up and maybe build on those building blocks, so that as you guys move into the next phase of Charlotte's history, that having hosted the convention really does have a lasting economic impact. Sure, we're not going to leave behind a cyclorama that you build for a Summer Olympics, but we do hope that the cooperative spirit and the idea that in this city we planned the most open convention ever, that reached across the entire country and the world.
I know that we've already had an effect. An organization that in the past Charlotte has gone after to host a convention here, once we chose to come here they went back to the CRVA and Visit Charlotte and said, "We would like to come to Charlotte now. If the DNC has studied this and think you can do it, then we're going to come." We love hearing those stories.
How is the convention different when your candidate is the incumbent?
It is significantly different. If you imagine when the DNC plans when we don't have an incumbent president, we're sort of planning a shell. And the meat of it is driven by when we get a nominee. In this instance we have the full cooperation of the folks at the White House and at the reelection [campaign office in Chicago], and we're working as one big team to make sure this is a huge success. And that we work with our local partners. In 2008, the president became the nominee in June, two and a half months before the convention. Obviously, that can shake up things to a team that's been there for a year.
There have been concerns from locals that uptown will be on lockdown while the convention is here.
We certainly wouldn't be fulfilling our mantra of "The People's Convention" if we locked everything down and shut everybody out. That is not our intention. Security is a part of what we do, but the reason why we're here so early is to make sure that when planning the most open convention that we do so in a way that allows people to participate, that allows people from all across North Carolina and the region to come to uptown, to get involved, to get engaged. We want to make sure folks are drawn to uptown for this amazing moment. If you think about it, down the street from the places we're all used to going to now—in your hometown—we're going to be nominating the president of the United States to serve another term. It's a remarkably significant thing and we want to do everything we can to encourage as many people to be involved in the community and to be uptown and be engaged in it. Will there be some street closures? Sure there will be. But we will work with our friends in public safety, our friends in transportation, and our friends in the media to make sure everyone knows what the plan is well in advance and understands what the rules are, where you can and cannot go.