Precious Metal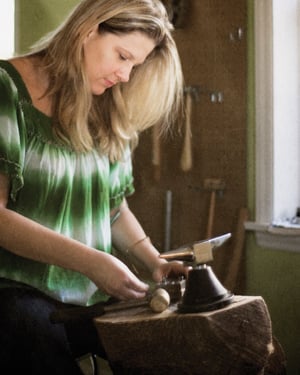 Jewelry artist Bonnie Boardman is grabbing some serious attention with her simple but sophisticated pieces, which bear a distinct, chic signature: a hand-hammered finish. After a recent trunk show at Sanctuary in Davidson, the store was nearly stripped clean of her earrings, necklaces, and bracelets ($22-$160).
"I like to create jewelry that every woman can wear every day," says Boardman, who works from her home studio in Davidson. She found her way to jewelry design while working in the fashion industry in New York City for eleven years, which included a stint as a designer for Jones New York. She started making and selling beaded jewelry. Then she took a metalsmithing class and was hooked.
When the family relocated to Davidson in 2004, Boardman took a leap and pursued her passion for metals full time. She starts with raw materials — sheets of gold and silver, large coils of wire—then gets to forging and soldering. "Seeing the metals join, there's nothing like it. Lighting up that torch, I love that part of it. It's amazing," she says. In 2010, Boardman plans to launch a Web site at bonnieboardman.com, but for now you can find her jewelry at Monkee's of Lake Norman (704-896-7779), Sanctuary of Davidson (704-892-0044), and Sloan (704-338-1400).