Presentation about Gardens at Monticello
This Monday, the Charlotte Garden Club plays host to Peter J. Hatch, director of gardens and grounds emeritus for the Thomas Jefferson Foundation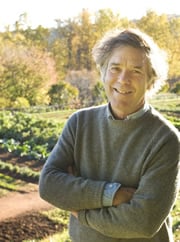 On Monday night, Peter J. Hatch visits the Mint Museum Randolph to talk about his time overseeing the gardens at Thomas Jefferson's Monticello.
Hatch, a Michigan native, has ties to the Tar Heel State. He attended the University of North Carolina at Chapel Hill where he majored in English. He then went on to the landscape gardening program at Sandhills Community College in Southern Pines. From 1974 to 1977, he was a horticulturist at Old Salem in Winston-Salem.
But Hatch is most known for his time at Monticello where he served as director of gardens and grounds from 1977 to 2012. He is now the director of gardens and grounds emeritus for the Thomas Jefferson Foundation.
While at Monticello, he oversaw the maintenance, interpretation, and restoration of 2,400 acres. In 2011, Hatch received The Garden Club of America's Medal in Historic Preservation. He's the first horticulturist to ever receive the honor. In addition to his work at Monticello, Hatch has also served as a consultant for Michelle Obama's White House Kitchen Garden, which has a section honoring Thomas Jefferson.
Hatch's Charlotte program was put together by the Charlotte Garden Club. Events such as this one help further the club's mission to increase garden knowledge and appreciation throughout the community. The club was founded in 1924 as the first garden club in North Carolina. It now has 110 members.
Last week, club members landscaped a yard for a Habitat for Humanity home. They also maintain the Courtyard Gardens and Terrace Garden at the Mint Museum Randolph. At the end of April, they will hold their annual Art in the Garden tour, including six private gardens and three public gardens.
Hatch's program will take place at the Mint Museum Randolph at 7 p.m. on Monday. It is free and open to the public.