Press Play: The Case for Hiring a Videographer
As the star of your wedding day, you miss some moments. A videographer captures them for you to watch the rest of your life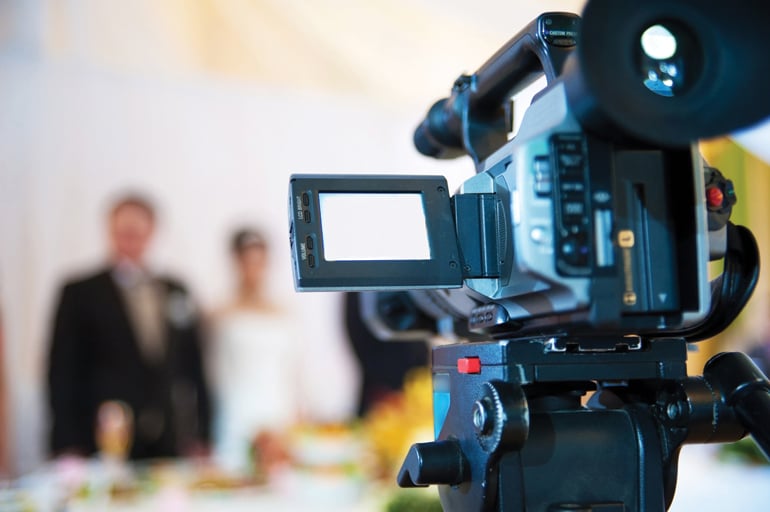 HE BUTTONS HIS shirt; his best friend fixes his crooked bow tie. Her curls are pinned into place while her mom zips the back of her dress. Deep breaths. Nerves try to take over, but the excitement prevails. This is the next chapter of their love story.
After the vows, toasts, dinner, and dancing, the magical day is over. But that doesn't mean these moments are lost.
Every angle, emotion, and detail — from the beginning until the end of the day — can be yours to look back on and keep forever. All you have to do is press play.
Take a look at what local videographers capture through the eyes of the camera.
Husband and wife Ben and Kisha Whitney, videographers and owners of Whitney Photo and Video, are passionate about wedding films, which they describe as "an emotional, cinematic short-form movie showcasing the highlights of a bride and groom's day you can only relive in a video."
The duo emphasizes the importance of getting to know the couples to better showcase their love story: "Every person has a story to tell."
Brian Bunn owns Brian Bunn Films. "Nothing comes close to telling a story like video can," he says, "because you are able to hear the audio and see it as it happens."
Bunn focuses on what he describes as "epic moments," from the bride's mother telling her how beautiful she looks to the first look and seeing tears well up in the groom's eyes.
Bunn pays close attention to the bride and groom and their interaction throughout the wedding. Honing in on how they respond to one another, he's able to grasp raw emotion through the camera.
"Nobody knows they want a videographer until after the wedding," says Cory Tapia, owner of Blue Motion Studio. "Couples love looking back on photographs but would have loved seeing their great-grandfather actually do the funky chicken dance at the reception."
Tapia makes sure to film different moments throughout the day and things the couples may not have seen because they were so wrapped up in something else. "It is hard to realize how much has happened until you are able to look back."