Prettier Than He Looks
Stephen Curry is the hottest thing in the NBA this postseason. But as he steals hearts around the nation, a tiny college town north of Charlotte wants you to know: Davidson loved him first.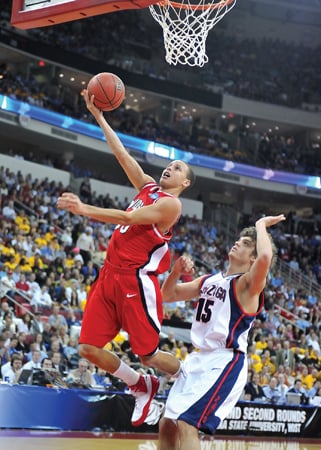 One day in the fall of 2008, during my freshman year on the Davidson College women's basketball team, my teammates and I found ourselves in a turf war with the men's team. We, the women, were hosting a recruit that day, and on our coaches' orders, we took her to the upstairs court in Belk Arena for a pickup game. They, the men, were already on the court, in the middle of a game of their own. A heated debate ensued over who had the rights to the floor. Our recruit, ignored in the chaos, stood at midcourt and watched.
A junior from the men's team noticed her there, looking uncomfortable and nervous. He walked over to her and slung his arm over her shoulders. "I swear we really do get along," he told her. They both laughed. I remember standing a few feet away and thinking to myself, "Well, that's it. Look who just gave our recruit a hug. We've got her."
Sure enough the recruit, Sophia Aleksandravicius, committed to Davidson and went on to become one of the best players in school history, setting more than a dozen records before her career ended this past March. She still remembers that moment on her visit. "It's basically my only claim to knowing him!" she says.) Him, in this case, is Stephen Curry. At the time, he was just a few months into his national-darling status. And when he told Soph that day that we were all friends, he didn't do it to nab a recruit or to make himself look good. He was just being Steph.
Everybody wants to talk about Stephen Curry now. In the years after Davidson's extraordinary 2008 adventure to the Elite Eight, during which Curry delighted the nation with a shooting touch that rivaled anything the tournament had ever seen, Curry is still being praised for his personality as much as his basketball skills. People see him as a humble, unselfish, Christian family man who also now happens to be arguably one of the best shooters in NBA history. They praise his shot, passing, handling ability, and sportsmanship. (It helps, of course, that he's on a roll the likes of which we haven't seen since he was a Wildcat.) They appreciate his humility and sense of humor in interviews. They wonder how – and when – his habit of chomping on his half-out mouth-guard became oddly endearing. Nearly 20,000 fans pack Oakland's Oracle Arena for the Golden State Warriors' home games, and they see our Steph playing as joyfully as a little kid in a driveway.
"He really is as amazing as people make him out to be," says Alex Thompson, another former Davidson women's basketball player.
Another of Curry's friends from his college days, Lauren Biggers, arrived his freshman year as Davidson's assistant director of sports information. Biggers was the one who helped him wade through the media-relations hurricane of his college career. She now works in alumni relations. She believes people might be upset to learn that Curry hides no demons, sweeps away no scandals. "I think that we're so jaded by our sports culture that we kind of wanna hear this guy's really not as great as we all think he is," she says.
She might be right. Surely there's something imperfect about this figure who holds the pride and expectations of thousands of Davidson students, staff, and alumni on his shoulders. Surely there's more to his story than a great kid who grew up in a great family, went to a great college, made great friends, had a great time, and played great basketball.
"Everybody says how nice of a guy he is," says Will Reigel, a 2012 Davidson graduate who was a freshman walk-on during Curry's junior year, "but it's – I mean – it's still understated."
Curry and Reigel played against each other in high school, for Charlotte Christian and Charlotte Latin, respectively, and Reigel said he didn't care much for Stephen back then.
But it didn't have anything to do with Curry's personality.
"I did not like him 'cause he always beat us," Reigel tells me. But Curry and his teammates at Davidson, "were great from the moment I stepped on campus."
Like most people, I was skeptical, too. He's too good to be true, I often thought. But I've tried to find flaws in Curry for nearly six years, and I still can't. For this story, I went to Thompson and our other teammates Monica Payne and Julia Paquette, all 2010 Davidson grads and close friends of Curry's since they were freshmen. Payne recounted an incident during finals their junior year when she and Paquette spread out all their materials to study in a classroom in Chambers, the main academic building. At one point they went to the student union for a snack. They came back to an empty room and a note on the whiteboard saying their stuff had been "kidnapped." The note included a math problem that was supposed to help them solve the mystery. According to Payne, though, the numbers "didn't add up to anything that made sense." The women finally found everything in a classroom down the hall. There, they looked out the window and spotted Curry and teammate Steve Rossiter on their bikes.
"He's such a good guy that the pranks are always so harmless," Biggers says, laughing. She recalls one occasion when everyone in the sports information office left it briefly, and Curry and Rossiter put everyone's chairs on top of their desks and scattered media guides and papers on the floor.
Davidson grad and writer Michael Kruse, author of the book Taking the Shot: The Davidson Basketball Moment, posed a key question in the November 2008 issue of Charlotte magazine: "Can Stephen stay Stephen?"
Almost five years later, people close to Steph don't hesitate to answer with a resounding yes.
John Harper retired May 10 as supervisor of the Wildcat Den, the lunch spot inside Baker Sports Complex. Students know the merry 62-year-old by a nickname, "Big John," and Big John knows just about everyone on campus by name. He used to take Curry's turkey sandwich order several times a week – even after college. Curry returned to Davidson during the 2011 NBA lockout to keep working toward his degree.
"He hadn't changed a bit," Harper says of the post-Davidson Curry – married man, NBA player, student. "He was just the same Steph that he was when he was going to school there."
In college, Curry befriended international students and poets and other athletes and plenty of "nonners" – Davidson slang for non-athletes. He was loved as a buddy and an equal by people who went on to be teachers, museum curators, missionaries, nonprofit fellows, senators' interns, consultants, and researchers. You only have to check any social media site after a Warriors win to see that Davidson loves him now as much as it ever did.
Ray Beltz served as athletic trainer for the Davidson women's track and cross country, golf, men's soccer and men's basketball teams from 2002 to 2012; the school's athletic department is too small for any one sport to have its own trainer. Beltz and Curry formed a special bond at the ankle-taping table, and Beltz knew Curry's goofy side well.
"That's the way he is, that soft-spoken, humble, very respectful young man that can just become explosive at any moment, can come out with a joke or a funny line you didn't see coming," Beltz says. He recalls a time when Curry was rehabbing in the training room by jumping off a box onto air-filled discs to strengthen the muscles around his ankles. In the middle of the exercise, he channeled the Saturday Night Live spinoff film Superstar, landing dramatically and flinging his arms in the air.
Watching Curry play is an exercise in seeing basketball at its purest, in its most precise and intelligent form. He ambles loosely around the court, fluid and unhurried to the point where he almost – almost – looks lazy. He's a minimalist; he wastes no motion. He makes deep V-cuts, luring his defender underneath the basket and then stopping, pivoting, and sprinting back out for a three. The cut is tactically simple, but it's long and many players are too apathetic to run it properly.
He was so difficult to defend in college that in November 2008, one opposing team assigned two players to him the entire game.
"A lot of guys would be frustrated," says Billy Thom, who was a manager for the team that year. "But clearly Steph's a smart guy, high emotional IQ, high basketball IQ – he had the ability to understand that within the flow of that game he wasn't looking for shots. He wasn't trying to get the ball and play one-on-two."
Curry and his two defenders lounged in the corner for most of the game. He took three shots, missed all of them, and had, as he later joked to the media, the "best seat in the house" to his teammates' terrific performances. Davidson won that game, 78-48. Curry got a standing ovation when he left the court.
"It said a lot, that he trusted his teammates," says Reigel, who played in that game. "And the fact that he was willing to step aside even though it was gonna take a hit on his [scoring] average – it was really unselfish of him."
People close to Davidson College believe it's a special place but sometimes have trouble explaining exactly why. Not anymore.
"Stephen is kind of a way for the rest of the world to learn that," Biggers says. "So I think alumni are really attached to him in that way. Now you can say, 'Oh, you know Stephen Curry? That's my guy, that's my school.' I went to North Carolina [Chapel Hill], but I would never be like 'Yeah, Michael Jordan is my guy.' "
I traded a few texts with Curry just hours before the tip-off of the Warriors' Western Conference semifinal game in San Antonio on Tuesday. He was busy, obviously, but he remained as remarkably patient and approachable as I remember. I wanted to ask him how he stayed that way, why he stayed that way, when it would've been so easy to change.
"I do it because basketball is great and all, but try not to let it distract me from the important things in life," he wrote. "Been blessed to make it to a level that not many people thought I would. [So] to represent those that helped me along the way and hopefully inspire some people by example is what keeps me grounded and keeps me going."
Curry still considers the people of Davidson his friends.
"Obviously you can't keep in touch with everybody but when I see a name pop up or get a text from people I had bonds with at school that never changes regardless of my nba career," Curry texted. "You'll always feel connected just because I was, in my eyes, a normal kid at Davidson (OK so it was a little diff my last year after the tourney lol) so you really get to know people and it's definitely a 2 way street."
I first met Curry in the summer of 2008, before my freshman year. He was a rising junior about to – although we didn't know it then – play his final college season. My memories of him are vivid and fond; he instantly treated me as a friend simply because I was a teammate of his friends. I did my best to avoid being star-struck around him, but sometimes I couldn't help it.
Once, several of us from the men's and women's teams sat together at brunch in Vail Commons, the campus cafeteria, as tour groups gawked at him over the railing. That spring Curry attended athletes' formal, an annual night of dress-up and dancing for Davidson's student-athletes. He went as just another Wildcat. He posed for photo after photo at the expense of his own evening.
That didn't change after he left Davidson. In the summer of 2011, I asked Curry if he'd mind donating a pair of signed shoes for a fundraiser auction my family was helping with. The shoes arrived at my house a few days later.
"Big John" Harper recalls one time Curry, back on campus during the lockout, walked into the Wildcat Den after a shooting session in Belk Arena and asked for a favor.
"I don't have any money," Curry told Harper.
"You blew through all your money?" Harper responded.
"No, no," Curry replied. "I don't have my wallet with me today."
So Harper bought Curry's lunch, as he would have done for any Davidson student, on the condition that Curry pay him back the next time the Warriors came to play the Charlotte Bobcats. As of now, Curry remains indebted to Big John the price of one Wildcat Den turkey sandwich.
And even hours before a playoff game this week, Curry hadn't forgotten that.
"I do owe Big John many a meal for the sandwiches and smoothies," Curry texted on Tuesday from San Antonio, "and that's definitely going to happen."
Amanda Ottaway graduated from Davidson College in 2012 with an English degree and a slew of creaky joints from her basketball career there. She is the education coordinator at the Pulitzer Center on Crisis Reporting in Washington, D.C.