Preview: At SouthBound, SoCal and So Fresh
Chef Kevin Kuruc and mixologist Larry Suggs tell us what to expect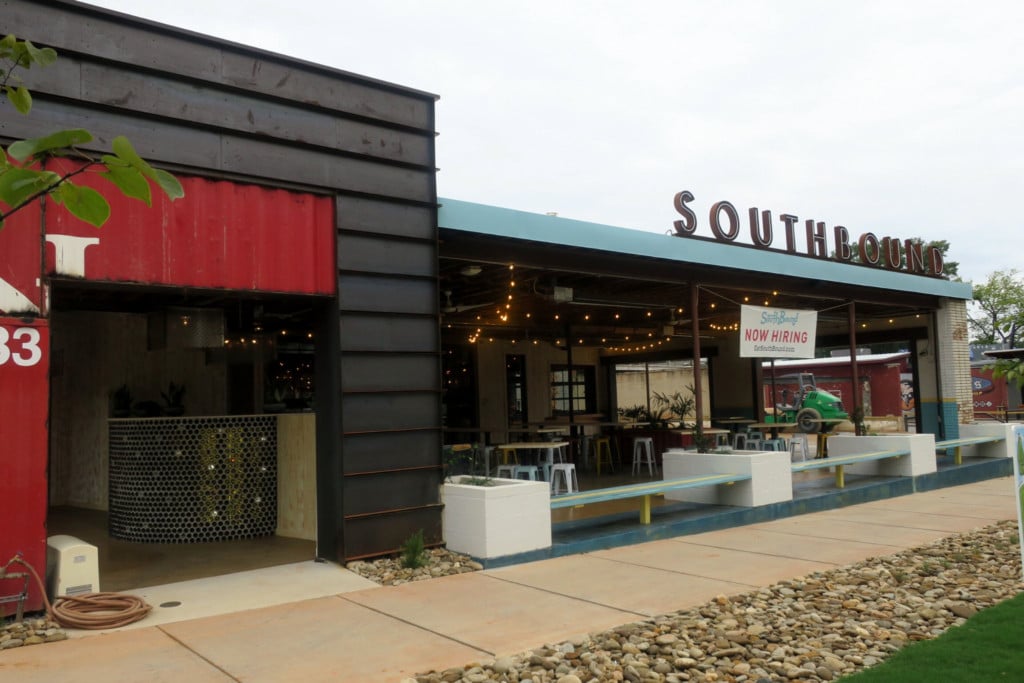 THE COLORS INSIDE SouthBound, the newest restaurant from the group behind Mac's Speed Shop expected to open in the next two weeks, are bright and breezy. The light oranges and various shades of blue will pair well with the Cali-Baja menu.
Chef Kevin Kuruc says SouthBound, on South Boulevard next to the original Mac's, was inspired by an old 1970s-style image of a skateboard passing by two beachgoers. The image, which is now a mural on the side of their building, gave them the idea to create a Southern California-style menu. Kuruc headed out to San Diego to sample street food, trying a dozen tacos in a day. He came back with a better idea of the Baja/SoCal menu.
"The thing that impresses me most about this style of cooking is that regardless of the time of day, it tastes so good," Kuruc says. "We witnessed people eating fish tacos for breakfast, and I was like, man, if I could, I would."
Southern Californian cuisine is known for being light and fresh, with a Mexican influence—not to be confused with TexMex. SouthBound will have 10 tacos on the menu, including a vegetarian option, almost all served with cabbage lightly dressed with lime juice and olive oil. A rotisserie in the kitchen means pork al pastor seasoned with pineapple can be shaved off all day, and there will be some composed, larger plates as well. (Chef let me try a working sample of his mole sauce, and it shows a lot of promise). Tortillas will be made in the kitchen, open to the dining room through cutouts in an old shipping container. You can also swing in and order food to go from a takeout window cut out from another side of the shipping container.
In the center of the restaurant, which seats 240, will be a self-serve salsa bar, with six options ranging in heat from mild to stay away. Two others will be on the menu.
The drink menu sounds as though it will be a large draw, as well. Larry Suggs, who recently trained under one of the city's best bartenders, Bob Peters, at The Punch Room in the Ritz-Carlton, will run the bar program.
"I imagine myself on a beach," he says about conceptualizing the cocktails on the SouthBound menu, "and what would I like to drink during that? I know Chef did the same thing: imagine us after a long day walking up to a taco stand. We wanted to bring that fun casual environment to Charlotte."
The result of those mind wanderings to a beach somewhere is a menu that focuses on agave spirits and fresh juices. The large bar stretches the length of the restaurant, as well as outside to the massive patio. Drinkers outside can order from the bar through massive open windows.
Suggs is especially excited about a house-made clamato juice, a concoction of clam broth, tomato juice, and spices. He'll use it in the bar's Bloody Marias and Micheladas, a beer cocktail.
"Everybody's had those before but ours are going to be very different, because we're going to be using a proprietary blend of spices and it's absolutely phenomenal," Suggs says.
All of the spirits behind the bar will be 100 percent agave—no base-level tequilas with added sugar to give guests a hangover. The menu will list about half a dozen mezcals to start, with more to come. The craft beer list will have a Mexican focus, and, as mandatory at an establishment with tacos, there will be margaritas. Suggs made a triple sec with lemon, lime, and clove, as well as a salt infused with citrus to rim the glasses. For those preferring beverages without alcohol, there will be aguas frescas (house-made fruit drinks) and Mexican sodas.
"We thought about everything from the color of the booths to the tabletops, so I feel it's my job to respect the bar in that same way," Suggs says.