PREVIEW: Cicchetti, Opening in Uptown on Oct. 1
A look inside the Venetian-style wine bar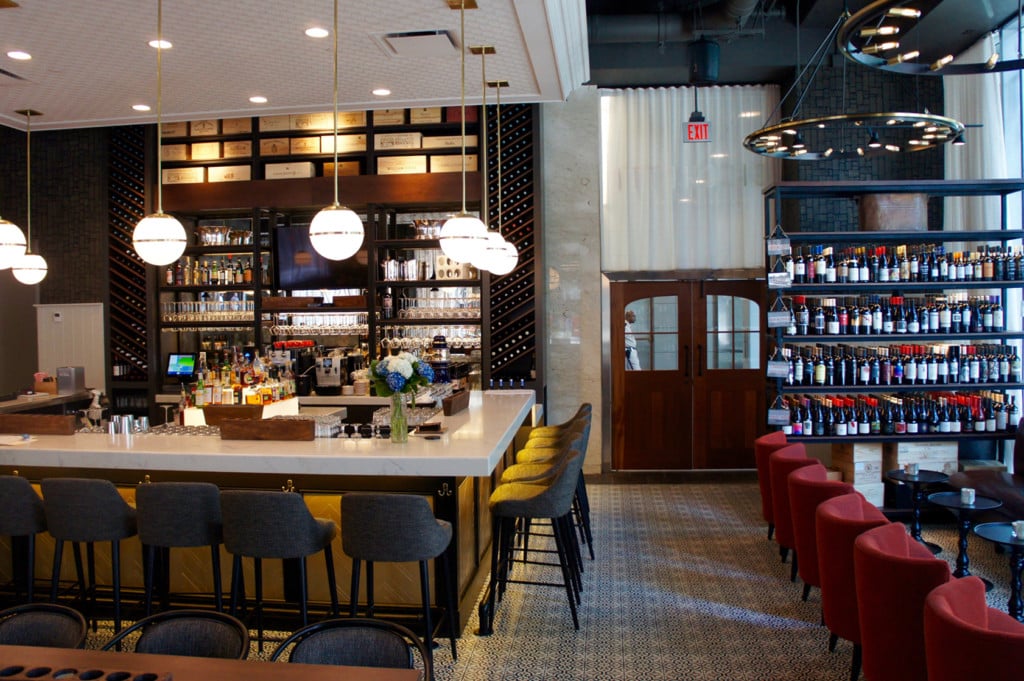 Cicchetti (pronounced "chee-KEH-tee") means small dishes in Italian, a.k.a. exquisite small bites that are Venice's answer to Spanish tapas. It's also the name of the anticipated new wine bar, restaurant, and retail shop that opens in uptown on October 1. Cicchetti is located at the corner of East Trade and North College Streets in the Bank of America Corporate Center, and Charlotte magazine got a private preview of the newly renovated space. Here are a few more things to know:
The Concept:
Cicchetti is the vision of veteran Charlotte restaurateur Pierre Bader, owner of Sonoma Restaurant Group (SRG), the parent company of Aria Tuscan Grill. The two-story space, located in the space formerly occupied by City Smoke, will seat 100 guests at cocktail tables with chairs, settees, and banquettes, as well as a central bar. The design and layout is a nod to bacaros, which are neighborhood gathering spots in Venice where locals enjoy a glass of wine and a small bite in the late afternoon.
(artichoke salad, fresh mint, Asiago, lemon)
Middle: Polpo (sautéed baby octopus, polenta, squid ink white wine pan sauce)
Above: Polpette (meatballs)
The Food:
The menu is an anthology of generational recipes Bader collected from bacaros along his travels. "We didn't invent the recipes," he says, "but we researched quite a bit." Expect a variety of polpette (meatballs), selections of lattine e patatine (tinned seafood and chips), and several shareable entrées that include beef, rack of lamb, and roasted fish. The $120 price tag for the bistecca entrée might shock you, but Bader says it's enough for four people, and meant to be shared. The agnello entrée is $95, but he says it's the equivalent of two racks of lamb.
The Drinks:
Heading up the wine program is Briana Cohen, who promises over 400 wine selections. Guests can shop the shelves and purchase a bottle at retail price, or enjoyed it in-house for a $10 corkage fee. Cicchetti will also have a full bar with wine by the glass or bottle, bottled beers, and signature cocktails by local mixologist Bob Peters.
The Shop:
On the retail end, Cicchetti will sell wines by the bottle or case, and offer same-day curbside pickup or delivery with two hours' notice Monday through Saturday. Delivery within uptown carries a one-bottle minimum, while a broader delivery range requires a one-case minimum, both with a $5 delivery fee.
The Vibe:
There's a good chance you'll see Bader and Cohen circulating the dining room if you come for dinner—with their other restaurant, Aria, right next door, they'll move back and forth between the two to greet their guests. They're not in this to turn tables, though. "We want to encourage people to sit, slow down, relax, and breathe," Cohen says. "We're doing it the way they do in Venice, with small tastes of wine and great food, stretched over a few hours."
Hours will be Monday through Saturday, opening at 2 p.m. for retail and light snacks, with the full menu available from 4 to 10:30 p.m. Monday-Thursday, and 12 a.m. Friday and Saturday.