Preview: Loft & Cellar's Spring Menu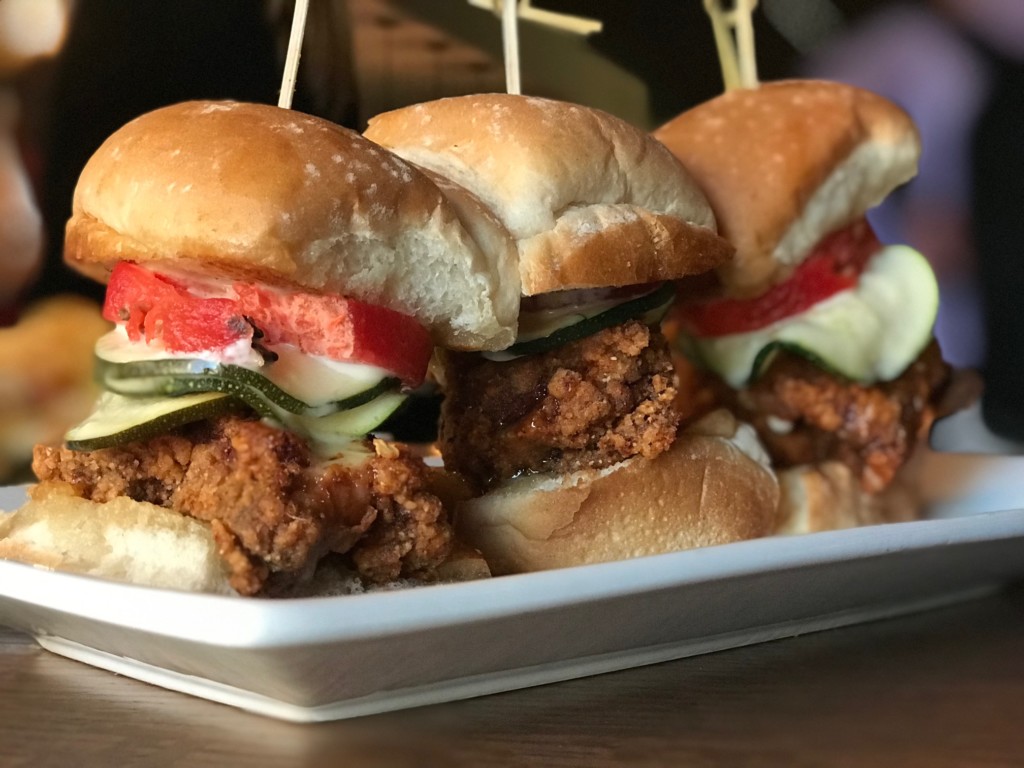 Last night at Loft & Cellar (which appeared on our 2018 50 Best Restaurant list), executive chef Greg Collier hosted a menu tasting at the uptown restaurant. Executive sous chefs Calvin Wright and Oscar Johnson, as well as bar chef Stephen Marshall, were also there to mingle with guests and answer questions about Loft & Cellar's new food and drink items.
The spring menu is packed with playful, elevated touches. Collier described it as "afro-southern inspired dishes with international flair," and promised guests that his new menu was "coming in with a bang."
Here's a roundup of the dishes guests can look forward to:
* Fried dyed chicken skins and pickled squash chips with a roasted garlic buttermilk dressing

* Chesapeake deviled eggs with blue crab, trinity relish, and old bay chips

* Duck fritters with duck confit, sweet potato mayo and beet chow chow

* Loft slider packed with Nash Vegas hot chicken, watermelon, a house pickle and chicken fat aioli
* Seared sea scallops served over grit cakes, romesco verde, and topped with kola peanuts and confit sweet potato

* Carolina gold dirty rice with seasonal vegetables and almond sauce
* Lamb pasta with smoked lamb, sweet potato papparadelle, mint harissa, lima beans, and pickled mushrooms

* Carrot biscuits with currant marmalade and sorghum butter

* Fried walnut pie with buttermilk jam and chocolate mousse
* Sorghum sesame cake with brown butter ice cream, benne seed crumble, and sherry vinegar gastrique​
Collier was recently named a semi-finalist in the 2019 James Beard Foundation Restaurant and Chef Awards for Best Chef: Southeast. He also owns the Yolk Café, and is a founding member of the dinner series, Soul Food Sessions, with his wife, Subrina.
To complement the spring menu, bar chef Stephen Marshall introduced two fresh new cocktails:
* Pride (rum, lemon, grassroots artisanal kola, grassroots artisanal grenadine, thyme, and bitters)
* Patience (botanical gin, lime, lemon, vanilla and almond cream, rosemary syrup, orange flower water, and egg white)
All items on the spring menu are available now. Loft & Cellar is located at 305 W. Fourth St. in uptown.