Prince Charming
Style Guidelines For The Groom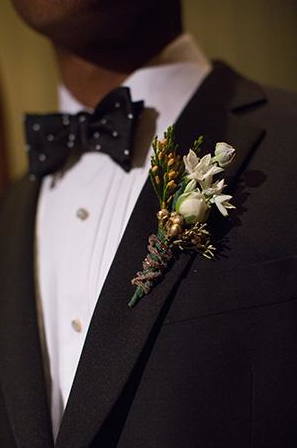 So often, when it comes to wedding day fashion, the groom gets lost in the shuffle. And what a shame. The more I do with menswear, the greater my appreciation grows. Formal wear for men has hardly changed for centuries, and, inherently simple, even the smallest design detail can make the ensemble. From a well-placed monogram to the points of a collar, menswear revolves around just a few fundamental elements. So for those of you thoughtful brides to-be who are looking to give a few words of wisdom to your man, I've put together a list of my top style tips so he can look every bit as stylish as you for the big day.
When in Doubt, White. When it comes to dress shirts, classic white is foolproof. It goes with any shade suit and always makes for the most formal option. So it can dress up even a less formal suiting option.
Pocket Interest. I'm a big believer in pocket squares. I've also perfected the art of endless folding options–something all men should definitely master as well. But be sure, if you're donning a boutonniere not to overdo it. Personally I would opt for one or the other, but if you'd like to wear both, keep the fold neat and the square tucked as low as possible into the pocket. Also go for a solid hue or very subtle print. If you want to go print for the pocket square, try matching it to the print of your tie.
Balancing Act. A bit more on proportions… Similar to women's clothing, a bold item should be balanced with something more subdued. Donning suspenders? Skip the belt. Intricate print on your neckwear? Choose a simple single bloom for the boutonniere… You get the picture.
Color Play. All men should be informed of suit hues in relation to event formality. Should the wedding take place post-6pm, the technical dress code is formal. A formal black suit should be donned for black tie, and coat and tails for white tie. As a rule of thumb, the earlier the wedding, the lighter the suit can be. Dark blues and blacks are appropriate for evening events while greys, tans and pinstripes are perfectly acceptable for afternoon affairs.
Fit Comes First. Having a well-tailored suit is essential. The current trend for menswear is a closer fit to the body with a slightly shorter hem on the pant. But whatever silhouette of suit you choose to wear, make sure it fits to a T.
Eye For Detail. In a cut-and-dried world of suits and ties, it's always best to make something your own. Find a little sartorial element that embodies your style and add it to the mix. Maybe it's cheeky print socks that peek out when you sit, or an embroidered monogram on the shirt cuff.
Photo by Elizabeth Scott Photography for Winter 2014 issue of Charlotte Wedding