Private Works
Charlotte reps at Clinton meeting talk New Deal in reverse: business helping build roads, bridges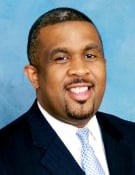 Charlotte awoke yesterday morning to more evidence that its infrastructure is old and insufficient, along with a sobering summary of the city's (and county's) decreasing capacity to pay for improvements through the traditional routes.
So, as we've been told for months now, since Charlotte is plumb out of new, taxable land to annex, the city's going to have to develop land in the city, raise taxes or cut services — or some combination.
Turns out there's another option: private investment in public infrastructure.
It's not a new idea, of course. We've seen 3P ("public-private partnership") projects at work in American cities for decades. Charlotte has used them as well as anyone. But triple-Ps building basic infrastructure such as roads, water and sewer lines, and mass transit? That's kind of a new thing, the consequence of more than 30 years of hostility toward the very idea of an American public sector. The federal government is within a few more budget cycles of drownability-in-the-bathtub. The state government doesn't want to pay for anything.
That leaves the locals, and the corporate world. I talked on the phone yesterday with Charlotte City Councilman David Howard and Huntersville Mayor Jill Swain, who co-chair the Metropolitan Transit Commission's working group charged with finding a way to plug a $5 billion shortage in funds for the region's 2030 Transit Plan.
They were in Chicago attending the Clinton Global Initiative America's 2013 meeting, which included sessions on mobilizing private investment in public infrastructure. It's an issue for cities and regions around the country. Representatives from such cities as Atlanta; Jacksonville, Fla.; Mesa, Ariz.; and Oakland discussed private investment in everything from schools to sidewalks.
Charlotte's main issue is transit, of course, and it's becoming apparent that the way these projects are paid for is about to undergo a radical change. Traditionally, the feds have paid for half of cities' large-scale transit projects, with local or state governments (or both) responsible for the match. That's how the Lynx Blue Line got built. But federal transit dollars are drying up.
"We cities are not getting funding support — and as a result, we're having to be creative, take the bull by the horns, and find partners," Swain said on the conference call.
Howard said one of the reasons why the Obama Administration was so interested in Anthony Foxx for Transportation Secretary was his experience with local issues as a mayor: "A lot of the innovation in the future will have to happen on the local level and permeate Washington, rather than the other way around."
Well, whatever works. It's a sad thing for the nation, though, when its elected officials can't see the value in large-scale public investment in basic infrastructure or the risk in depending on the private sector to pay for things like roads, schools and hospitals. We're all going cap in hand to the job creators these days. The idea of public anything — of any level of collective investment in anything that won't be producing measurable profit before next Tuesday — is seen as a New Deal anachronism, a "failed policy of the past." Except it didn't fail. Far from it.
But that's the world, and country, we live in. I asked Swain yesterday: "So at this CGI meeting, it's just a given that the federal government won't make any real public investment in infrastructure in the foreseeable future?"
"Yep," she said.