Privilege Is Uptown Charlotte's Newest Nightclub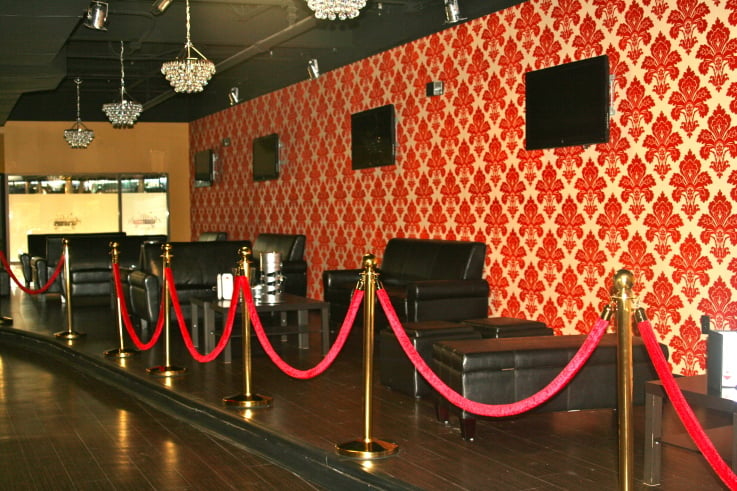 "It's not a privilege for you to come here. It's our privilege to serve you." That's how Shawn Kennedy described his intentions for his new nightclub when I toured it Tuesday. About a half-dozen workers were scrambling to install mirrors and bar equipment, add final touches of paint, and put furniture into place. Privilege is opening in uptown Charlotte this weekend with events by two popular promoters, and then holds its official grand opening next weekend.
Privilege is located on South Brevard Street, just two blocks from Time Warner Cable Arena, in walking distance from other popular attractions, and is surrounded by several large parking lots (plus, the club is leasing the United Way's parking lot next door so that its guests may park there for free after 6 p.m.). All of this equates to Privilege being in a prime location, but, as you know, there's an increasing number of nightlife options in uptown.
Kennedy, who's owned and operated Allure Restaurant and Lounge for the past five years in the South End/Wilmore area, says he's embracing the bountiful and competitive uptown scene.
"I see it as an asset," he says. "It's a good thing that a lot more [bars and nightclubs] have opened up, because now people are going out a lot. I think we'll help define what Charlotte's nightlife will be."
Privilege is a large space and is actually two clubs in one. Housed on the first floor of the historic Mecklenburg Investment Company building, a circa 1922 brick structure that was an important part of Second Ward's black "Main Street" in the early twentieth century (there's an historical marker out front), there were limits to what Kennedy could do to the façade of the nationally registered building. But on the inside, he's completely transformed it. He's put in new wood floors, velvet wall paper imported from London, chandeliers, bars, and several leather couches.
The main entrance brings you into the foyer that sits between two large rooms. The right side will be used as sort of a "day club," while the left will be your traditional nightclub. During large events and parties, both rooms will be used at the same time, and there will also be the option for two separate parties to take place simultaneously.
But even with all of the refined finishes, Kennedy asserts that catering to his clientele, which he describes as a "twenty-five and up, professional crowd who looks for an experience; not a night out but an experience," is most important.
"I based this on venues I've experienced in Vegas and Paris, where the level of customer service, physically and cosmetically, that they provide—I don't feel that I receive in this market. So I'm trying to provide a venue that will give you that customer service, that when you walk out of here [the staff] knows your name. You're not just someone who came in here and spent a few dollars, but you're actually a part of the Privilege family."
Privilege
223 S. Brevard Street
privilegecharlotte.com
Upcoming Events at Privilege
Friday, September 23
Fifth Annual Cream and Butter Affair
Six Figure Entertainment christens this new nightclub with its annual soiree. Two rooms, two deejays—DJ Incognito and DJ Danny Diaz—plenty of VIP options, and cream and butter attire is suggested but isn't mandatory. 10 p.m. sixfigureentertainment.com.
Saturday, September 24
Mingleberry.com's Five-Year Anniversary Celebration
Five years, 50,000 pictures, and millions of hits later, Mingleberry.com invites you to party as it celebrates another milestone. Hosted by King Henry, with music by DJ C-Rob and DJ 360. 10 p.m. VIP is available. mingleberry.com.
Friday, September 30
Fridays After Dark (F.A.D.)
From A 2 Z Entertainment helps Privilege celebrate its grand opening and ushers in the beginning of this new, weekly Friday night series. Music by DJ Precise, DJ Shogun, and DJ Petey Wheatstraw. Dress to impress. 10 p.m. Free admission until midnight (click here); VIP is available. froma2zentertainment.com.
Be sure to bookmark www.charlottemagazine.com/Blogs/Dusk-Till-Dawn to stay plugged into Charlotte nightlife.