Product Spotlight: Cane + Austin Glycolic Skin Pads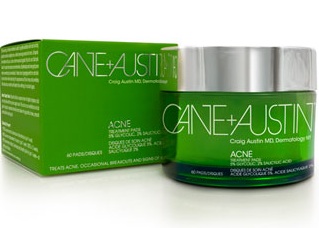 Okay, first let me say this: I am very skeptical about high-priced skin care products. I find it immensely hard to believe that something you rub on your face could have that big of an impact. I do, however, believe in facials. Someone blasting open my pores and then filling them with all kind of vitamins and anti-aging substances? Now that I'll buy. When I can afford it. I've only had a few facials in my life (due to the whole "writer's budget" scenario), and I've always loved the way my skin feels and looks in the few days that follow one. But the effect inevitably fades and I can't realistically get a facial once a week and continue to do things like eat and pay my mortgage, so I go back to my drugstore beauty routine.
Recently, I found myself over at Jeffre Scott, picking up some beauty products for our summer beauty story (in the forthcoming June issue of Charlotte Magazine). I was prodding Jeffre himself for some summer beauty tips and he started singing the praises of "glycolic." Specifically, he recommends that anyone who uses anti-aging products with Retin-A in them switch to glycolics during the summer months (Retin-A makes your skin photosensitive and can actually increase sun damage this time of year). "Have you ever tried glycolic?" He asked me. I had not. He resisted the urge to judge my Style editor credentials, and instead handed me a small green jar by Cane + Austin. "You use them just like Stridex pads. In the morning before you put on your makeup." I was skeptical that rubbing acid of any kind all over my face in the morning was going to have positive effects, but I felt that my lack of experience with glycolic was somehow a black mark on my record that I better erase as soon as possible, so I was willing to give it a shot.
I've been using these facial pads once a day for several weeks now and, I have to say, I'm impressed. Once I got over the emotional flashbacks to Middle School (Stridex-ing in the morning was usually a precursor to a pretty hormonally-ridden day full of angst and self doubt), the morning ritual of rubbing my forehead and cheeks with this icy cool acid substance has become a refreshing way to start the day. Most importantly though, my skin feels ah-may-zing. All day long, I feel like my face is just a bit brighter, softer, and somehow "cleaner" to the touch. I don't look as tired, my makeup seems to work better. I didn't have a ton of wrinkles or age spots to start with, so I can't vouch for just how much "anti-aging" these pads are providing me, but I can say this: every day, my face feels like it just had a facial. That's pretty remarkable for a little piece of cotton soaked in acid.
These jars aren't cheap (around $60 for a 30 day supply), but a facial usually costs at least $60 if not twice that, and the effects aren't renewed daily. If you would like to chase that feeling of supple, soft, glowy skin without having to take out a second mortgage on your house to indulge in weekly facials, then this little green jar might just be the thing missing from your beauty arsenal.
What do you say, Shop Talkers? Have you been seduced by the siren song of glycolic acid and did it deliver results? Do you have a favorite anti-aging/pore-minimizing/skin-beautifying product that you swear by? We'd love to hear about it!