Professor Facebook
How the Egyptian revolution made a media star out of an obscure professor at Queens University of Charlotte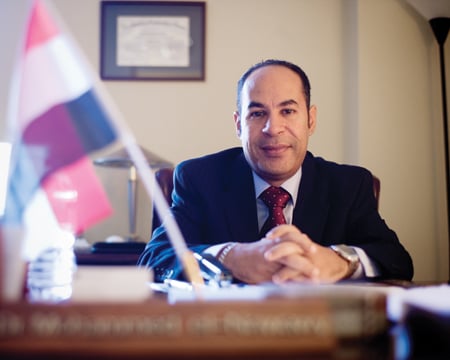 The sky was dark outside the jet's windows, and stars started to appear as the Boeing 747 flew south over the Mediterranean Sea toward Cairo. Far ahead, past the Egyptian coastline and down the long throat of the Nile River, the ancient city glowed, a smudge of light on the horizon. In little more than an hour, Mohammed el-Nawawy would return to the city of his youth. Nineteen million people live in Cairo and its suburbs fanning out along the river valley. That night, their attention was fixed on Tahrir Square. There, in one of the largest demonstrations in the country's history, young men and women led a protest to oust President Hosni Mubarak. Using Facebook, blogs, texts, and Tweets, they had aroused and inflamed their countrymen to rally for a free Egypt.
The night before, hopes seemed to levitate in Tahrir Square—the same square el-Nawawy once crossed to reach classes at the prestigious American University in Cairo—until a shocking announcement came over national 
television. A belligerent President Mubarak said he would not step down. 
A roar went up as hundreds of thousands of Egyptians expressed anger 
and disbelief.
In the hours after that fateful announcement, the world held its breath, bracing for the violence that could follow.
Now, as el-Nawawy sat on a plane approaching the ancient city, he wondered about its future. He carried a small tape recorder and camera; when he landed, he planned to head straight for Tahrir Square to talk to his countrymen. Though an academician, he is, at heart, a journalist.
The atmosphere on the plane was tense as Egyptians discussed the situation. Some feared a massacre if protesters marched on the palace. The businessman next to el-Nawawy spoke of his financial troubles caused by the demonstrations.
In the midst of this tension, a crew member walked into the cabin to make an announcement. As the first two rows heard the astounding news, word spread rapidly among passengers: President Mubarak had stepped down. There was a shocked silence, followed by a collective sigh of relief. The passengers erupted in cheers; the men stood and hugged each other.
Mohammed el-Nawawy was stunned. He had scrambled to make this last-minute flight, expecting to arrive amid uncertainty and conflict. The dean of his department at Queens University of Charlotte urged him to drop everything and go. A communications professor, he could not afford to miss this critical moment in Egypt's history, a moment sparked by young people on smartphones and laptops scattered in cafés and apartments throughout Cairo. Incredibly, between the time he walked through the boarding gate at Charlotte-Douglas International Airport and now, a revolution had succeeded. Mubarak, the eighty-two-year-old president—the man who came to power after the assassination of President Anwar el-Sadat, an Egyptian hero given the Nobel Peace Prize for stabilizing the Middle East—was gone.
An international expert on social media in the Middle East, el-Nawawy was in the midst of incredible good fortune. Suddenly, his research and writings were converging with history.
Five years earlier, before a half-million Egyptians gathered on Facebook to pledge solidarity against Mubarak, el-Nawawy began studying bloggers in the Middle East. Social media was providing a place for young Arabs to express their views, enabling them to mobilize. As a researcher, el-Nawawy had become increasingly interested in how they were connecting to each other and in what they were saying. He had transitioned from a journalist to a researcher in the mid-1990s, pursuing a masters degree that was the first step toward an academic career. He wrote and coauthored books that challenged the West to see Arab culture through the eyes of Arabs. His 2003 book on Al-Jazeera portrayed a news network that was redefining journalism in the Arab world. A 2009 book, Islam Dot Com, explored what Muslims discussed on Islamic-oriented websites. At Queens, el-Nawawy connected his students to their counterparts in the Middle East, facilitating the exchange of differing worldviews.
In recent weeks, The New York Times and CNN sought him out as an expert on Middle East social media. Ray Suarez interviewed him on PBS NewsHour. On that program, his answers cut to the heart of what was taking place, six days into Egypt's demonstrations. Yes, he said, computers and smartphones accelerated the unrest. "But I always say that new media and social media do not topple governments—people have to do that, and that's what we are seeing today," he said. Frustrated with thirty years of emergency law, Egyptians were demanding change. "They started the message on their blogs and Facebook and now the people are taking it to the streets, from the virtual world to the real world," he told Suarez.
I knock on el-Nawawy's door late one Friday afternoon. He had returned to the states from Egypt two days earlier.
The door is open—he turns from his computer and crosses the room, welcoming me into his dimly lit office. A dark-complexioned man, he wears a light-gray vest over a crisp cotton shirt and gray slacks. Newspaper articles cover the walls. A 2002 Boston Globe article is titled "Bridging the Gap Between East, West."
"I've always been inquisitive," he says as we sit down at a round table. His manner is friendly, and he laughs often. He still has friends from middle school, he says, boys he played soccer with at the gated club his family frequented in Cairo. "I lived a very happy childhood."

He was the first of two sons born to a police officer. In Egypt, officers earn a law degree and a police degree, sometimes becoming lawyers upon retirement. "Police officers need to know the law," he says. His father rose to the rank of general, providing a comfortable lifestyle for his family. Mohammed was sent to learn English at an early age, becoming bilingual as a child.
"The average layman in the street—you feel like he's a political analyst," he tells me. "People get their enjoyment from discussing politics."
But the classroom was a small part of a life centered on relationships.
"Growing up in the Middle East—it's very different from here," he says. "You feel every conversation has to be focused on politics." And there were many conversations. He spent Fridays, the Muslim holiday, in large family gatherings listening to discussions of domestic and international policies, and their impact on Egyptians. People talked over traditional dishes like koshari, a lentil stew scented with cumin and garlic. In the barbershop, in the stores, it was the same. It was a charged atmosphere. "The average layman in the street—you feel like he's a political analyst," he tells me. "People get their enjoyment from discussing politics."
Egypt was the center of the Arab world, and Cairo was its nexus. In culture, politics, and art, Egypt dominated the Middle East. The country had its uprisings and crises—the revolution of 1919, another in 1952, and the assassination of el-Sadat in 1981—but compared with other countries, it was a stable anchor in a region torn by bloodshed and controversy.
His family lived in a twelve-story high-rise in Cairo, within walking distance of grocery stores, shops, and his school. Weekends were spent at an exclusive social club, one of the mainstays of Cairo's upper middle classes. Like other clubs, theirs was a compound of gardens, restaurants, lounges, and sports facilities; it was a refuge. He says there is nothing comparable in the United States. "It was a place to go and spend the whole day," he recalls. His parents met friends in the gardens; he played soccer or swam. Meals were enjoyed in club restaurants; sometimes children joined their parents or ate with each other.
In the Egyptian culture, families socialize together, often late into the night. "Egypt is a late-night country," he says. "Lunch is at 4 and dinner is at 10 or 11. Families go out late in the evening and stay out until 3 in the morning."
The tight communities, the emphasis on relationships, and the constant discussion of politics made an early impression. "That really affected me in a very deep way. I always wanted to make sure I had some kind of say in what was going on."
In college, he found his voice; often, it was an English one. As a student at the American University in Cairo, he was immersed in diversity. The school was a crossroads for the world's cultures. "You have a mini-United Nations on this campus," he says. The main building overlooked Tahrir Square, an oasis in the heart of Cairo.
As an undergraduate majoring in mass communication, el-Nawawy was a reporter for the school newspaper, The Caravan. He also freelanced, writing for the English-language magazine Egypt Today. He looked for stories that would make a difference, writing, for example, a feature story for Egypt Today on orphans in Cairo. "I wanted to shed light on life in Cairo," he says. "I liked to feel I was working on stories that would make a difference, that people would talk about."
At home, his family pressed him to explain the American perspective on issues. He became a bridge between the two cultures, especially when America and Egypt made news together, as in the Gulf War of 1991. "That was an interesting time because Egypt had some troops that were sent to liberate Kuwait with the coalition forces," he says. "I felt I was really able to follow the situation closely, and talk to my family about the U.S.'s role and how that would affect the area, the region." At the university, professors emphasized finding one's voice. Students were told they had a role to play: "We feel we can make a difference," el-Nawawy recounts. "We can make a difference."
That sense of mission expanded after college when he took a job as the personal assistant to Mostafa Amin, one of the most highly regarded journalists in the Middle East. Amin put him in the office next to his, to translate and summarize news stories each day. "He was one of the journalistic icons in the Arab world. He was a founder of a big newspaper; he was an organization in and by himself," he says. Instead of putting el-Nawawy on the newspaper payroll, Amin pulled cash out of his pocket to pay him each week. Amin's personal standards—getting his own news and paying to understand it—impressed the young graduate.
For several years el-Nawawy honed his skills, continuing to write freelance news articles for the Associated Press in Cairo and other news agencies. He worked as an editor at a publishing house. He lived in Qatar for a year; he worked on an oil rig in the Red Sea. In time, he realized his interests lay in research. He returned to the American University in Cairo to earn a master's degree in mass communication, then enrolled for a Ph.D. in journalism at Southern Illinois University Carbondale. (Ironically, when he moved there he discovered that the school newspaper—one of the biggest in the country, with its own printing house—was named The Daily Egyptian.)
He needed a topic for his dissertation. In discussions with an old friend in Cairo, the former bureau chief for the Associated Press, he found it: how do Western journalists get access to Egyptian and Israeli officials? He would interview every Western journalist in both countries, a risk that involved going to Israel. "It's like an American going to the USSR in the height of the Cold War," he says. With a visa and a list of names, he entered Israel and began tracking down journalists. Eventually he interviewed 170—every Western correspondent in both countries. His dissertation was published in 2002: The Israeli-Egyptian Peace Process in the Reporting of Western Journalists. It's available on Kindle.
It's nearing the dinner hour as we move from the round table to the Mac behind his desk. I've asked to see some of the interviews from Tahrir Square. He begins clicking through them; the moment feels solemn.
"You cannot imagine this historic time. Over the past eighteen days I've been very concerned about Egypt, as a researcher but also as an Egyptian," he says, clicking open a video. "This revolution is unprecedented, not just in Egypt—anywhere." It seems he is struggling to process all that has happened. He continues. "People came out in the millions, with no violence … people from all walks of life, with no leader, no political affiliation, no political agenda other than just change—and for the better.
"This is just unbelievable," he says, watching the interview as though for the first time.
He explains the Arabic writing on banners hung across streets; he points out the posters of peaceful demonstrators killed in the resistance, the martyrs. Some of the interviews are in English. "It's an honored day for us," a woman says. "I am proud to be an Egyptian."
People are celebrating on top of tanks, recorded music is playing, the sound of the crowd is like a loud hum. There is singing.
He points out tents where people live and explains the division of labor—some bring milk, others food, still others run a pharmacy.
"They set up a corner for people to write poems," he says.
"A couple of weddings took place," he adds.
Everywhere, the streets are clean. It's difficult to understand how hundreds of thousands of people, wandering through streets that are not part of their neighborhoods, have kept everything so clean.
On the Kasr Al Nil bridge, a historic platform that crosses the Nile River, fathers and sons with brooms and dustpans sweep the edges of the pedestrian walkways. Massive bronze lions flank the entry of the bridge. "See the statue of the lion?" el-Nawawy asks. He points out the children—they've climbed the lion to clean it, he tells me, and translates what they are saying. "They're asking passersby if they have anything to polish the statue with."
"Why are they doing this?" I ask Mohammed el-Nawawy.
"They feel they have regained their country."
Laurie Prince is a writer in Charlotte and a longtime contributor to this magazine.