Profiles in Courage
"The Cankerworm Returns" with an Evening of Stories About Courage at the Levine Museum of the New South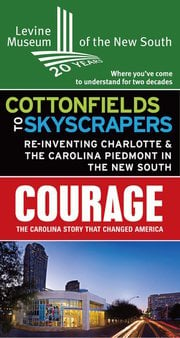 These bleak economic times (and our divisive politics) call for people with courage to lead us to a higher place. Is anyone out there displaying courage? If you know (or know of) someone who's shown courage, get ready to share the story.
In honor of the Levine Museum of the New South's upcoming exhibition on desegregation, called Courage: The Carolina Story That Changed America, Crossroads Charlotte is putting on a night of storytelling on the topic of "New Courage."
Crossroads Charlotte pays homage to The Moth, the New York-based nonprofit whose tagline is, "True Stories, Told Live," with an evening of storytelling. The motto for the evening, in honor of Charlotte's signature tree-destroying insect and the remedy the city is using to combat them: "We band people, not trees." The structure loosely follows The Moth story-slam format.
Here are the ground rules and pointers: 1. You have five minutes to tell your story. 2. No rants allowed. 3. Use active verbs. 4. Remember: Great stories have a beginning, a middle, and an end.
Want to tell a story? Contact Arissa El-Amin at arissaelamin@yahoo.com for details, and put "cankerworm" in the subject line. No story? No problem! Come out to hear other tales of courage. This event is free and open to the public. Friday, Oct 14 from 7 – 9 p.m. at the Levine Museum of the New South.
Charlotte and America can't just worm our way out of the doldrums. It's gonna take courage.