Program Gives Second Helping
Formerly incarcerated women find their way from one life to the next by walking through the café door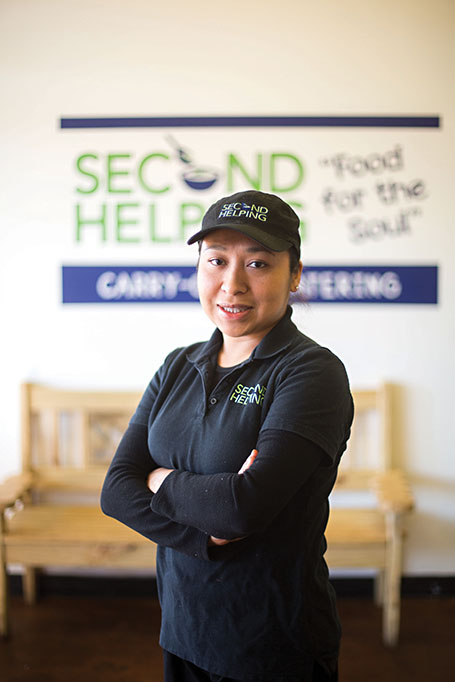 The final half hour inside the Mecklenburg County Jail felt the longest for Gigi Cruz. It was nearly 3 a.m., and a woman nicknamed "Ms. Sylvia" was on her way to pick Cruz up. Those last 30 minutes, Cruz says, felt like a lifetime, and, in some ways, they might have been. Behind her was the life that led her to jail on drug charges. Ahead of her were Ms. Sylvia and a start with Changed Choices, a local nonprofit organization dedicated to empowering formerly incarcerated women and helping them thrive on the outside. Cruz was, after 15 months in jail, taking the first steps toward a new life.
One of the first stops they made was the grocery store. Ms. Sylvia told Cruz to pick out anything she wanted. Cruz's big, brown eyes tear up now as she remembers it. "That's the first time anybody told me that," she says.
Cruz could muster the courage to take only an apple. Ms. Sylvia encouraged her to take two.
"She was broken," says Sylvia "Ms. Sylvia" Jessup, the transition manager for Changed Choices. Founded in 2005, Changed Choices works with lost and broken women and supports them back to self-sufficiency, in jail and upon their release, by offering counseling, life skills, assistance with employment, and housing and support for their families.
One of the ways the organization helps is through its social enterprise, Second Helping Charlotte, a takeout café on Central Avenue that employs only formerly incarcerated women.
After attending the Community Cul­inary School of Charlotte, Cruz gained experience working for Friendship Trays and Encore Catering. Then she moved to the first iteration of Second Helping, a coffee stand located in uptown. When the brick-and-mortar location opened in August 2013, Cruz was asked to be the executive chef. She's been there ever since.
Cruz, 30, is a petite woman. On any given day, her hair is usually tied back, and she's wearing a navy ball cap bearing the Second Helping Charlotte logo. Each day, she prepares soul food dishes for catering events and carry out. That previous life, the one before jail, seems far away. As a young teen, Cruz dropped out of high school to help her mother pay the bills. She married at 18 and suffered through an unhealthy and emotionally abusive relationship. Eventually, she landed in jail on drug charges.
"I thought this was the end of my life," Cruz says. "I had no future, no hope, nothing."
Today, though, when you walk into Second Helping and look at the chalk­board, the daily specials are Cruz's creations, such things as the enchiladas or Mexican grilled chicken. Cruz has light in her eyes and levity to her spirit. She speaks honestly about where she's been and appears a changed woman—confident, employed, independent, and hopeful for the future. She will give credit to people like Ms. Sylvia and others at Changed Choices. And they will tell you that she did all the work.