Project Uptown
Charlotte's hips are wide enough. We can't grow out anymore. So city leaders and developers are pouring millions into the heart of our city. Which leaves us with a few questions: Where's it all going? What's it all going to be?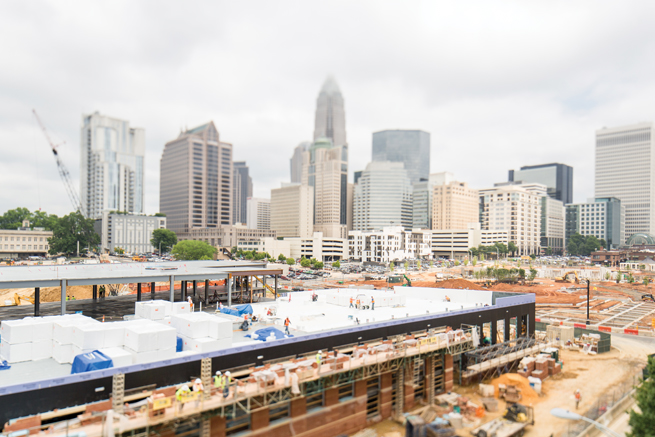 Along Church Street on a warm, cloudy weekday in April, a mixture of pollen and red dust from dry Carolina clay settles on anything that stands still. The sound of masonry saws, jackhammers, and bulldozers roaring all at once activates the work zone, a space several blocks long surrounded by chain-link fences.
Crews are racing the calendar (and a looming thunderstorm) to finish work on Romare Bearden Park, a 5.4-acre parcel bordered by Church, Mint, and Third streets and Martin Luther King Boulevard. A couple of gazebos, with pressure-treated wood still unblemished by nature, stand at this end of the future park. For now, though, the park is more rusty and dusty than green and fresh.
Standing here, you can look across this future park to another future park, albeit of a different kind. BB&T Ballpark, the future home of the Charlotte Knights, is coming to life in the distance, I-beams rising from the ground. From here, it's difficult to determine where construction on Romare Bearden Park ends and where work on the ballpark begins.
These two projects not only are changing the landscape of Third Ward, they're leading the next wave of development uptown. This is the start of a growth spurt for the center of the city, one that should make the 10-block center city more appealing to young professionals, and more ready for a future where people want to be nearer to Charlotte's heart.
Building the office towers and public transportation that brought uptown to this point took decades. Daniel Levine, a Charlotte native and developer, watched the transformation and began making plans to be a part of it. More than a quarter century ago, Levine and his father, Al, began cobbling together 23 acres of land in First Ward. One day, Levine says, the land will be home to a transformational project.
"Great cities take many, many generations to develop, sort of like a bouillabaisse," Levine says, referring to the slow-cooked fish soup. "It takes time for it to be really good."
That doesn't necessarily sit well in Charlotte, a city that has grown by about 500,000 people in the past 50 years, a city that expects changes to happen quickly.
"We're just not a patient place," says Michael Smith, president of Charlotte Center City Partners and uptown's cheerleader in chief. "We're a hungry, aspirational place."
More than that, though, there is a real need to move. A recent study by UNC Charlotte's Urban Institute found that between 2010 and 2012, Mecklenburg County grew at a faster rate than its surrounding counties. That's a quick shift after a decade of suburban boom in places like Union, York, and Cabarrus counties. If people are indeed coming back to Charlotte's core, uptown must be ready for them. But the race to build uptown is complicated by competing opinions and landowners who move at different paces. Some construction will speed along and other projects will crawl, underscoring one fact of development that hasn't changed through time: Behind every project are people.
Smith has a map spread across a conference table in his office, just a few blocks from the construction site. Smeared lines of colored ink cover the map; they're marks Smith has made in conversations like this one about the possibilities for uptown. More than a billion dollars in new development is planned for uptown and South End by 2020, according to Center City Partners. This includes plans for 7,200 apartments and condominiums, of which 2,800 are already under construction. Not all of those projects will come to fruition, Smith admits. Permits will be denied; funding will fall through.
"It's not only about how much development. It's about the quality of development," says Debra Campbell, Charlotte's planning director. Campbell is a 25-year veteran of city government, the type of longtime resident who has to remember to say "uptown" instead of "downtown." She says developers now give more consideration to the experience of being uptown. They want the projects to be more than steel and glass and concrete.
First Pitch
The ballpark has bones now. You can see what it will become. Workers have erected the steel beams for the clubhouse, and the skeleton that will support seating along the future first baseline stretches along the MLK Boulevard side of the construction site. A massive crane swings the metal braces across the sky; they hang, almost precariously.
Nowhere is center city's upcoming redefinition more obvious than on this site.
The $54 million park sits along one of the few truly underdeveloped corridors in center city. The Knights paid to tear down a vacant brick building boarded up and covered in graffiti to make way for the project. Across Graham Street, a handful of businesses reside in nondescript buildings next to broken asphalt lots covered in cars with parking passes in the windshields.
Developers expect the scene to change after the Knights' first pitch uptown.
"Stadiums and sporting venues are drivers of people," says Bob Spratt, a developer with Charlotte-based Hill Partners, who has worked on projects near urban ballparks in cities such as Houston and Cleveland. "They bring people into the area." Spratt expects ballpark visitors to spend money at nearby restaurants and bars. Research on minor-league ballparks supports his assertion. A 2011 study from the University of San Francisco found that AAA stadiums provide an economic boost to their communities. The researchers noted that "the presence of positive effects is strikingly different from decades of non-positive results at the major league level."
Efforts to build a center city stadium in Charlotte ran into economic and legal hurdles for more than 15 years before the plan came together last year—thanks to a land grant from Mecklenburg County worth $24 million and $8 million each in incentives from the city and county.
"Stadiums and sporting venues are drivers of people. They bring people to the area." – Developer Bob Spratt
"I think it is a catalyst for future development over time," Spratt says. Developers, commercial real estate agents, and city planners use that word—catalyst—or some version of it, to describe the ballpark. Campbell, the planning director, expects the ballpark to be busier than Bank of America Stadium, which sees action from the Panthers and college teams roughly a dozen weekends a year. Some estimates predict attendance at Knights games will jump from about 300,000 each year at the current home in Fort Mill, South Carolina, to 600,000 at the uptown ballpark. Skeptics believe this number is overly generous and difficult to predict.
"There are restaurants and bars and cafés that can crop up around the stadium," Spratt says. Those projects likely will happen quickly and organically, he says, without much encouragement. Already, the Knights are planning to build an office building and a 125-room hotel in the outfield area by 2015. The club will receive more than $7 million from the city's hotel and motel occupancy tax to help build the office and hotel building.
The plan for the rest of Third Ward also calls for residential development. Durham's success at breathing new life into an underwhelming part of its downtown after building a new baseball stadium is a model for success. The area around the Durham Bulls Athletic Park now teems with life, even on nongame days. But Spratt says all that will take time in Third Ward. "I think you've got to be patient and wait for that area to mature."
Home Improvement

Of the roughly $1 billion in planned projects included in Center City Partners' latest development report for uptown and South End, $725 million is planned for residential construction.
Charlotte's rental market is surging, and it shows no sign of stopping. David Furman, a Charlotte architect and developer who specializes in residential projects, says city residents aren't used to the pace of residential development necessary in dense urban areas, but, "I just think the need is going to continue to be there."
Of course, some projects outlined in the report won't happen. But Furman believes uptown can handle more density, especially as other projects (like the ballpark) give young professionals more reasons to want to live in center city. "It is compact. It's small," he says. "Tryon Street is really only 10 blocks long. In a major city, that's nothing.
"I think it will all be filled in."
Let The Grass Grow
In April, Center City Partners rolled out the idea of a public greenway that follows the light-rail line through uptown and South End. The Charlotte Rail Trail would stretch for more than three miles and tie together neighborhoods just outside the I-277 loop.
Adding more green space has been a part of city leaders' vision for years. More often than not, they have found that if they create urban green space, people will use it. Campbell wants the city to have a park in each of uptown's four wards by the end of the decade. "Those spaces allow people to gather," she says. "And that's what cities should be about."
There is already a park in Fourth Ward, a three-acre space off Poplar Street with walking trails and a playground. Bearden Park, when it is finished, will be in Third Ward. The other two neighborhoods are more challenging. Although Marshall Park sits in Second Ward, the space is rarely used.
A park in First Ward is also an open question, but not for lack of a developer. For more than 30 years, Levine Properties has been gathering land for a mixed-use urban village. The first stage of the $75 million project, to fill 23 acres, is scheduled to break ground this summer, Levine says. It should include a four-acre public park—across from ImaginOn, between Seventh and Ninth streets.
If we create urban green space, people will use it. "Those spaces allow people to gather. And that's what cities should be about."— Debra Campbell, Charlotte's planning director
Levine's company will design and build the park along with new streets and sidewalks. Mecklenburg County will reimburse Levine Properties $11.3 million for the park; Charlotte will pay $5.5 million for the new infrastructure.
But the project has been a long time coming. Critics have griped that Levine is simply sitting on the property. They argue that another developer could have already finished a transformative mixed-use project in First Ward.
Levine dismisses the criticism. He's tempted to tell people he paid for the land and can do whatever he wants with it. "It's very real to us," he says. "It's our money. It's our reputation. And we can't pick up and go to some other city we came from because this is our home."
The Other Side of Tryon
Just before 6 p.m. on a Friday, the sound of an electric guitar floats out of Sip Charlotte, a bar on North Tryon Street. The sign out front advertises local beer on draft. But the workers trickling out of skyscrapers in their standard khakis and button-downs stride past. The only people who seem to be lingering in this spot are a homeless man asking for change and a trio of tourists, camera straps dangling, speaking French.
For years, North Tryon was the "next frontier" for uptown development. Construction on the Hearst Tower, which started in 1999 and finished three years later, spurred talk of new projects along the corridor, which developers hoped would become the northern gateway into uptown. But a building boom in South End and the construction of performing arts spaces, museums, and office towers on South Tryon pulled momentum to the opposite end of center city.
"The market forces moved all of the development over the last half century south and west," Levine says. Bank of America, under Hugh McColl's leadership, attempted to swing development momentum north by building a series of towers, culminating with the Hearst building that opened in 2002. "One company, one man took it on as his responsibility to lay down the pattern of growth on North Tryon Street," Levine says of McColl. "To my knowledge, not one other entity, individual, or corporation has followed suit."
And that includes Levine himself. If bricks started to rise from his 23 acres, the resulting community would revolutionize the North Tryon corridor. The property is "the hole in the doughnut," he says. But he stands by the decision not to rush to build there. "The overall success of the center city will be benefited by our patience."
On the Job
Great downtowns are built in layers," says Smith, Center City Partners president. "We started with a strong employment layer."
The secret to uptown's success, Smith says, is its ability to steadily add office space, providing stability for everything else—apartments, markets, a baseball stadium that follows.
Center city had about 5 million square feet of office space in the 1960s, Smith says, and Charlotte has added 4 million to 6 million square feet of work space every decade since then. "That's the case we're going to continue to make," Smith says. "Every decade, you've got to build upon the previous."
That infrastructure sets Charlotte apart from other cities, says John Chesser, senior analyst at UNC Charlotte's Urban Institute. Chesser has studied Charlotte and other metro areas for more than two decades. "There have been a large number of places seeing a renewed interest in the center of their cities," he says, "but not many have put as much infrastructure and as many amenities in place as Charlotte."
Other transformative projects in center city would be impossible without the high-paying jobs that drive demand for office towers, Chesser says. "The employment is really what's making some of this happen." He believes this wave of development is similar to one in the 1990s that brought basic conveniences like the grocery store at West Sixth and Pine streets to uptown.
"People kind of take these things for granted now," he says.
Shopping Spaces
When David Watkins opened his tailored-suit business, Abbeydale, in a ground-level space in on West Fourth Street in May, he knew it was a risk.
"We're really stepping a little out of our comfort zone," he says. Before the move, Watkins sold his luxury suits and trim shirts from an appointment-only office on Central Avenue. When the new, rustic-industrial space opened last month, Watkins joined the short list of retail options in center city. "I think uptown, being centrally located, street level, will work to our advantage," he says. But plenty of other boutiques haven't fared so well.
For decades, Charlotte has chased retail development uptown. And for decades, developers have chosen to build malls in the suburbs.
"Retail is a riddle for every downtown in America," Smith says. "Retailers want to be in places where shopping is already occurring, and that means somebody's got to make the move first." Bringing retail uptown will take an experienced urban developer. Many of the projects planned in uptown set aside space for shopping. And there are places to shop now.
"A large number of places [are] seeing a renewed interest in the center of their cities. But not many have put as much infrastructure and as many amenities in place as Charlotte." — John Chesser, senior analyst, UNC Charlotte's Urban Institute
"You just can't find it unless you know to go to the Overstreet Mall," says Campbell, the planning director, referring to the elevated set of shops and restaurants hidden from anyone who doesn't work inside one of the uptown skyscrapers. She, too, believes retail is the unconquered challenge for uptown. "I don't know if we're going to get a Macy's or any of the higher-end retailers," she says. "But I don't know that we want a very large box retailer in our downtown anyway."
Even when significant retail development does come uptown, it won't draw visitors from other parts of the city and beyond, the way SouthPark or Concord Mills do, Watkins says. The shops in uptown must cater to people walking down the street—workers and tourists, mostly.
People shop in center city because they're browsing for something but aren't quite sure what; they do not come on a determined mission for a pair of new slacks, especially not with so many other malls in the region.
"You come here to spend an afternoon," Smith says, looking at his map of uptown, covered in smudged ink from all the scribbling. "You spend some of it at Romare Bearden Park, you do a little shopping, and you catch the game. Sounds nice, doesn't it?"