Provisions Open, Free Coffee, and More
We've got your list of weekend food events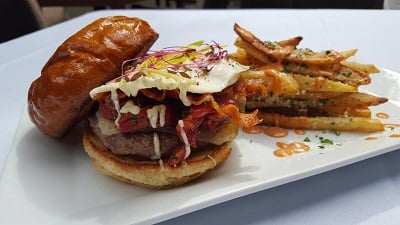 It's the last weekend in July and there are plenty of food things happening around Charlotte to keep you and your tummy very happy.
BLT Steak: On Friday, July 31 at 7 p.m. BLT Steak will host its Craft Dinner Series, this time highlighting the food of BLT Chef Ben coupled with the brews from Unknown Brewing Co. The menu will feature four of the brewery's beers paired with four courses including a beef rib eye with heirloom tomato and a foie gras and duck fat potato served with the Over the Edge IPA and for dessert, a peach and plum tart with orange blossom ice cream served with the Southern Hospitali-Tea Amber Ale. Price is $95 per person, which includes the four course paired dinner plus tax and gratuity. Tickets can be purchased here.
_____________
Provisions Food & Drink Opens: Paul Verica, owner of Heritage in Waxhaw, will open his second venture in the historic town on Saturday, July 25, at 11 a.m. with Provisions Food & Drink. The eatery has a deli feel, offering salads, sandwiches, soups, and more. Read the full breakdown here.
_____________
Upstream: The seafood-focused restaurant will be hosting a cooking class this Saturday, July 15 from 10 a.m. to noon. Students will explore grilling and the use of smoke (and fire) to achieve a tasty end product. Reserve your spot by calling 704-375-9715.
_____________
Amelie's: The French bakery and cafe will be giving away free samples of iced coffee at all locations throughout Charlotte tomorrow, Saturday July 25, from noon to 6 p.m. Personally, we plan on trying the new roast from Magnolia Coffee Company, L'eté – meaning summer.
_____________
Blue Restaurant & Bar: On Sunday, July 26, at 11 a.m., Blue will host a Jazz Brunch with a performance by guitarist Chris Standring. Tickets can be purchased here.
_____________
Zebra: The upscale restaurant in SouthPark will begin brunch service this Sunday, July 26, starting at 11 a.m. Dishes for the breakfast lunch hybrid include a breakfast burger complete with a maple bacon burger, fried egg, and tomato jam. There will also be a corn beef hash with poached eggs alongside roasted rosemary fingerling potatoes.
_____________
Rí Rá: The Irish pub and eatery in uptown will begin hosting a bluegrass brunch starting this Sunday, July 26, from noon to 3 p.m. A southern style brunch (plus bloody mary bar) will be served up with the sounds of a live bluegrass band in the background. Seating is available in either the music room or outside on the upstairs patio. Walk-ins allowed but reservations suggested.
_____________
Restaurant Week Ends: Hurry up and dine at your favorite restaurant participating in The Queen's Feast, which will conclude Sunday, July 26. As a recap, more than 120 restaurants are participating, offering three courses at dinner for $30 or $35. Reservations are highly recommended. A full list of participating restaurants can be found here.