Puerto Rican Paradox: When Tourism Becomes Relief
Since Hurricane Maria, tourists have been reluctant to return to the popular vacation destination. But Puerto Rico needs tourism dollars now more than ever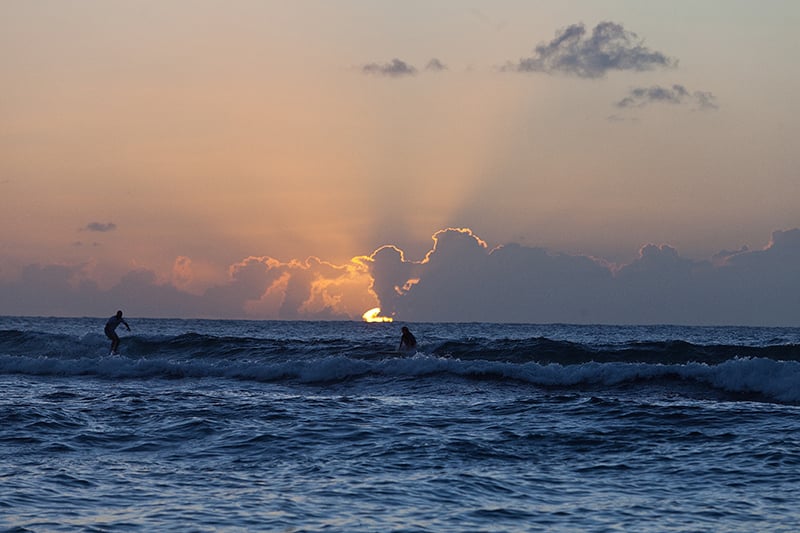 I WENT to Puerto Rico to visit my brother, Whit, who has lived there since 2012. He and his longtime love, Lindsey, wanted to settle somewhere with white sand beaches and year-round warmth.
Whit moved there to work as a surf coach, and she landed a job mentoring at-risk teens. After five years, they bought their first home together in the laid-back beach town of Rincón, on Puerto Rico's westernmost point.
During my four-day trip in January, they showed me everything they love about island life. We chased waterfalls, perused the farmer's market, and took in local street art. I reveled in the sunny, 82-degree days and went to sleep to a chorus of high-pitched coquís (native nocturnal frogs) at night.
More than a year had passed since Hurricane Maria, yet I wondered if it was too soon to eat sweet plantains and drink a cold Modelo on the beach. Roughly 3,000 people died here. Businesses were still suffering. The hotel-based surf school where my brother works had lost a quarter of a million dollars since the hurricane, and the hotel itself was only half-full 18 months after the storm. Was it self-indulgent to vacation where so many people endured so much devastation?
As it turns out, the painful recovery is exactly why vacations to Puerto Rico serve a greater purpose. Pre-Maria, the tourism industry employed more than 80,000 people and, in a typical year, drew more than five million visitors who spent nearly $4 billion—about eight percent of Puerto Rico's economy. After Maria, tourists help revive the island with every hotel we book, restaurant we visit, gallery we attend, and local musician we support.
I was delighted to do my part.
***
WHEN WHIT AND LINDSEY bought their house in Rincón in July 2017, they understood the threat of hurricanes on a Caribbean island. But they were victims of bad timing. The 2017 hurricane season was one of the most catastrophic on record.
Two months after they moved in, on September 20, 2017, Maria struck. It was a Category 4 hurricane with sustained winds just below 155 mph and rainfall of up to 38 inches. Maria was the third-costliest hurricane in United States history. It caused more than $90 billion in damage, annihilated the power grid, and destroyed about 80 percent of the island's crops, which forced farmers to retire or leave for the mainland.
The U.S. government responded to a disaster in one of its own territories by virtually ignoring it. President Trump showed up two weeks later, threw a few rolls of paper towels into a crowd, and praised FEMA for its swift response to the storm when it had been anything but. The president claimed only 16 people had died. Later investigations placed the death toll at close to 3,000. (Although U.S. Senators Thom Tillis and Richard Burr of North Carolina voted to send federal disaster aid, the state's House delegation cast more votes against the relief bill than any other.)
Those who survived spent months in the dark—literally. Whit and Lindsey waited for hours in line at supermarkets, gas stations, and banks. Their cell phones were useless, and generators (and the gas to run them) were nearly impossible to come by. For 87 days, they lived on PB&Js and relied on flashlights once the sun went down. "You'd be surprised how creative you can get with rice, canned veggies, canned chicken, and canned pineapple," Whit tells me during my visit. "Fried rice at its best."
And Whit and Lindsey understand they were among the lucky ones: 44 percent of the population lives below the poverty line. More than 100,000 who evacuated haven't returned. But leaving was never an option for Whit and Lindsey. They loved it there and still do. Eighteen months ago, their beloved island was unrecognizable. But the storm couldn't strip away every vestige of their adopted home. The signs for Route 413, the "Road to Happiness," still stood.
Route 413 leads to the Sandy Beach Café, where we stop for brunch on Saturday morning. Whit often brings clients here for a Bloody Mary or a stack of banana pancakes after early morning surf lessons. The restaurant reopened in this new location in December after Maria wiped out the old one. Today, a crowd—mostly locals, just a few tourists—fills the tables to support owners Mitch and Maria as they start over. Whit and Lindsey were thrilled when their favorite neighborhood hangout reopened in December. They eat at Sandy Beach at least once a week.
"Buen provecho," our server says as she serves our breakfast burritos. I would hear the expression many more times on my trip. It means, "Eat hearty," or as Whit explains, "It's like 'bon appetit' in Puerto Rico."
"Buen provecho" becomes our theme. We enjoy a sunset dinner at La Copa Llena with fruity cocktails and small plates of roasted cauliflower, seared duck, and lamb meatballs. Our Sunday brunch on the deck of the English Rose, a bed and breakfast, offers sweeping views of the Caribbean and mugs of Puerto Rican coffee that keep me vibrating into the afternoon.
From there, we peruse the bustling Farmer's Market in Rincón, which teems with fresh produce, flowers, honey, and homemade pastries. We spend the afternoon exploring Gozalandia Falls in the nearby town of San Sebastián, which begins with what Whit calls "a flip-flop hike." After a 10-minute uphill walk through a lush forest, we come to a 60-foot waterfall that plunges to a pool. People swim in and out of a nearby cave as others jump off the rocks above into the water. Whit climbs to the top, aims a rope swing toward the deepest part of the pool, and cannonballs in with a gargantuan splash. Lindsey and I navigate the slippery rocks, stand beneath the falls, and let the cool water shower us. For them, it's a typical Saturday afternoon. For me, it's magical.
***
THE FOLLOWING MORNING, we're driving a few miles northeast of Rincón on Highway 2, a narrow, winding road with cracks and potholes, toward the town of Aguada. We pass downed and bare trees and homes with missing windows and blue tarps that cover holes in the roofs. Then we hear faint voices and the rhythm of saws and hammers. Old tires litter the roadside. The commotion gets louder. The tire piles grow. After a few minutes, we arrive at a clearing where about 80 people pass tires and bags of sand and hammer away at domed structures arranged in a ring around a courtyard. With every swing of a hammer or grinding of a tree stump, these volunteers are saying: Next time, we'll be ready.
They mix cement, pack tires, and slice glass bottles in half on this blazing Saturday to finish Earthships, structures strong enough to withstand hurricanes. The idea comes from renegade American architect Michael Reynolds, the "Garbage Warrior," known for his radical idea to recycle waste into sturdy, sustainable homes in such disaster-prone locales as Haiti, Nepal, and the Philippines.
This three-acre Earthship site, the first in Puerto Rico, occupies land owned by a beekeeper named Noemi Chaparro and her family. Chaparro manages the project, which began in February 2018, and tells me more Puerto Ricans want to rebuild or remodel their homes using the Earthship method. "It takes a lot of effort and a lot of hands to get things done," she says. "No one is getting paid … they're sunburned and exhausted, but everyone leaves here smiling."
Hurricane Maria's demolition of the power grid has soured many Puerto Ricans on public utilities, Chaparro explains. Earthships create electricity from solar panels and collect and filter rainwater for drinking and bathing. "It's this crazy concept of building with trash," she says. "We're essentially sticking our middle finger up to the system." The structures consist mainly of the discarded tires, which volunteers pack with dirt and rocks until each weighs about 300 pounds, then stack. They fill the spaces between tires with cemented hurricane debris for insulation and use recycled glass bottles, which let in natural light, to decorate the walls and ceilings.
Chaparro nurses her youngest, five-month-old Lolita, as she gives me a tour of the site. Her three older children scurry from spot to spot, lending help to volunteers who have come from Switzerland, Scotland, and Belize on a two-week visit. Chaparro wants to open the compound as a distribution center and "safe zone" for the next hurricane. "Let's learn from what happened," Chaparro says. "How can we better prepare ourselves for the next time?"
***
MY MOTHER JOINS US in San Juan, the 500-year-old capital, for the last two days. The four of us stay at Hotel El Convento, a former monastery that overlooks San Juan Cathedral Square. From there, we walk the blue cobblestone streets of Old San Juan, which hums with the chatter of locals and tourists.
The city appears to be rebounding. Thriving, even. And then an installation that takes up an entire block on Calle Fortaleza reminds us how resilient Puerto Rico is, how resilient it's had to be.
Hundreds of colorful umbrellas float overhead, each emblazoned with the hashtag #PuertoRico. It's a tribute to the people of Puerto Rico after Maria, and a sign that they're ready to welcome visitors again. Beneath the installation, titled Paseo de Sombrillas, is a plaque.
Just as umbrellas move fluidly with the wind, it reads, Puerto Rico is a place that flows and majestically embraces every challenge it faces.
The four of us continue to stroll in the late afternoon sun and the brilliance of the display above our heads. Umbrellas protect people from rain. But today, in Old San Juan, the sun's rays shine through the fabric and bathe the street in light.
---
Puerto Rico is one of the most accessible tropical destinations from Charlotte, with more than 16 nonstop flights a week, many priced under $300—and you don't need a passport. If you've never visited before, or you've been hesitant to return, go. This is a time when your trip matters.
STAY:
HOTEL El Convento
This former convent, opened in 1651, is now a 58-room hotel that overlooks San Juan Cathedral Square. Spanish Colonial architecture sets off a rooftop pool and a daily wine reception on the terrace.
DO:
Bioluminescent Bay Tours
Take a shuttle to La Parguera, a west coast fishing village, for a trip that includes a sunset snorkel and boat ride. After the sun goes down, you'll take a 20-minute boat ride to the bioluminescent bay, where microscopic creatures make the water glow green.
Calle LoÍza
If you're not a beach bum, head to Calle LoÍza in San Juan. This 1.5-mile stretch in the Santurce neighborhood is lined with boutiques, vegetarian cafes, food trucks, and street art. One of the area's most popular spots is Café Tresbé, a converted yellow shipping container. Here, chef Mario Ormaza specializes in locally sourced seafood like ceviche, octopus empanadillas, and fish tacos. Café Tresbé's generator made the restaurant a sanctuary after Hurricane Maria.
EAT:
The Stuffed Avocado
Nestled into a narrow storefront on Calle San Francisco in Old San Juan is a culinary heaven for avocado addicts. It all starts with an entire avocado that you fill with your choice of proteins, sauces, and toppings that include edamame, mango, sweet plantains, and more. Or opt for one of the signature avocados, like the pulled pork topped with rice, spicy mayo, plantains, and green onions.
Chocobar Cortés
It's a bean-to-bar chocolate manufacturing company and restaurant where Caribbean-grown cacao goes with everything, even grilled cheese. (Trust me on this one.) If you go for breakfast, treat yourself to a pastry with chocolate dipping sauce or a frozen hot chocolate.
VOLUNTEER:
All Hands and Hearts
Work with this disaster relief organization in Barranquitas and Yabucoa on various projects including debris removal, mold sanitation, and repairs to windows, doors, and roofs. No construction experience is required, but participants must be at least 18 years old and up to date on their tetanus vaccinations. Volunteers also receive meals and accommodations free of charge.
Earthship PR at TaínaSoy Apiario
Join more than 300 volunteers from around the world in building these off-the-grid structures made from tires, trash, and other recycled materials. While volunteering, stay on a campsite or in a guesthouse in Rincón with daily complimentary breakfast. The donation-based program also accepts tools, food to feed volunteers, and Home Depot gift cards. Visit their Facebook page for more information.