Pure Pizza Opens Its Doors Today
The farm-to-fork pizzeria opens in Plaza Midwood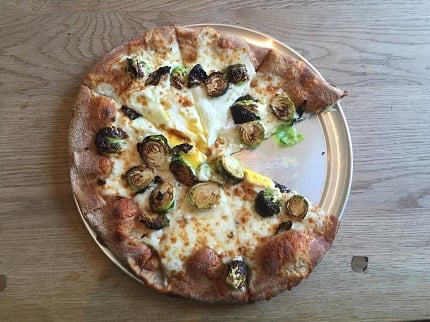 Today, Tuesday, August 4, the team at Pure Pizza will open their second location at 1911 Central Ave. in Plaza Midwood. Owner Juli Ghazi developed the idea for the sprouted wheat grain crust several years ago, and has been selling the local, sustainable, and organic pizzas (always topped with farm fresh ingredients) at the 7th Street Public Market for a few years.
Now, Ghazi and her team are ready for a storefront of their own. The new location will feature several unique additions to the neighborhood including a 1700 square foot urban organic greenhouse and community space, providing organic produce from Windcrest Farm. Inside the pizzeria look for original artwork and murals designed by local Charlotte artists; outside look for the artistic bike rack designed by local artist Terry Bopp.
He helped to weld, cut, and shape the new bike rack art structure installed in front of the Pure Pizza location. The artist hopes that the community will become more rider friendly and that the bike rack will encourage a healthier lifestyle.
In terms of those delicious and healthy pizzas, fans of Pure Pizza will be able to find all of their favorites at the new location. The T-Rex, which features organic tomato sauce with mozzarella, local bacon, ground beef, sausage, and pepperoni will be present for you carnivorous needs. To contrast, the delicate and light Farmer's Salad pizza will be on hand, boasting its seasonal spring mix, veggies, goat cheese, and house-made balsamic vinaigrette. Of course, if you need a sandwich – like The Pulled Pork, featuring Dan the Man's pulled pork with a cilantro-lime slaw – you can grab that as well.
In a Facebook post, the crew posed in front of the sign with a caption by Ghazi stating, "I seriously love this crew with all my heart." Good luck to the team – we can't wait to treat ourselves with this delicious pizza.