Pushback on the Light Rail Cap
Even legislative Republicans are pumping the brakes on killing Triangle light rail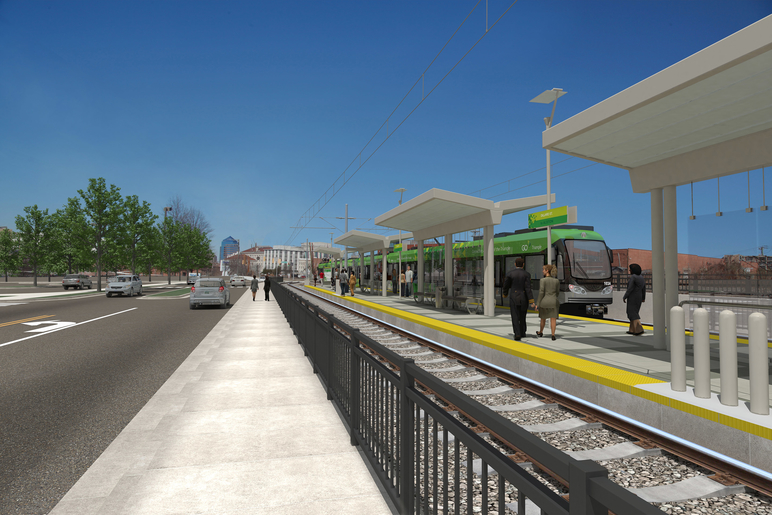 A few months ago, WFAE-FM aired a story that explored legislative Republicans' contradictory attitude toward their supposed principle of "local control"—letting local governments, not the state, decide what's best for them.
In fact, the General Assembly monkeys around with local issues all the time, especially if they happen to be in cities. The WFAE story explained that legislators were overriding one principle, local control, with another, a commitment to small government. This led me to write that if the principle of local control can be jettisoned that easily, it's not a principle, is it?
But on one issue, at least, local control is pushing back. The state budget passed last week contains an unexpected $500,000 cap on state funding for light rail projects—a measure that would kill the planned Durham-Chapel Hill rail line. Now, even Republican legislators who don't like the idea of light rail—or mass transit in general—are talking about repealing the cap (from the N&O):
The limit, a late addition to the budget law, cancels DOT's commitment to provide $138 million for the planned $1.5 billion Durham-Orange light-rail line. Critics, including Gov. Pat McCrory, said the measure undermined the spirit of the 2013 Strategic Transportation Investments law, designed to remove politics from decisions about where to spend transportation money.
"I'm not a big supporter of light rail," Rep. Bill Brawley, a Mecklenburg County Republican, said Wednesday. "But what I am a big supporter of is to have a process to assign projects based on the ability of engineers to calculate the benefits – rather than the ability of powerful legislators to get enough votes to spend the money in their district."
Durham and Orange county voters endorsed light rail when they levied a local half-cent sales tax to help pay for it, said Rep. Paul Luebke, a Durham Democrat.
"There are plenty of us who feel that urban areas should be able to make their own judgments about public transit, and it shouldn't be dictated by the state," Luebke said. "There's a real effort going on by urban legislators from Durham, Orange, Wake and Mecklenburg counties to revive the light-rail funding, and I would say we have a good chance."
The half-cent sales tax for transit ought to sound familiar, since it was a cornerstone of Charlotte's transit system, and where local officials in the Triangle got the idea. It's also, in another glaring example of non-local control, something that Senate Republicans—especially Skip Stam of Apex and Bill Rabon of Southport—have been working their keisters off to prevent Wake County from even voting on.
The rationale for their light rail opposition is … illuminating. Stam believes rail transit is "a dinosaur of the 20th century or the 19th century," which I'm sure would be news to the backwards societies of Germany and Japan. Rabon points out, "Light rail doesn't serve the whole state. It serves a locale."
By that logic, at the risk of giving lawmakers any more bright ideas, I guess the state can apportion equal funding to maintain Interstate 40 through Raleigh and U.S. 64 through Taylorsville. Cities receive disproportionate levels of transportation funding because they have disproportionate levels of people. Officials who fail, or refuse, to grasp that shouldn't have the power to impose their petty shortsightedness on the rest of us.