Q & A with Alan Evans, of Soulive
Revue talks with the drummer of the hit jazz-fusion band Soulive, performing at The Visulite on Tuesday night.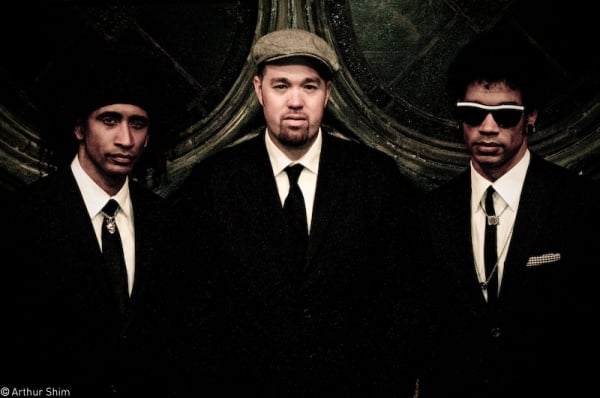 Soulive, a funk trio out of upstate New York that synthesizes jazz, hip-hop, and soul into their eclectic albums, is performing at The Visulite on Tuesday night. With over ten albums behind them, Soulive recently released an album of Beatles covers (Rubber Soul), finished a 10-day festival that featured Talib Kweli and Kofi Burbridge at the Brooklyn Bowl (Bowlive), and continues to cultivate a dedicated fan base. We talked with Alan Evans, the band's drummer, who told us about his own project (he's mixing a long-lost album by 70s soul legend Crushed Velvet), Soulive's decision to launch their own label, and what we can look forward to hearing at The Visulite.
I'd love to hear about Bowlive. What's it like to come from a ten-day, multi-artist festival in your honor, back to doing smaller shows at spots like The Visulite?
Bowlive was a really good time. That was our second one, and we're planning on doing from now until whenever. It's a good balance. To a point, we've been together for 12 years now, and in a way, a stage is a stage. We do exactly what we do no matter where we are. The funny thing about something like Bowlive is that it's really grueling. Every day, we have a new gust, but during that day, we show up to the Brooklyn Bowl at around 1 or 2 p.m., rehearse until 6 or 7 p.m., hang out for a few hours, play for a few hours, and all of a sudden, it's 4 or 5 in the morning. We get up at 11 a.m. the next day and do it again. So in a way, it's kind of relieving to do just a normal tour and just hang out and enjoy yourself. It's about balance. I think we can only do something like that once a year.
You even had a local holiday proclaimed in your honor recently, back in Buffalo, NY.
That was pretty funny. This guy I know back in Buffalo [Soulive is from the Buffalo area] got us to come perform and Buffalo. All of a sudden, I was doing a lot of interviews for it. I was literally driving to the show from my home, a six-hour drive, doing interviews on the way. He calls, and says, "so the mayor is coming to the show, and they're proclaiming it Soulive Day in Buffalo." Suddenly I was on live radio, because people were finding out it was Soulvie Day. I didn't know about it until after the proclamation. I guess they want us to come back at that same time, every year.
On to the music…your new album, Rubber Soul, was released at the end of 2010, and is made up of Beatles covers. What made you guys decide to go that route?
It kind of started out with our guitarist putting out a solo album in 2009, where he recorded a version of "Get Back." We were kind of kicking around with the idea, and we knew it was time to record a new album. Originally, we wanted to do a British invasion album. We started thinking about tunes, and individually, each of us were coming up with songs that were Beatles tunes. Soon after that, all the new remastered versions of all the Beatles albums came out, so it seemed like it was just meant to be. It was also just something fun to do. Anytime we're in the studio, we're writing in there, or coming in with our own songs, and it was nice to not write anything for once. It was still challenging, and it turned out to be hard to find tunes that would work for us instrumentally. Once we chose the tunes, we wanted to put our own spin on it, without taking away from the heart and soul of the tune itself.
Do you have one cover you think ended up going particularly well?
Probably my favorite on that one was "Eleanor Rigby." Actually, there's a song from Aretha Franklin: Live At The Fillmore where she does a ridiculous version of that, so that's where we got our influence from, versus the actual Beatles song. It's such a great tune, and we just felt really comfortable with it. We jumped right into it.
You also launched your own label with this record, right? What prompted that decision?
Actually, there was one other album that was our first on the new label, but we spent years at different labels, which were good experiences for us. I wouldn't knock them at all. Soon after we started the band, we signed to Blue Note, which is this legendar jazz label. It was cool, but we had never planned to be jazz musicians. Not even close. But we got tagged as a jazz group. That was fine, it got us some attention, but a lot of it we weren't too fond of. We're not jazz musicians, and we have a lot of friends who are great musicians. It was just weird that all of a sudden, we could see all these people deserving of the attention we were getting. After that, we went to another label.
These days, it's sort of like, why not? We have a pretty loyal fan base, and the thing is, what I always say to people is that the averge listener doesn't care what label you're on. As long as they can get to your music. Why don't we just have our own label? We'd been around long enough that it was easy for us to get distribution, we had a good network and a system in place. And we can do whatever we want to do now. Doing something like the Beatles album…if we'd approached one of our previous labels with that, it wouldn't have flown. It's a lot of work, not for us, but for the people who work for us, clearing all those tunes. At a a few points, we didn't think it was going to happen. But it helps when you have people who work for you on the same page, who have a lot of passion for what they do and what we do. That's one thing we always thought was lacking on previous labels.
You guys actually had a fourth person, a permanent vocalist named Toussaint, on tour with you for a while. What happened with him?
Yeah, we were on the Stacks label when that happened. We had just wanted to do something different, which we want to do all the time. We had this friend and we just thought, let's try this out. It'll be cool. Once the label saw what we were doing, they just started dangling all these carrots: "it's going to be huge, we're gonna do this, we're gonna do that, blah blah blah." And we sort of just went along with that, but ended up getting burned out. We didn't feel comfortable with the direction we were going, it just didn't feel like Soulive. And a lot of our fan base felt the same way. We pay attention to what people say. Not that it influences us all the time, but if you're unhappy with where things are going, and your supporters are, too…it just got bigger than we meant it to be.
You have your own project coming out pretty soon, too. It's a mixing of an album by Crushed Velvet that was originally supposed to accompany a 1970s film about an African American spy, until the film got destroyed in a fire in the producer's home. What drew you to this project, initially?
That came through another Buffalo, NY connection. I was home for Soulive Day…and one of my cousins knew about what I'd been doing, and that I had a recording studio. He knew someone who had this music. I think the soundtrack was in the studio, and hadn't been synced to the film or something, so it didn't end up in the fire. It's pretty wild. I'm just kind of a person who grew up watching all these movies, and I'm an old school music junkie. It's definitely a 70s soul, blaxploitation soundtrack music. It just seemed like it could be something really different for the label. We'll release it as a free download, and then only sell it on vinyl.
So what can we look forward to hearing at The Visulite?
We'll be doing some Rubber Soul, but we've been kicking around other ideas, too. We've been doing Rubber Soul stuff for a little while now, and it's been fun, but we want to do some Led Zeppelin in the set, too, and obviously a bunch of our own tunes. Every day we show up at a different venue, we're inspired to do something different. It's been a while since we've been to Charlotte, and we usually play at the Neighborhood Theatre, so it's gonna be nice to play somewhere new.