Q & A With Alvina Valenta Designer Jessica Williams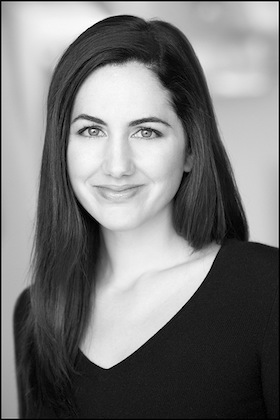 The very first bridal gown that Jessica Williams ever designed for Alvina Valenta was the beautiful tulle confection we featured on the opening page of our bridal fashion spread in the Fall/Winter issue of Charlotte Wedding. We fell so in love with her romantic, inspired design that we couldn't resist the chance to sit down and find out more about Jessica and the other dresses she designed for Alvina Valenta's current collection. We even got her to dish on what we can expect from the next Alvina collection, which will hit the runways in October and will be available at J. Majors Bridal Boutique.
Charlotte Wedding: Is that a ring we see on your finger?
Jessica Williams: I'm getting married November 12! It's right after we go to market, so the combined stress of planning a wedding and putting together the collection has been overwhelming. I am so ready for it to get here!
CW: Are you wearing one of your own Alvina Valenta designs for your big day?
JW: Yes, I am wearing style 9061. It's a column of really vintage-looking, soft, Chantilly lace with a two-tier scalloped hem and this really subtle beading that sort of peeks out at you. I've had lots of brides say that they liked the dress online, but when they saw it in person it just blew them away because they could really see the subtle sparkle of the beading that you only get hints of in photographs on the web. I also love this dress because the satin I used underneath the lace, and the thread color for the embroidery and beading have almost a slight champagne tint to them which makes the dress seem even more vintage.
CW: What design techniques and detail elements do you like working with the most? What kind of details can we expect to see on gowns that you design?
JW: I am really inspired by embroidery. I feel as though bridal collections in general went through a phase where embroidery and beading and jeweling was really bold, and I am enjoying trying to take embroidery and make it more subtle and unexpected without losing any of the richness or texture. I have also done several gowns with raw-edge organza details [Ed note: Like this one.], which manages to be fashion-forward but still be delicate and feminine.
CW: What direction do you feel like the Alvina Valenta collections overall are headed in for the coming season?
JW: Being new to Alvina Valenta, I feel a really important part of my role is to respect what Alvina Valenta is known for – lace and structured, simple silhouettes that appeal to a very understated and chic bride – and evolve those concepts over time to include new details, new updates, new takes on the same structured silhouettes that maybe Alvina hasn't done before. I also think it's important to keep some of the same traditional styles, but update their internal design. We just recently added a whole new interior support structure to some of our gowns so that they will fit even better and make brides feel even more comfortable.
CW: In what way are you personally evolving the traditional Alvina Valenta repertoire?
JW: I am taking silhouettes that Alvina has always been known for, like trumpets and modified mermaid cuts, and giving them new details and textures that make them feel fresh and new, but still stay true to the classic, understated Alvina aesthetic. A great example of that sort of work is style 9060, which is a structured trumpet dress with the new inner bodice design. But the structured nature of the dress is contrasted against a textured bodice with cascading, looped bows. I tend to want to move away from designs that are very literally floral or sweet looking, and more toward designs that are sophisticated but with details that capture that romantic, feminine feeling that a bride may want.
CW: Where do you get your inspiration?
JW: Actually, a lot of my inspiration comes from traveling around and doing trunk shows at different boutiques around the country. It's very easy to forget that I am designing for women all over the country, not just for the brides in my city or region. I enjoy finding out what it is that our collection is missing, which brides we are not appealing to because it gives me a challenge to try and incorporate elements that might attract that bride, but doing it in a way that stays true to the Alvina Valenta name.