Q & A with Dan Boye
Revue sits down with Opera Carolina star and Davidson physics professor Dan Boye to hear about his job, his extracurriculars, and how they mix.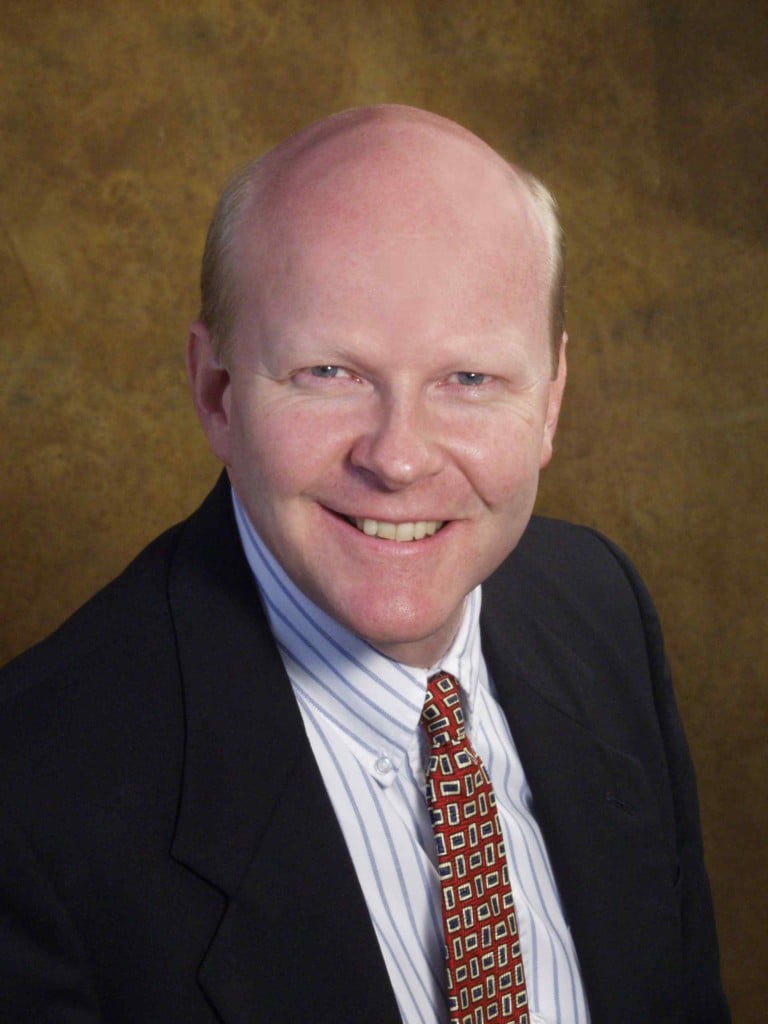 The students in Professor Dan Boye's Musical Technology class have a field trip in a few weeks. They'll see their own professor, who works in the Physics department at Davidson, playing the wicked Baron Douphol in Opera Carolina's La Traviata. While it might seem like a strange balance—opera and physics–Professor Boye says it's been a natural fit. We guess so: it's Boye's 27th role with Opera Carolina. We chatted with him to hear about how he's watched Opera Carolina grow, both his passions, and why they're a great match.
Tell us about Baron Douphol—what's his character like?
He is a rich character who loves to party. He has a cadre of friends he hangs out with, one of whom is Violetta. He enjoys a fun life, and doesn't mind taking care of his friends. There's one scene in which Violetta appears on my arm, and it's awkward at the time because Violetta has left her lover, Alfredo, and we appear at the same party. Alfredo's clearly there to stir up trouble, so it's my duty to protect her honor. So I challenge him to a duel…This was a time in Paris when you had a group of people who go out and party and party all night long. It's a fun-loving group, but then there's this serious, obsessive love that comes out from Alfredo. When someone tries to get serious, that's when the drama comes in.
And now for your daytime character, as Professor Dan Boye at Davidson College. Why the combination of two such different passions?
Some people say that one is left-brained and one is right-brained. The more we learn, the more we see that both of these activities [science and performing art] require the whole brain. Both of these pursuits demand creativity, and demand discipline. Developing my voice and developing my understanding of nature go hand in hand. And being creative in the moment is what I do both in my classroom and on stage. I see them as a well-integrated entity.
And you have a class coming to see you perform?
It's my Musical Technology course. We study the voice, and room acoustics, so they'll be there to listen to me and the orchestra, and how the room affects the sound that's coming out, and how the singers project themselves. It's a very cool course.
Which passion came first for you: science or music?
They really have built up all at the same time. When I was in school, people asked which I was going to do, and I would shrug and say "I like both of them." Same thing in graduate school. And people still ask to this day, and the answer is always that I want to do both. There have been times when I would concentrate on one more than the other, but I would always have to have both. I'm fortunate at Davidson, which is a liberal arts college and appreciates that balance. If I was at a research institute, it would be different.
When did you first start with Opera Carolina?
Well I moved to Davidson in the fall of 1989. My first role with Opera Carolina was in 1991, as Alcindoro in La Bohème. This is my 20th anniversary with them.
At this point, is there anything different or unique about this production that you're particularly excited or nervous about?
I hate to say it, but no, not really. I like to just go in and figure out my surroundings. I'll be working with a new conductor and the new principals. I haven't worked with them, yet, and that to me is the most exciting thing I am anticipating. But we have a short rehearsal period that allows me to continue doing it while balancing this job at Davidson. You need that kind of contained, intense experience.
How have you seen Opera Carolina transform over your 20 years with them?
Opera Carolina is now a top-notch regional opera company. We're not a national company like the Met, but then just below that, I would rank OC. That has been a slow process in increasing the integrity of the performances, and the people who pull those performances off. The singers that Charlotte gets to see are some of the same singers that next week will be at the Met, or in Italy or Germany. The level of performance has really improved over those 20 years. We performed at Ovens Auditorium at first, but with the opening of Belk, that was a major step forward. I remember the first performance we did there in 1993: The Magic Flute.
Is there a direction you'd like to see the company go from here?
One of the other thing's that's been an important development of OC has been its ability to do lesser-known works, because have an audience that does come to those. We're not always having to do La Boheme or La Traviata…I would love to see OC produce some of these lesser-known works on smaller stages, to change things up a bit. For instance, some of the Mozart operas do well in smaller venues. It creates more intimate pieces.
For more information on show times and ticket prices, call 704-372-1000, or visit carolinatix.org.