Q & A with David Gray
The singer/songwriter discusses his new, intimate tour and the future of pop music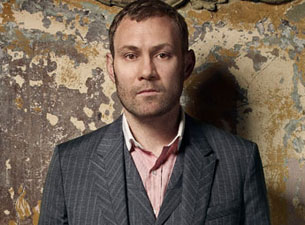 British singer-songwriter David Gray brings his intimate Lost and Found Tour to Ovens Auditorium Saturday, July 2 at 7:30 p.m. (tickets are $43.15 to $69.40. through www.ticketmaster.com). Gray is best known in the US for his 2000 hit "Babylon" and the album that spawned it, White Ladder, which was also the first big hit for Dave Matthews' ATO Records. While at home in London in May rehearsing for the British leg of his tour Gray, forty-three, talked about the stripped down tour, his latest album Foundling, listening to his daughters' pop music, and his dream project.
So tell me about this tour. Is it more reflective of the quieter Foundling or do you work in the louder rock of its predecessor Draw the Line?
It has more to do with Foundling. The dynamic of the set has to do with (the band) being very close together on stage so we can interact musically. Everything is miked up. It's a real piano, a real cello, a real harmonium. It sounds more like a recording. There's a lot less decibels going on, so it's clearer. We're trying to play rooms where it does justice to the sound and where the picture of what we're playing on the stage is true to what you're hearing out front. Usually when you're playing on stage what you hear yourself it's just a rumor of the music (compared to how) it actually sounds to the audience. It's different in this set up. We're so close to each other we can hear each other acoustically. I'm getting into the science of it.
What made you to want to turn things down so to speak?
It's sort of a fantasy of a tour I'd been carrying around in my head for four or five years ever since I played in a concert hall in Switzerland, which was the most amazing sounding room. We were having sound problems because we were playing too loud. We only began to sound good once we turned the music down. I realized I could probably play the room without electricity at all. It made me just think about what I was doing. How crude it is sometimes—the volume of things. With lots of my music, (volume) gets in the way. There's lots of stuff across my back catalog that expands and sort of rewards this kind of treatment.
What can the audience expect?
The actual set is constituted of Foundling stuff and an album called Lost Songs, which is a quite comparable record and the name of the tour, as well as big hits to obscure songs. I do a solo set and throw in a few things that haven't been given an airing in many years. If you don't water them they die. You have to get them out in the light of day in front of people to see if they still stand up. It's ended up being this panoramic sweep of all my work. I started (my career) with just me and a guitar and that's probably how I'm going to end up with the way the music business is going.
It sounds like an exciting show especially for someone that's seen you several times over the last seven or so years when you were doing more of a big pop-rock thing.
Yeah. This is for fans. If you like my songwriting and my voice this gives you the essence of the music in bigger doses. You get to hear it in a different way. We came 'round America back in February and March and I found that I was being so much more conversational for several practical reasons. I wasn't using the in-ear monitors that people use and I was available to talk to the crowd. I could hear what people said. There was an intimacy of the gig but also because of the intensity of playing like that, which is kind of like under the microscope … sometimes you just want to chew the fat and have a bit of a laugh. In lots of ways the gigs offered much more of me and the essence of the music than perhaps the other form has.
Did that run make you want to come back and do it again?
It was a triumph. Probably the most successful string of dates I've done in a long while. I think you earn the right to have these kinds of moments. Often you've got a bottom line to meet. There's money involved. This was for me. It was the same with making Foundling. I couldn't give a damn about anyone else's concerns. I did it for me. I wasn't trying to fit the niche. I was making the music that was more in my heart and soul. With the tour I was thinking the same way and not giving a damn. There was a freedom there that was hard earned. Often there are more pressing (concerns). If your new record is on the radio you want to put your new stuff across. This ended up being much more than a look at what I'm doing on Foundling. We probably touched on forty songs on the last tour.
How has this experience informed what you'll do next?
For the first time in a long time, having made Draw the Line and Foundling—two records I wanted to make for a long time—I had a kind of what's next moment. Playing this way has been such a delight … to see the creativity take on a new form in terms of the way people react musically. The vocals have become such a massive thing. We have six people singing up there. It's the biggest hit we've got when everyone comes in on backing vocals. It's like a choir. Those are really big moments. It's making me think I need to use these components. I'm writing songs at the moment but it's not taking any particular pattern. Some of them could lend themselves to this and some sound like real bandy things and some are pop songs. I've got a hankering for electronics and to use it in a live way as opposed to programming to have sort of keyboards and weird samples set up and use them as part of an—I hate the word organic—but an organic sound with real acoustic instruments.
Are you experimenting with that yet?
I haven't got to that point yet. I'm just stockpiling ideas and seeing if there's a theme. I'm coming back to speed. I gave myself a bit of a break. I had a few months where I didn't do anything. I felt burned out. The Lost and Found Tour has rekindled my enthusiasm.
Did you do anything on the break that triggered songwriting?
No. If I'm coming to a conclusion, (it's that) I just need to get out more. I need to work with real people in some capacity. I'm hungry for some kind of human mineral that I need to mine that isn't turning up at the piano each day. I think it's experience. There's one record that's in my head that I'm dying to make. There's a couple records I'm obsessed with. One is Astral Weeks (by Van Morrison). The other is Spirit of Eden by Talk Talk. They're records that seem to be woven from a different fabric. It's like music coming apart at the seams, but for me I think of spring unfurling. That's the kind of music it is to me. It's like watching nature forming, forming clouds or seasons changing. Nature is my drug. It's the thing I'm most intoxicated by. I'd like to make a record that somehow reflected it. I'd like to almost shrink myself down to the size of a bug and take a walk through the garden and manage to get the impressions down into music. That's the record that is in my head. I'm burning to make something that's totally poetic from the ground up and impractically conceived—that's my dream. I don't know if I'll ever reach it. A lot of these records happen by accident. The best stuff often does. I want something that's got nothing to do with the scope of pop music or trying to kick somebody's box or some other tedium. I just want to crawl on the ground like a small insect looking at the towering blades of grass. If I could get the grace of a fern unfurling into music, I'd be happy.
You mentioned pop music. Does hearing what your children listen to drive you in the other direction?
No. I don't think I'm reactive against it … well, that's not true. I'm always cursing and complaining about it. Some of it's great, unexpectedly brilliant like pop music is. It's just totally disarming. I don't point them in any direction. I love the fact that they just pick up on this stuff, Katy Perry and any old stuff, which can drive you mad after a while. I love watching them getting into it. They think I should write more up tempo stuff. "Catchy, dad, come on, catchy!" I'm going the other way. I've got my unfurling fern in my head. They make the perfect counterpoint to all my ridiculous sort of esoteric ideas. It's good to be grounded. They actually give me an insight into what's going on. I wouldn't bother to listen to the radio. The way I listen to music is through word of mouth and recommendation. I'm still working it the old school way. It's interesting hearing the new stuff. It's amazing how little it's moving on. Apart from the music that's seriously underground—weird electronic music and the clearly out-there R&B production—it really is standing still. That's how it feels to me. Stylistically there are few changes, but it doesn't seem like there's giant leaps forward anymore. If you look at how it was 70s and 80s. Over here we had the horrors of the mid 70s, then punk, then Two Tone, them immediately we had (Edwyn Collins' Scottish one-hit wonder) Orange Juice and 80s bands, then Duran Duran and these radical sort of shifts. You can follow that through Nirvana and dance music and grunge. I don't know where we are now. I guess it's a pop-dominated scenario. I guess there are creative reasons why there's no sort of massive mainstream thing. I'm rambling on. Don't get me started.