Q & A with Jeff Daniels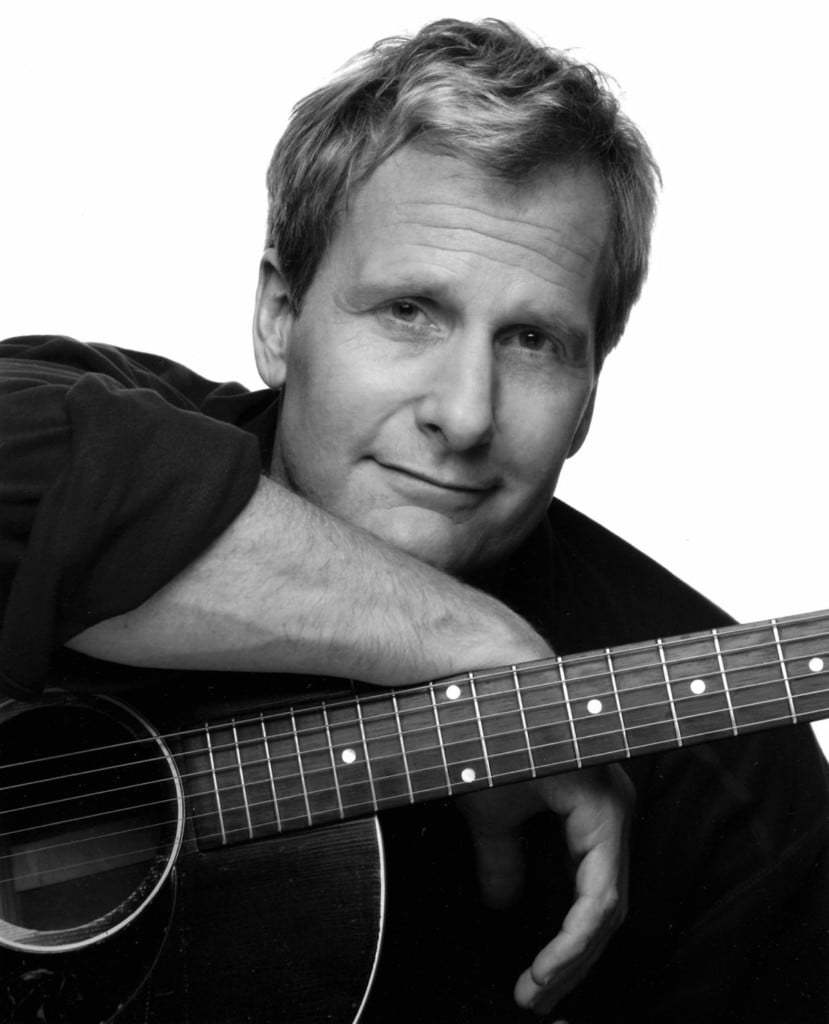 You've seen Jeff Daniels in just about every imaginable context. You saw him as the deep-in-puppy-love Roger in 101 Dalmations, as the wannabe painter Bill Johnson in Pleasantville, in The Hours, The Goodbye Girl, and most recently aside John Krasinski in Away We Go. One place you likely haven't seen him before, though, is behind an acoustic guitar, telling funny stories and singing his own songs. But on October 28 at the McGlohon Theatre, the prolific actor will take his tour (both musical and comedic) to Charlotte. Revue caught up with him to find out more about his music, and how an actor goes from small town Michigan, to Dumb and Dumber, to Woody Allen films in one career.
At what point did you make the transition from acting and songwriting into performing?
I had been playing and writing songs since the 1970's. When I moved to New York in 1976 to chase an acting career, I bought a guitar, learned to play it, and would sit in my apartment waiting for the phone to ring. I did it in order to keep myself sane. It became my friend and creative outlet. But during the week of Christmas in 2000, at the Purple Rose Theatre [Daniels' community theatre in Michigan], we didn't have a whole lot going on, but there were a ton of people in the area. We asked ourselves what the cheapest thing we could do was, and my co-workers said, "go get your guitar and sing." I said, "heck, good idea." I found that I really liked it. And so it turned into this show, a way to entertain an audience with no band, but with comedy and stories and songs.
You make a lot of references to growing up in Michigan in many of your songs. How was it that you forayed into acting from there?
It was really decided for me. In high school, I was really good at it. I wasn't nervous on stage, and I did ever musical production they did. I just seemed to know what to do in front of 600 people. I waited for failure to come in college. When I went there, I started to do more drama, and even won some awards. I auditioned for a show at another college in East Michigan, and it turned out this director from New York, who knew the head of the department there, was there, and I got the lead in his show, as part of his 16-actor off-Broadway company. It was the Circle Repertory Company, which, in the 1970's was one of the premiere off-Broadway companies. It was basically where I learned and had a creative home. And I launched the career from there. He basically found me and brought me there. Had I gone to New York on my own, I couldn't have lasted three months. I still had one foot in Michigan, and needed someone like him to keep me there for five years.
When did your film career start up?
I had always wanted to do film, but just wasn't sure how. I saw Al Pacino in Dog Day Afternoon in the mid 1970's in college, and said to myself that whatever he was doing, I wanted to go and learn how to do that. In New York, casting directors become your best friends. They go to plays to see who's new, and Juliette Taylor was one such casting director, and she put me on her list that she would haul in whenever movie people would come to New York to cast. That's how I landed Terms of Endearment. I was 28. I had been in New York for 7 years, and it just happened overnight.
Over your career, you've done humorous, kid-friendly works like 101 Dalmations and Fly Away Home, to very serious dramas, like The Hours and Good Night and Good Luck. Do you consciously look for roles that stretch your legs? Is there a certain type of acting you prefer?
There's a few things in play there. I was brought up at Circle Repertory that no character is the same. That thing you did the last play is not what you want to do again. In Hollywood, doing that is preferred by many, so that you can create an image. But when you have range, you can do anything. You can be character actor from A to Z. My wife and I moved back to Michigan to raise our kids, and I figured that was the only way to sustain a career in film from the Midwest—to create as wide a range as possible. So I made a conscious effort to go from Dumb & Dumber to Gettysburg. It created jobs, and allowed us to live where we wanted.
After dozens and dozens of movies, and working with hundreds of actors, some extremely renowned, what would you say the highlights were?
Overally, I'm stunned when I look back at the people I've gotten to work with. Actors and, particularly, directors. I forget how many great directors I've gotten to stand with. Woody Allen, Tim Brooks, David Leland, and the list goes on. They're just the best in the business. And standing in a scene with Meryl Streep, where it's just the two of you. That's a hard-to-get ticket.
But I'd say one of my most memorable moments was with Woody Allen. It was on the set of The Purple Rose of Cairo. I was 30 and had been kicking around for a long time. Critics had been both kind and harsh. When I got that role, I knew it was a huge deal for me. It was like, "everything I've ever learned, please let me remember it now." I really wanted to please Woody. And halfway through the production, he pulled me aside and told me I was doing a really good job. For a young actor who doesn't know when it's all going to be over, to be told that by one of the great American filmmakers is huge. I went home and told Kathleen that if I was good enough for Woody, I would be good enough for anybody. That was a big turning point.