Q & A with Ketch Secor, of Old Crow Medicine Show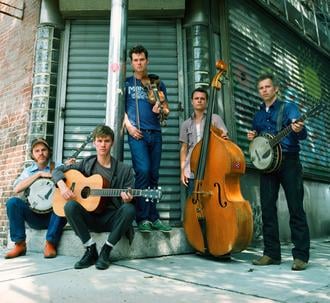 It's hard to believe that a song entitled "Wagon Wheel" could become an American favorite this long after 1935, but going along with the times has never been Old Crow Medicine Show's manifesto. The six-man group, discovered on a sidewalk (literally) by the legendary Doc Watson, has forged their fame from appearances on Prairie Home Companion, countless festivals and tours, and a unique taste for old-time (and we mean very old-time) bluegrass music. We caught up with band member Ketch Secor to ask about the birth of "Wagon Wheel," their debt to North Carolina, and why they're looking forward to their show at the Neighborhood Theatre on Saturday night.
So, you play the banjo, the fiddle, and the harmonica. How did you pick all those up?
Those are the ones I do most gainfully. I just kind of picked them up one after another. I would get excited about an instrument, and that led me to other instruments. The instruments I started with weren't necessarily the ones I stuck with, but that led me to others. But the rest of us guys have their own version of that same story, where you're eventually led to the instrument that becomes your lifelong dance partner. Mine is definitely the violin. We've been through a lot. The act of fiddle playing is a lifetime relationship. You have good spells and bad turns, and while you celebrate all your time together, it doesn't mean it's all rosy. I've been playing since I was 18, and learning to play in Rockingham County, NC, but it's taken me this long—14 years—to figure out not to fall over on the dance floor and step all over her feet.
Old Crow Medicine Show began in New York. How did a few guys with a taste for old-time bluegrass music find each other there?
We met up upstate New York, in the vicinity of Ithaca. We met in the place that's the North Carolina of New York State. I had followed a girl, and a few others had done that. I was washing dishes, and we picked fruit. I think it was grapes that summer. WE played a lot on the street corner, and we were just likeminded youngsters that were into traditional American music. Jug band, blues, hill billy—we just loved country music, and there's a lot of country music up there. There's more old time music up there than I ever heard down South. So, half of us met on streetcorners in the act of music-making. We made a lot of things happen by being a busking group.
But the "big break," as it were, happened in North Carolina. What happened there?
It was the day after the 4th of July, and of course there were a lot of tourists from Charlotte. We figured it was a good time to try and get their money on the street corner. We figured they pack their large vehicles with bags of dough, and that there would be a few coins to drop into our hats in Boone. So we were collecting money and making merry. A woman walked across the street, and asked if we'd be there for a while, and said that she wanted to go get her dad who liked that kind of music. A few minutes later, she walked her father, Doc Watson, across the street. He said it was some of the most authentic old time music he'd heard in a long time. He didn't say a whole lot, but he listened, and he said, "you guys oughta play this festival that I have. I'll see that it gets done." That was Merlefest. Then he went in, and ordered his club sandwich. It was a brief encounter, and we got to be friends with his daughter, Nancy. That concert led us to getting a call to start coming down to Nashville on weekends.
How did the idea to take Dylan's "Wagon Wheel" and revamp it come along?
It's just something you do when you're a teenager and don't know any better. I was 17 and I liked the song and it wasn't finished. Dylan had recorded about 38 seconds of it, but it doesn't go anywhere, and it's very incomplete. Being a big Dylan fan, I found this recording, and it was so appealing that I finished the work. Then it was a thrill to find out a few years later that we could publish it. They called it a "co-write."
With your festival touring, Prairie Home appearances, and the like, your success has been a very grassroots phenomenon. Where do you see OCMS going from here?
There's definitely room in the tent for some more elephants and bull whips. I'd like to get some trapeze artists and fat ladies singing under the Old Crow big top in the years to come. But I'm content with the success we have. If I slip into feeling worried about my role as a waste-excreting human with a penchant for $100 meals that has to drive a car all over God's creation, about being a taker or a consumer, I remember that I'm also providing people with the joy that only music can give, and that makes me feel better.
You guys are sold out at the Neighborhood Theatre already. What can audiences look forward to hearing?
We've got a lot of new songs right now because we've been working on a new album. I'm not sure how many of them Charlotte will hear, but we have been working on a lot of new songs. I'm excited to come back to Charlotte. My first gig was at the Moon Room, which has long since closed. I came down to the Moon Room from Greensboro, in 1996, with a band I was previously with. Charlotte was big and dark and weird-looking. I had never been. There were all of four people there to see us, at that time.