Q & A with Marc Jacksina at Halcyon: Flavors of the Earth
Chef Marc Jacksina dishes on his new position, his food philosophy, and what he like to eat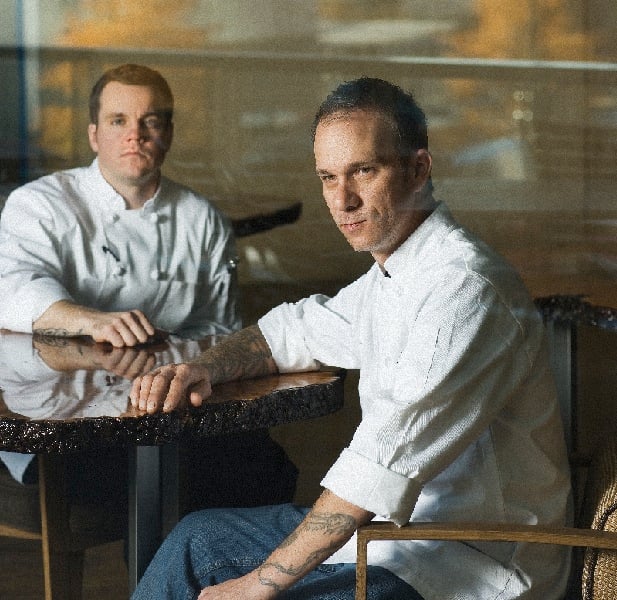 Marc Jacksina has been the Waldo of Charlotte's dining scene over the past year. The former co-owner of Lulu sold the hot Plaza Midwood spot in February, worked as a chef at Andrew Blair's for a few months, and recently moved his pots and pans to Halcyon, the new restaurant at the Mint Museum Uptown that is owned by the folks behind Something Classic Catering and Cafés. We caught up with Jacksina to ask about his year, his plans for the new restaurant, and how long we can expect him there.
What's prompted all the moving around the past year?
I knew that at Lulu I wasn't going to be able to do a lot of cooking, but I went into opening it for a different kind of reason. We did it on personal credit cards, and we didn't hire general managers, so there was a lot of having to deal with checks, taxes, payroll, and all those business ownership aspects. The stress level was different. So I sold Lulu [to business partner Fabrice Dinonno] on February 1, 2010. I told Blake [Hartwick, the chef] at Andrew Blair's that I was a free agent, and he invited me into the kitchen. It allowed me to refocus. We got along really well; there was no animosity. He knew he would have me for six weeks, six months, or a year, maybe. Then, I decided I wanted to take on this new project.
Can we rest easy you'll be at the helm of Halcyon for the time being?
Oh, yes. This is a project that's been in the works for a while, that I'm committed to. My time at Andrew Blair's was sort of intentionally in between projects.
What will the new Halcyon menu look like?
Really, it's sort of farmhouse chic. We're definitely doing rustic food, as far as influence goes, but we wanted it to look very polished. We wanted to utilize the local farmers a lot, and we're going to have a walk-in fridge that's just the size of two household refrigerators. I like to keep it that way: fresh, fresh, fresh. And there's no freezer space except for the homemade ice creams. It's not going to be burgers and fries; I wanted to treat the food from a more feminine point of view. There's not a lot of brasserie style food.
Any highlights we can look forward to?
My sous chef, Brett [Levan] is doing a winter vegetable salad with a shaved-apple cornucopia, in-house ricotta for the base, butternut squash, roasted beef carpaccio, puréed carrot, and roasted mushrooms. We're also doing a gnuddi dish, which is basically naked ravioli—it's a poached ricotta dumpling, dropped onto spaghetti, with squash in brown butter.
Were there elements from your experience at other restaurants that you brought to Halcyon?
No one I've worked with before will be in this kitchen, and really, I didn't want the expectation that it would be Lulu or Andrew Blair's. This is an uptown setting, and I wanted to be more metropolitan. That said, there's always some style influence. There's a calamari salad that goes back to one of my first chef jobs in a small neighborhood restaurant.
Did the fact that Halcyon is located in a museum change how you thought about the restaurant?
To me, being a museum was the perfect fit. In high school, I spent more time at art museums more than libraries. We had one nearby, and I was there almost every day. I draw, I publish poetry—I have other creative elements to be fed. We're doing a lot of different plates, meaning that two people may get the same entrée, but we treat them as their own canvas. The presentation may change. The dishes won't be in the center of the plate so much; we'll spread them out so you can see the ingredients. But I always take into account a restaurant's space before I make a menu; the space will tell you immediately how that menu needs to be.
Do you have a "food philosophy" that you bring into the kitchen?
I'm an asshole in the kitchen when it comes to potatoes—the so-called "after thoughts." I don't believe in utility starch. I care about how they're treated: I don't want to see the same potato on every plate. French fries are not treated like a French fry, because I think a good frite can be great. In general, I feel that way. Every single thing is important; the concept is "no waste." It's not even a money thing. You should take responsibility for the food.
What do you make for yourself after a shift?
That's usually at about 1:30 a.m. I like to make Ramen pride noodles in chicken stock with Sriracha sauce. I'd love to find a way to do it on a menu that works. In Charlotte, though, one favorite I have is a Spanish gazpacho called salmarejo that they do occasionally at Andrew Blair's. It's one of the most satisfying dishes in the world. It's made with a poached egg.