Q & A with Matt Taylor
Revue chats with one of the stars of CATS, at the Belk May 24-29.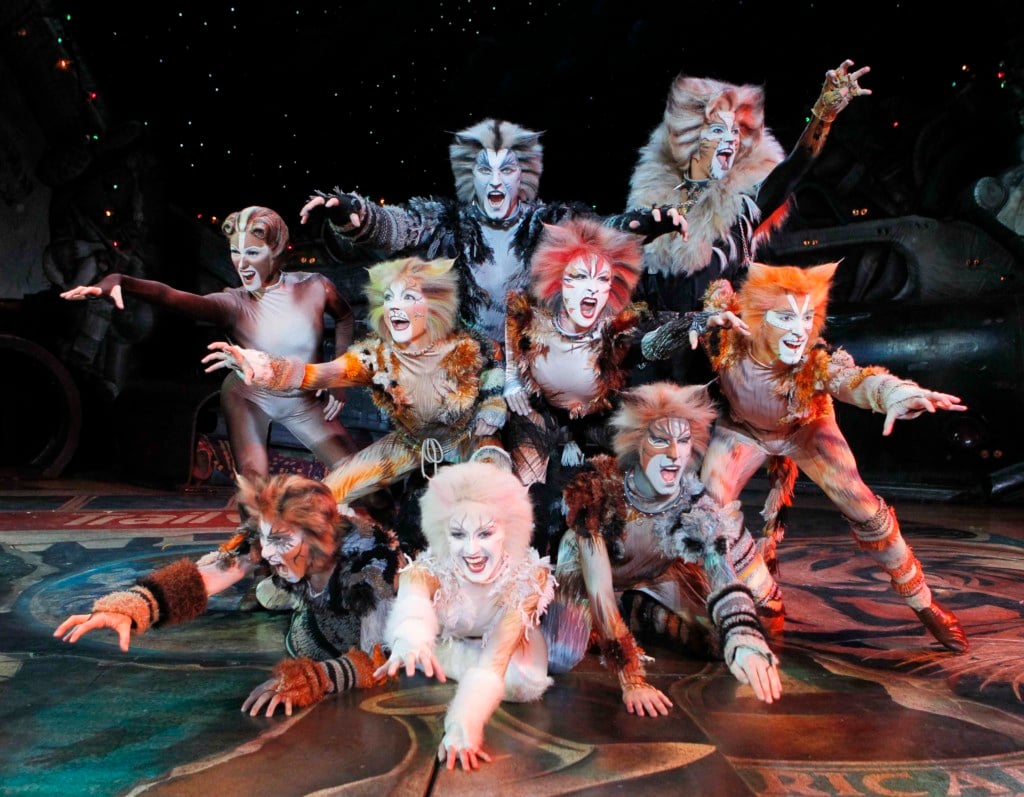 This arts and culture blogger is about to unveil a deep, dark secret…I have never seen CATS. I know. WHAT. It's the longest-running, most popular, groundbreaking musical of all time (I'm told), and I've never gotten around to seeing it. I sense that there are other closeted CATS rookies out there, though, and the good news is that our luck is about to change. The Andrew Lloyd Webber is bringing its bajillionth U.S. tour to Charlotte for a few days from May 24-29 at the Belk Theater. We sat down with Matt Taylor, who plays the rambunctious Rum Tum Tugger, about learning to dance with a tail, his first time seeing the show, and what the make-up process is like.
Tell us about your character, Rum Tum Tugger.
Rum Tum Tugger is your quintessential rock star. He's Mick Jagger, Steven Tyler, and a little James Dean. He's the cool guy, and he's also the trouble maker. He's a teenager who's just coming into his own, and figuring out how to impress the girls, figuring out that he can impress the girls, and along the way he becomes a little defiant. He's also the unestablished speaker and narrator of the show, and becomes a foil to Munkustrap's strong, domineering presence on stage.
Rum Tum Tugger has obviously been played about a zillion times. How did you find a way to make this character your own?
That was one of the fun things for me. I didn't come in as a dancer, so I approached it from more of a musical standpoint. I looked for ways to make it, musically, my own. I tried not to alter the melody, but altered some of the riffs to make him more contemporary and relatable to younger audiences. You'll see quintessential Mick Jagger moves, John Travolta moves, things to connect with all generations.
What was your first experience with CATS?
I was nine years old, and went to see it at Jones Hall in Houston, Texas. My mother dragged me to see it, and I did not want to go. It was a show about a creature I didn't even like. I'm not a cat person at all, I'm totally a dog person. But I've seen it so many times since then. I called my mom and told her [about landing the part], and she just laughed and laughed, and said, "toldja so."
Do you think this production of CATS adds a unique twist to the production?
Actually, I would say the exact opposite. The show has done the same thing as the debut in London did. There's been some minor song tweaks, but what you're seeing is what opened in London and on Broadway. The choreography I do is on the West End video. The show is really about "past, now, and forever." One of the things people love is that it is timeless. It ushered in an entirely new view about what was expected fro musicals. You have to respect that a lot. It's the quintessential 1980s megamusical. I think it's important to keep it that way, for both nostalgic reasons, and for moving forward.
What makes it so groundbreaking?
Musically speaking, you're going to see a rock concert. You can feel the music and hear it. We refer to it as a megamusical. It employs loud music, a set that is extremely grand with large amounts of technical expenditure. If you're lucky enough to sit in the balcony, there's a light show that takes place on the floor. Even the story, which is a little convoluted, ushered in an era of grandeur that was followed by Phantom of the Opera: big sets, big lights, just more, more, more. It also brought in new choreography that's so incredibly different. Because we're not cats, and we're being asked to move like them.
What kind of roles had you played previous to this?
This is actually my first experience with professional theater. This time last year, I was a high school choir director. I went to audition on a bet. A friend bet me a martini I wouldn't go and sing. I also can't dance. I ended up booking it a week later. Honestly, the whole trip into music theater was sort of accidental. I followed a pretty girl to a production my freshman year. Ironically, she's my girlfriend now. So it worked out in many ways.
How long does it take you to put on make up each show?
I put on my final cat suit about 10 minutes before I go on stage. It takes me about 40 minutes to do my make up. We do all our own make up, and I can do it in 15-20 minutes, but it'll be better if I have 40. At first, I had to have an hour and a half.
What was it like, as you say, learning to move like a cat?
I'm not flexible at all, even now. I think the most memorable part of the experience was day one, when they gave us tails to tie around our waist. We went to felinity school, where you learn to be like a cat. This consisted of the director helping us find the physicality of a cat: how they smell, see, how they react to things. It was awkward at first. We did a felinity walk around the room and the dancers were rubbing up against us. With the exception of three of us, everyone is a dancer and is an adept mover. Two girls were Rockettes, so these people are hardcore. I sang opera and classic music theater. Ballet ain't my thing. But the first day, these girls I met just came up to me and started rubbing against me. I took me about a week to get over that.
It's funny, though, you start to pick up the habits. Like, a cat doesn't have thumbs, so I had to learn to pick up things with a "paw." I just did it at a cheesesteak shop.
What would you say to someone who might, after all these years, still be skeptical about a musical about cats?
As someone who was not wild about the show until I started doing it, I would challenge those people who think that it's too "out there" for them" to come along with an open mind. My grandfather likes to tell me that it goes down better with a glass of whiskey, but there is something for everyone. There's so much to enjoy, from the story to the athleticism. I can now do some things with my body that my cowboy uncles are gonna look at and think are ridiculous. It's a fantastic thing to take a girlfriend to on a date. It's just one of the most quintessential musicals ever written, up there with Oklahoma!, Carousel, and South Pacific. It's really important that everyone be a part of that, and at least see it once.