Q & A with Natalie MacMaster
Revue catches up with the fiddler to find out more about the Christmas tour, touring with kids, and holidays in Nova Scotia.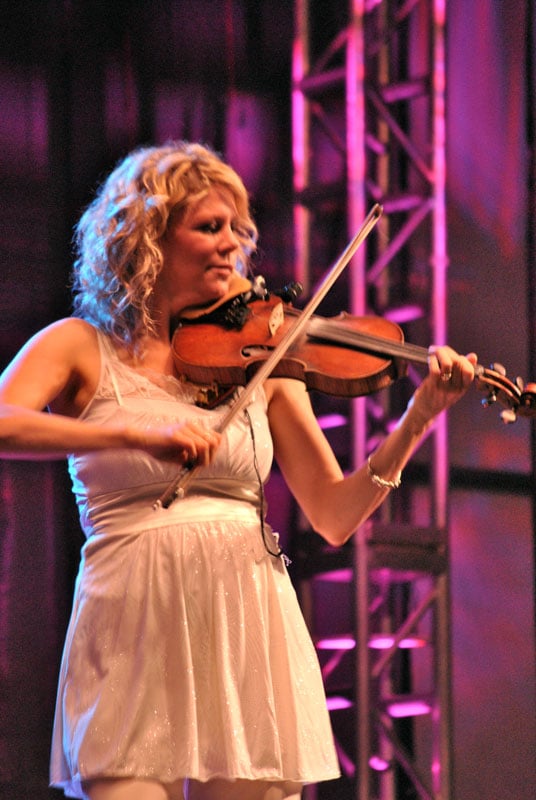 When Natalie MacMaster takes the stage at the Knight Theater on December 17, you'll probably be as impressed by her athleticism as you are by her montage of holiday carols and traditional Scottish tunes. The Nova Scotian fiddler, known for her lightening fast finger work, has been known to pick up her feet and jig during performances. MacMaster has a unique sound and performance style that fuses the traditional with the contemporary, and has one acclaim as one of the best fiddlers performing today. She also just released her first book, Cape Breton Aire, which recounts her musical and cultural education while growing up on a Nova Scotia island.
Your tour is called Christmas in Cape Breton. What's the story behind Cape Breton?
Cape Breton is an island off the coast of Nova Scotia, where I'm from. It has a very strong and rich culture, and much of the music came over from Scotland in the mid-1700s. The show will have a little bit of everything: considering that it's Christmas, we'll have recognizable carols, but we'll also have pieces that aren't originally for Christmas, but that have a light, uptempo sound. I close with an instrumental of "O Holy Night," which is possibly my favorite Christmas song. There's also a Christmas medley that has five Christmas songs. I love that arrangement, and look forward to playing it this time of year. I miss playing it when the season's over.
So you credit a lot of your musical influence with your childhood in Nova Scotia?
My learning came from my family and my environment. All my relatives played an instrument, or sang, or danced, and I was dancing and playing piano as a kid, before I learned fiddle. But I've been performing on stage since I was 10. I've always been a fiddler, too, but didn't really have any formal training. I took lessons for two years, and had a good teacher who just taught the music of our environment. That's how I started to learn that fiddling tradition.
Has your style or repertoire changed from when you were younger?
Everything's changed over the years. You get older, a little more mature, and your sound gets more refined. My tastes have changed, too, so now I'm attracted to different repertoire. When I was younger, I did heavier music that was very experimental, and while I still like that style, I've gotten softer in my music choices. I've always adored Scottish music, but I guess I have more of an appreciation for it, now. Not to say that didn't appreciate it back then, but I see more of a place for it in my show, now. Whereas years, ago, I was more anxious to work with bigger, electric, young repertoire.
How much do you practice each day?
There's almost no answer to that. It doesn't come in hours, anymore. The question now is do I play every day. Before I had kids, I practiced an hour a day to maintain my abilities, and then I would work on writing material, practice for a show, and it would be a good sum of time. Now that I have three children, and am expecting a fourth in another month, I take a week off if I've been traveling and don't practice at all. Then, I'll play a half an hour every other day.
Let me make sure I just heard you right: are you touring 8 months pregnant? Isn't that sort of exhausting?
8.5 months, actually. It is a little tiring. It's not bad, though. Don't anyone feel sorry for me. It's really no great feat. The bigger challenge is actually having children on the road. Trying to make sure that they're fed, well-rested, stimulated, and still learning and thriving is a huge concern.
So they come on the road with you?
Yup. I have a 21-month old, a three-year-old, and a five-year-old. They danced on stage with me during my most recent show.
You've done a lot of really great collaborations over the years. What are some of your most memorable moments?
When Alison Krauss guested on my recording, "Get Me Through December," that was a really huge deal. Then she used it on her compilation CD many years later. About 15-20 years ago, I opened for Carlos Santana. There were 80,000 people in the crowd. That's the biggest crowd I've ever performed for. I got to meet him, afterward, too.
What happens after this tour?
I'll take a few months off after the baby's born. I also started homeschooling this past September, but haven't been consistent. My oldest is five, and I think over the next 5-10 years, I'll cut back my touring schedule to 50 shows a year instead of 100. Right night it feels like I'm fitting her schedule into mine, but I want to feel like I'm fitting my schedule into what she needs.