Q & A with Paleface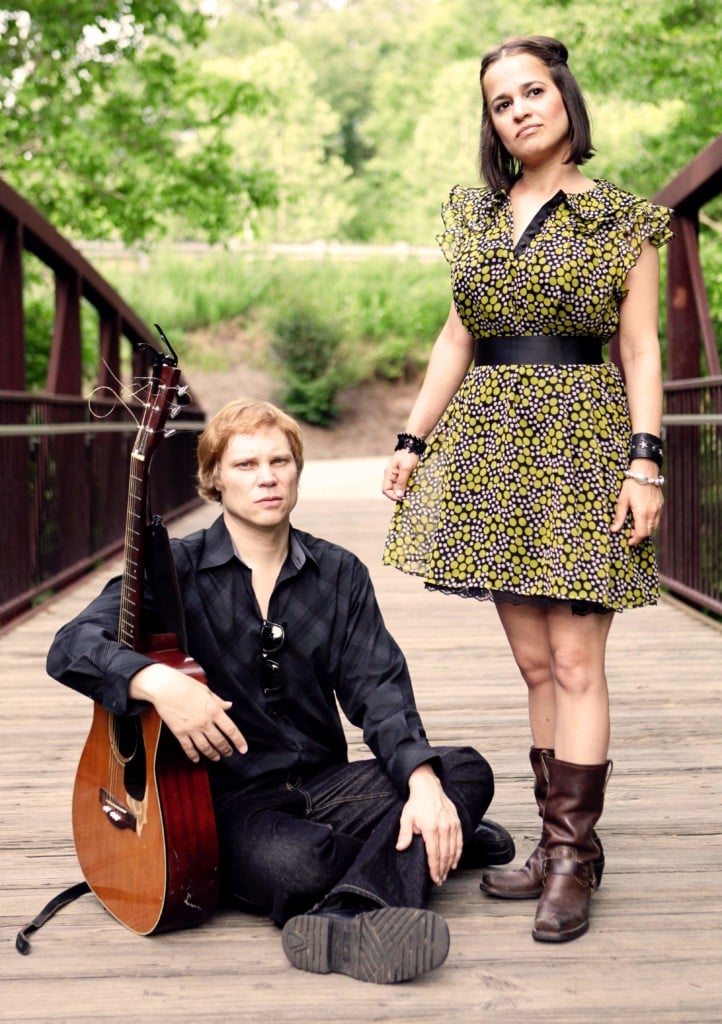 Paleface, an indie-rock singer-songwriter that's made our beloved Tarheel State his home since 2008, is scheduled to perform at the Neighborhood Theatre on September 16th. Since being discovered by Danny Fields (former manager of The Ramones) in 1990, Paleface has recorded over a dozen albums, the two most recent with drummer Monica "Mo" Samalot. He's toured with Billy Bragg and the Avett Brothers, and even jammed with Beck. We caught up with the duo to ask them about the musical journey, and about their upcoming album, One Big Party, to be released on October 13th.
Revue: We understand you lived and worked in NYC before coming to North Carolina. Why the move?
PF: I wanted to hit the road and New York became too expensive to hold an apartment and hit the road at the same time. New York never stops. The rents go one way, and as it turned out, it was probably a well-timed move because the economy fell apart soon after we left.
Revue: You've done some touring and recording with the Avett Brothers. Was the move to NC how you got to know the Avett Brothers?
PF: I met the Avetts in New York in the summer of 2003. We did a show together that Nicole Atkins put together, but we became much more friendly the following year. They had heard a record I did called Just About To Burn and really got behind it. So we did some shows that summer down South. Then New Years, 2005, they invited me to take part in the Four Thieves Gone recording.
Revue: How did Paleface and Mo join musical forces?
PF: I needed a drummer for a side project and Mo had offered her services. She played simply and it just seemed to fit perfectly. We just kept playing together because we got along well and it seemed to work. She was very generous with her time and always willing to try out new songs.
Mo: I was also living in NYC and had a day job that I didn't enjoy. At night I was hanging out on the Lower East Side and going to shows for fun. That's how I was introduced to Paleface's music. At around that same time, I decided to pick up the drums and teach myself. I joined a local band and played shows around town. A couple of years later, I felt confident enough to ask Paleface to try me out for the side project he was working on at the time.
Revue: I have to ask about Beck. Is it true you used to crash together in the 1990s? What was it like with him in those days?
PF: Yeah, he was just this cool-looking kid I met on the street. I just went up to him and introduced myself and we started hanging out and playing together. We were both really poor men. We had no money whatsoever but we were young, so we didn't care. We played open mic gigs together, even in the subway for cash. Then I was kind of mean to him. I kind of gave him the cold shoulder. I felt like he was cramping my style, but we were both just young and immature. Perhaps if we had been older and more mature we would have remained in touch. I must confess I don't know anything about his music other than what I heard in passing, but obviously he's done really well for himself.
Revue: You're planning to release your third album together, One Big Party, in October. What will set that album apart from ones you've done previously?
PF: The title has kind of a double meaning. Most of the record is pretty upbeat and positive and focused on fun, but the title track is about this woman I met at the landromat whose life had been destroyed by drugs and alcohol. So it is double-edged.
We drove around in a car that only had commercial radio for a year before we recorded it. The only thing to listen to was country, rap,a nd classic rock. We opted mostly for the classic rock because the rap and the country is so cliché. There's not much that's real about the playing and not much musical about it. It seems to be saying "we'll do anything for money," which is the corporate line but which I believe is very dangerous as a precedent. Not just for music, but for life and the quality of life. So classic rock, even though its the same 12 songs over and over, was at least musicians playing music. Later, I was surprised by how much of that seeped into the music. There are some classic rock overtones just because that was part of our life leading up to the album. I have no idea how it will be received; the important thing is to keep going and keep learning.