Q & A with Rich Hebert
Revue sits down with "Dad" from the upcoming tour of Billy Elliot, in Charlotte from January 12-30 at Ovens Auditorium.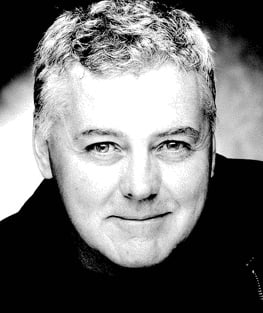 Rich Hebert jokes that he often plays the villain on TV. And he has a point: Law & Order: SVU, The Sopranos, and NYPD Blue have all cast him in sinister roles that often end up behind bars. He has, however, managed to uncover a softer side on Broadway and on national tours, including roles in Les Miserables, Cats, and Saturday Night Fever. When he comes to Charlotte as Dad in Billy Elliot, he'll be able to explore both ends of the stage spectrum—first as an Irish grouch, and then as an understanding dad. We talked to him about what it was like to make that transition, and what made the role a good fit.
What appealed to you about this role?
I watched the Tony awards, and saw the guy who played the role on Broadway win the award. I said, "that's a part I think I can do." So I called by agent in New York to see if I coudl get into the tour call. It just looked like something that was right up my alley. I loved the film, and identified with the dad. I did a lot more, then, having been a father. There's a part where he crosses the picket line to try to get enough money to support his son's dream; I changed careers for a while [he spent four years teaching at Bridgewater State University] because I thought it would be better for my daughter, in terms of stability. I think understanding that has really helped in creating the character.
What have been the challenges of this role as compared to your other tours?
This is the first time I've ever toured with my family. My wife is a guardian to the kids backstage, and there are 22 of them. My daughter is five. IT creates time challenges, and makes the experience very different.
In terms of the role, however, the dad undergoes a huge arc, and comes to a place of understanding that he didn't have before. He becomes educated in a lot of ways, and that's an emotional challenge when that happens. At the end of each show, I'm emotionally spent. Also, I have to keep up a Northern England accent. We worked with several different dialect coaches, and you want to stay as true as you can.
Additionally, I have to work with five different kids playing Billy. They're all very different, from different parts of the world: Swiss, Australian, Japanese, and from the U.S. They're all so different, which is really wonderful. There's one point, during a song called "Electricity" where Billy dances for the first time in front of his dad. It overwhelms the dad, and changes him. I get to see a different person every night. It's challenging, but fun.
What are the highlights of the show for you?
There's a song called "Solidarity" that's a fairly long number that integrates teh kids at the ballet school and what's going on with the striking union members and police. It's a signature part, and brings together a lot on stage. There's also another part where Billy and Michael dress up in dresses and dance, and it's a huge crowd-pleaser. I also sing a folk song that's a very sad song. In the first half of the show I yell a lot, and in the second half I cry a lot.
What was you first foray into TV?
When I first came to New York, I did a bunch of soap opera work. Usually, I was a bad guy, or a cop. All of the years I did TV, I was usually a bad guy. On 21 Jump Street, I was in a jail cell with Johnny Depp. I told him I was the envy of most women in America. I've done a lot of guest star kind of things, just in for one shot as a murderer or cop. It's fun, but it's a bit whiteknuckling, getting plugged into these shows, where everyone's so used to everything.
Did the fact that you had worked so hard to pursue your acting career make Billy's battle to pursue his dream identifiable, in some ways?
Billy comes from a lower class background, and I grew up in a housing project. I ended up a Boston University, which was not so easy; I got a lot of scholarships and things [by doing many different activities]. I played football, but one club I also joined was concert choir, and part of that was going to competitions and singing. I had to go to a competition that interfered with football, so I asked my coach if I coudl go. We went, and I ended up winning the regional singing event. So I had to go to the next one. I remember that when I got back, my coach got everyone in a circle, and made me tell everyone where I had been, what I had done, and what I would never do again.
So, with Billy Elliot, I understood the adversity in the working class environment. My character is a miner, and my dad worked for the highway department. HE supported my dream, so I didn't have to battle the way that Billy has to battle in this show. We have a lot of guys dancing in the show who come up to me and say that my character reminds them of their fathers, and that it was great to watch me change, because their fathers never did.