Q & A with Rob Ruggiero
Revue sits down with the conceiver and director of Ella, a new musical kicking off its first national tour in Charlotte.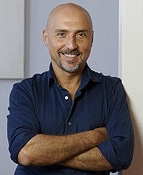 While everyone and their grandmother (and probably their great grandmothers, too) owns some kind of Ella Fitzgerald anthology, not too many of us know about her personal life. So far, no one's put a back story to the pitch-perfect scatting in "How High The Moon." But Rob Ruggiero, director and conceivor of Ella, wanted to at last (pun intended) shed some light on the beloved, if shadowy, voice. Ella has been performed regionally for five years, but is launching its first-ever national tour in Charlotte at the Knight Theater from February 11-13. We sat down with Ruggiero to find out a little more about bringing the First Lady of Song back to life.
Why, of all singers, did Ella seem like a good choice for a biographical show?
A lot of people discouraged the idea because they said she wasn't like Billie Holiday, who had this incredibly tragic story; they thought Ella just didn't have enough drama. That's actually not true, but at face value, she led an overall good life. But when you start to study her, you realize that she had a tough beginning, and struggled between being an artist and wanting a home and family, and had plenty of problems with men. When you read interviews, she was very shy. She came alive when she was on stage.
But everybody loves Ella, and no one knows much about the person behind the voice. She introduced scatting to the jazz world; her voice was her musical instrument. So, for me, it was a labor of love to begin with.
Were you ever concerned about casting Ella when developing the show?
Well, I started the project before I had an Ella. I didn't even have a script, yet, but I realized I had to find an Ella. I'm based in Connecticut, and I went to a show called Crowns, and saw [Tina Fabrique] in it. She looked a lot like Ella, and she happened to be friends with my arranger, so while we were still developing the script, she came and met with us at the studio. She sang "How High The Moon," and we just knew she was the right fit. She's been with us from the beginning.
Ella really isn't a chronological biography of her life. How did you decide to structure the story?
We set the play in 1966, which was a very emotional year for Ella. We thought it would be a story hook on which she would be forced to look back on her life. That was the year her half-sister, Francis, died, whom she was very close to. It was a very hard thing on her, and it ended up being a good springboard for a vulnerable time in her life. She's just come back from her sister's funeral, and her producer is pushing her to go on stage, because they're getting ready to film her. And so the premise is that as she prepares for this concert, these memories come flooding back to her. She has a conflict with her son, Ray, Jr. that gets resolved within the concert, and she does all of about 20 songs. Her fellow actor is the one who plays Norman Granz. He was her friend, agent, and producer for most of her career, and was the one who got her to cross over from pop into jazz, which is what made her an icon. He was a tough love man, but they really cared about each other. In this particular instance, he pushes her a bit too hard.
How did you conduct your research on Ella?
I read a bunch of biographies, my favorite of which was by Stuart Nicholson. Of course, I couldn't adapt a book, so I would just pull from facts in her life, or from an interview, or from whatever I read in a book that appeared in more than one source. I started with her music, though. I listened to her voice and how it evolves over time. Her voice, for instance, is much lower in the late 1960s and '70s, but early Ella is much lighter.
Do you think the way the performance treats Ella has changed since its start five years ago?
It's definitely evolved. I think Tina's voice has gotten more nuanced, and we've managed to dig deeper and get more specific. Even as we move forward, she still goes back and watches Ella appearances, and is always trying to make it better. We did not want to do an impersonation of Ella, but we wanted to do an impression. Tina learned note by note, and I think she honors the spirity of her. If you close your eyes, you'll think you're with Ella, but that was never the goal. It was simply to have an actor doing this role and honoring that impression.